Soaking WET - Brand, Croll, Edwards, Henderson, Hanna Q, Tharin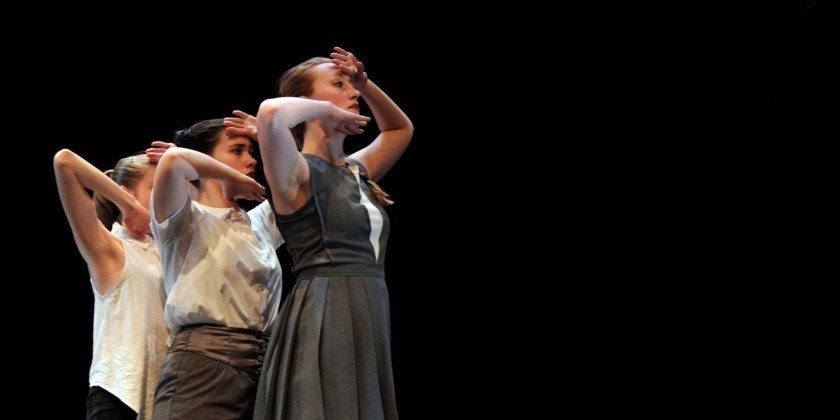 Company:
The Bang Group
Soaking WET  presents two different programs, February 5-8
Program A: choreography by Racy Brand, Tina Croll, Jennifer Edwards, Garnet Henderson,
Hanna Q Dance Company
Program B: choreography by Catherine Tharin and Esme Boyce

February 5-8
    Thursday-Saturday at 7 PM & Sunday at 2 PM:  Brand, Croll, Edwards, Henderson, Hanna Q
    Thursday-Saturday7 at 8:30 PM & Sunday at 4 PM:  Catherine Tharin, Esme Boyce
West End Theater, 263 West 86th Street (at West End)
Tickets: $18
Reservations: 800.838.3006 or www.brownpapertickets.com

The popular Soaking WET dance series, produced by David Parker and Jeffrey Kazin, returns to the West End Theater with two different programs - four performances each - showcasing both emerging and established choreographers, at the intimate West End Theater.

Schedule - February 5-8:

PROGRAM A:   Thursday/Friday/Saturday at 7 PM; Sunday at 2 PM

Mixed program of works by RACY BRAND, TINA CROLL, JENNIFER EDWARDS, GARNET HENDERSON, and HANNA Q DANCE CO.

Racy Brand's newest work is "Is This What You Thought It Would Be Like?" Called a solo with guests, the work is a  physical examination of immaterial ideas, with exhaustion, boredom, displacement and redirection as points of study within the work.

A native of Huzzah, Missouri, Racy Brand studied at the University of Illinois/Urbana-Champaign. Now a resident of Brooklyn, Racy presents her works in various venues in Brooklyn and NYC and will also appear with the Catherine Tharin program on Soaking WET.

Tina Croll returns to the Soaking WET series with a reworking of her 2007 "Ancient Springs," inspired by Kathleen Raine's book "Defending Ancient Springs" and Fellini's "La Strada."   Set to an intriguing music collage that includes Tiny Tim, tuva singing, Andy Teirstein, and a Marachi band, the work includes dancers Erin DeLuca-Benson, Michelle Durante, Michelle Gilligan, Alexandra Mount-Campbell, and Erin Pellecchia.

Tina Croll, a founding member of DTW, performed in the companies of Jeff Duncan, Jack Moore, Jamie Cunningham, and Judith Dunn.   She choreographs for her own Tina Croll + Company and, with Jamie Cunningham, directs their ongoing project From the Horse's Mouth.

Jennifer Edwards will present "Cadence," created in collaboration with dancers Kristen Bell and Callie Ritter. The dancers depict two women who are caught in a moment, possibly in the midst of a conversation, an argument, a crisis?  Perhaps they are not two people at all, but two sides of one woman's story and her struggle to understand herself.

Jennifer Edwards is a choreographer/speaker/educator/writer focusing on communications within organizations, communities, between people, and with one's self.   She is a partner at Edwards and Skybetter, a popular New York-based design company.

Garnet Henderson will premiere "Don't Lean on Me, Man," a duet which navigates the intricacies and ambiguities of one-on-one interaction.  As the dance becomes progressively more adventurous and complex, so, too, does the emotional relationship between dancers Henderson and Rebecca Hadley.

Garnet Henderson is a dancer, choreographer, freelance writer, and personal trainer, certified as a Women's Fitness Specialist through the National Academy of Sports Medicine.   The Jackson Hole, Wyoming native graduated cum laude from Columbia University in 2013 and has presented her work in numerous NYC venues.

Hanna Q Dance Company will premiere "Equus" (Horse), choreographed by artistic director Johanna LjungQvist-Brinson.  Horses of all descriptions - wild horses, work horses, war horses, show horses, etc. - are the inspiration for this powerful, positive work set to music by Eric Whitacre.

Johanna LjungQvist-Brinson, founder/choreographer of Hanna Q Dance Co, is a native of Boras, Sweden, where she started dancing at age 3 and graduated from the U. of Dance and Circus in Stockholm.  She has danced around the world, taught jazz in Paris and New York for Phil Black, and now resides in Pennsylvania.


PROGRAM B: Thursday/Friday/Saturday February 5, 6, 7 at 8:30 PM; Sunday February 8 at 4 PM

"A Natural History" - Choreography by Catherine Tharin, unless otherwise noted
A Natural History (premiere)
       Original guitar music by Richard Garrick
       Dancers: Racy Brand, Esme Boyce, Susan Rainey
Stream Wet Earth (premiere)
        Soundscape and Film by Lora Robertson; Camera Work by Robertson, Jenny Byrne, Tharin
        Cellist: David Moss
        Dancers: Brand, Boyce, Rainey
In Answer To You (premiere)
        Dancers: Brand and Rainey
Still Center (2013)
        Original electronic music by John King with Gillean Rivers
        Dancer: Boyce
Into the Radiance (2012)
        Commissioned violin score by Marshall Coid, played live
        Dancer: Joseph Mills
New Solo - in progress
         Choreographer: Esme Boyce
         Music: Nico Muhly
         Dancer: Catherine Tharin

Catherine Tharin performed with Erick Hawkins from 1989 to 1994 and, while her movement stems from Hawkins' principles, her style is distinctly her own.   Tharin has taught internationally and currently teaches at the 92nd Street Y and is co-curator of the Y's Fridays at Noon series.   The subject matter of her Soaking WET program is concerned with nature and human relationships.   Dramaturg for the program is Aileen Passloff.

 

Photo © GARNETHENDERSON.COM