Soaking Wet series at West End Theater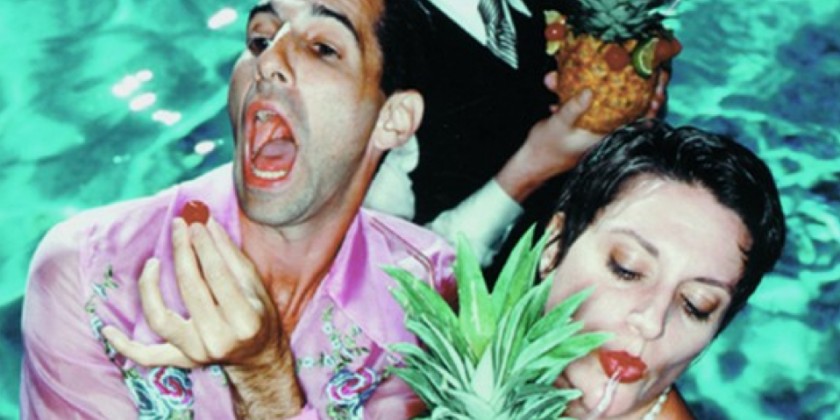 Company:
Produced by The Bang Group (David Parker and Jeffrey Kazin)
"Soaking  WET"
A Series of Choreographic Evenings Produced by David Parker and Jeffrey Kazin
Guest Curator: Valerie Gladstone


Thursday - Sunday, January 30 - February 2 (total of 8 performances)
       (Thursday/Friday/Saturday at 7 PM & 8:30 PM; Sunday at 2 PM & 4 PM)
West End Theater, 263 West End Avenue (entrance on 86th Street)
Tickets: $20; $15 for artists
Reservations: 212.337.9565 or www.thebanggroup.com/wet.php


The popular dance series, "Soaking WET," returns to the West End Theater with choreography and performances by both veteran and emerging dance artists: Tze Chun, Aviva Geismar, Erin Gottwald & John Carrafa, Sara Du Jour, Heidi Latsky Dance, Khaleah London, Ben Munisteri & Angela Maffia, and Silva Dance Company, January 30-February 2 at the West End Theater, 263 West End Avenue.   For the first time, producers David Parker and Jeff Kazin have invited an outside curator: distinguished producer/dance writer Valerie Gladstone.

These January/February performances will mark the 27th installment of the series curated and produced by David Parker and Jeffrey Kazin.   Since their "Soaking WET" series debuted in 2003, the team has produced 97 individual choreographers, some more than once, and hundreds of performers.

Schedule (Thursday/Friday/Saturday performances 7 & 8:30 PM; Sunday performances 2 & 4 PM)

Thursday January 30
7:00 PM: Silva Dance Company, Heidi Latsky Dance, Ben Munisteri & Angela Maffia, Sara Du Jour
8:30 PM: Aviva Geismar, Tze Chun

Friday January 31
7:00 PM: Heidi Latsky Dance, Ben Munisteri & Angela Maffia, Khaleah London
8:30 PM: Aviva Geismar, Erin Gottwald & John Carrafa

Saturday February 1
7:00 PM: Heidi Latsky Dance, Ben Munisteri & Angela Maffia, Sara Du Jour, Khaleah London
8:30 PM: Aviva Geismar, Erin Gottwald & John Carrafa

Sunday February 2
2:00 PM: Aviva Geismar, Tze Chun
4:00 PM: Ben Munisteri & Angela Maffia, Sara Du Jour, Silva Dance Company, Khaleah London


More About the Choreographers:

Tze Chun
Ms. Chun's work, "Taken" draws on imagery and details from the dancers' own experiences as it examines the concepts of transport and transition.   What lessons do we learn from our experiences that we then carry through life?   Using the image of a suitcase, and its inherent associations, as a point of departure, "Taken" investigates the restless human desire to hold, carry, and possess.    Chun, a resident of NYC, graduated Magna Cum Laude and Phi Beta Kappa from Columbia University with a BA in Dance and a BA in American Studies.  She founded her Company in 2006 and creates modern dance, site-specific, and multi-media works.

Aviva Geismar
Her Drastic Action Company will perform three different works.   "Attachment," a premiere, explores the push and pull of our earliest relationships and is being developed in collaboration with veteran performer Debra Wanner and longtime Company member Alessandra Larson.   Score for "Attachment" is by Canadian Folk Music Award Nominee Annabelle Chvostek, a frequent collaborator.    Also by Geismar are two solos: the Kafkaesque "The Unbidden and Unhinged," for a woman torn apart by inner battles; and "There's Many a Slip," in which the character affects a veneer of great certainty to hide her insecurities.

Erin Gottwald & John Carrafa
The couple recognized in one another an internal rhythm that resonated and came to life in movement alongside one another; indeed, during the first year of their collaboration in 2011 they created ten duets.  The works of Gottwald & Carrafa take different turns and are sometimes silly, sometimes serious, sometimes devastating, and sometimes just plain strange.   They have created, performed and taught repertory in NYC, Los Angeles, Santa Fe and Boston.    Their collaboration was named one of the Top 10 Dance Highlights of 2012 by Debra Cash of the Boston Phoenix.

Sara Du Jour
Also known as Jordan Isadore & Nicole Bridgens, Sara du Jour takes a contemporary look at modern dance through a satirical lens by remixing moments of pop culture, current fashion, contemporary dance trends, and dance history.   This bi-coastal collaboration between San Francisco artist Nicole Bridgens and New York artist Jordan Isadore received fifteen thousand views within the first six months of launching their blog SARADUJOUR.COM.   The duo has taken that online success and transformed it into live stage works.

Heidi Latsky Dance
The popular New York-based dance maker presents a new lyrical and contemplative work, set to music by Jon Mueller, that deals with her grief over the recent loss of her father, as well as the challenge of dancing through the middle age years.   Latsky will appear in a solo for herself that will be framed by members of her company.

Khaleah London
A native of California, dancer/choreographer London presents her "Being," a solo stripped to a bare essence, showing that dance is an entity, intrinsically able to stand on its own.   "Being" explores how, when movement is layered with phrasing, the sounds of that movement produce an original music composition, allowing the dance not only to be seen, but also to be viscerally felt and heard.

Ben Munisteri & Angela Maffia
Veteran dancer Munisteri collaborates with emerging choreographer Angela Maffia and dancer Blaine Horton by using Ministeri's core material from five of his dances created several years ago.    Maffia selected Munisteri's sequences and, without adding anything new, remixed and re-edited them into a compelling duet for Horton and herself.   The choreographer's phrases are slowed down, re-ordered, re-composed, and re-purposed to render something new.

Silva Dance Company
Founded by dancers Leandro Santos Silva and Janete Silva, the Company represents the best of Brazilian dance today.   The repertory borrows from capoeira and Afro-Brazilian dance traditions, combined with contemporary and modern dance techniques, and offers a masterful fusion of the rich cultures.   Choreographer Silva's style artfully showcases the grace and fluidity of motion familiar in Western theater interwoven with the exciting, rhythmic artistry of Brazil.

Curated by Valerie Gladstone: Heidi Latsky, Khaleah London, Ben Munisteri & Angela Maffia, Sarah Du Jour, Silva Dance Company
Curated by Parker & Kazin: Tze Chun, Aviva Geismar, Erin Gottwald & John Carrafa

About the Series:
Soaking WET is a series of choreographic evenings curated and produced by David Parker and Jeffrey Kazin, whose company, The Bang Group, has been the first and only resident dance company of the West End Theater since December 2002.   Parker and Kazin are committed to bringing together artists of varied backgrounds and levels of experience, making for a series that is always unpredictable, lively and bold.

Many of the artists first seen in Soaking WET go on to be presented in full evening or shared programs.    Parker and Kazin are also committed to bringing artists from around the country and abroad to appear in New York, often making their debuts here.

Soaking WET has received generous support from The Netherland-America Foundation, The Jerome Robbins Foundation, Derek Bernstein and the Amy Sue Rosen Foundation, as well as numerous private donors.