Spark(edIt) Arts & Katie Dean and Heather Bregman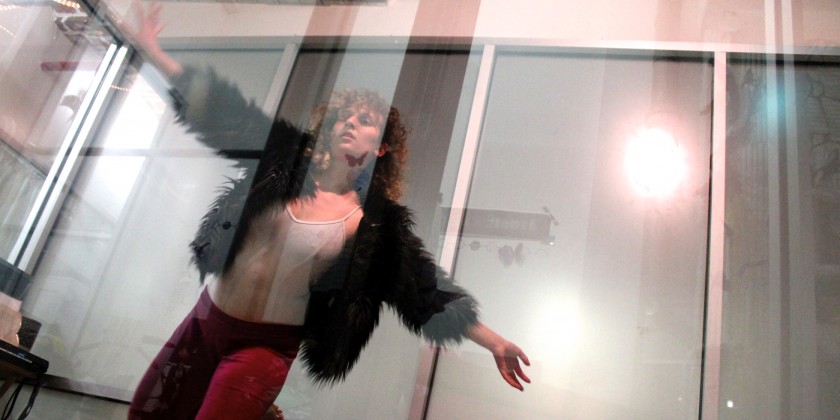 Company:
Triskelion Arts Presents
In her third New York season, Nadia Tykulsker/Spark(edIt) Arts presents Sheathings from a Steep Slope. Spark(edIt) weaves together text, video, and dance to construct an immersive evening of performance; creating a world that oscillates between the mundane and personal, and the fantastic and historic. The world onstage is a window through which each performer emerges as an individual creature, illuminating her co-existence with others. This episodic quartet will take place for the first time in its full-length form at Triskelion Arts.
Sheathings from a Steep Slope is directed and choreographed by Nadia Tykulsker in collaboration with her performers, Tara Sheena, Aya Wilson, and EmmaGrace Skove-Epes. Tykulsker is working collaboratively with designers Hiroko Ishikawa and Virginia Wagner to bring this world to life through an immersive and elaborate set. Sound design by long-time collaborator Guillermo E. Brown will complete this fantasy world.
Heather Bregman and Katie Dean are performance artists who have been working in collaboration for several years. Currently living in different countries (Tortola, British Virgin Islands and Brooklyn, NY, USA, respectively), HERE I AM AGAIN ALONE AGAIN is a cross-seas collaboration that explores the natural process of coming into ones own. Centered around solitude, transitional phases, and a surrendering to the passage of time, this work takes on its own rhythm of opposing forces. Bregman and Dean explore themes of infinity and timelessness, shifting perspectives, viewership, voyeurism, the wild body, sensory extremes, and the transition between youth and non-youth.
Since 2010, Bregman and Dean have been making collaborative work for gallery spaces, basements and theaters, and have shown work in New York and Philadelphia. Their work includes video, installation, and sculpture. Set design and construction in collaboration with Michael Drake. Sound design by Justin Frye.
Tickets: $15
This program is supported, in part, by public funds from the New York City Department of Cultural Affairs in partnership with the City Council.