Split Bill with Jackie Moynahan and Gillian Chadsey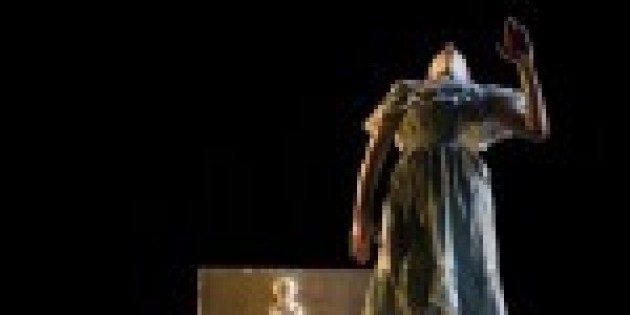 Company:
Triskelion Arts
Jackie Moynahan and Gillian Chadsey
A Split Bill
at
Triskelion Arts'
Aldous Theater
118 North 11th Street (between Berry and Wythe)
Brooklyn, NY 11211
L train to Bedford Ave
June 29-30 at 8pm
Tickets for performances are 5 general admission/2 students/seniors.
To reserve tickets, email
info@triskelionarts.org
or call
718-599-3577
Triskelion Arts
is proud to present a shared program of two fully developed solo works:
Happy Little Things
by Jackie Moynahan and
Fortress of Solitude
by Gillian Chadsey.
Chadsey's latest piece embraces the glorious, uninhibited freedom of solitude. From the window of her 5th floor walk up or perched on a lone stool at the end of the bar, she monitors the world from a position of perfect poise, a world that is at once recognizable and yet utterly alien. Here, superheroes dwell and the narratives she spins breathe with flesh and desire. She lives a life imagined through posts, tweets and photos. Using dance, video, puppetry, and performance art, the choreographer gives flight to the absurd condition of being one in a city of 7 million where there are 7 more just like her. She hopes her collaborators, Deb Disbrow, Erin Hewgley, and Laura Mansfield will make an appearance because the Fortress of Solitude is vast and there is room for us all.
Moynahan's new work explores those small things that evoke the powerful feeling of overwhelming happiness. What are the people, places, objects, and images that can make you smile even in the worst of times? In usual fashion, she draws from personal experience to deliver a slightly dark, comedic piece that takes the audience on a tour of her giddy, strange world. Jackie is joined by long-time collaborator, Henrietta, who is not a real person, among other personalities.
About the artists:
Gillian Chadsey
is a performer, transformer, author, interpreter, and producer of raw material in an unstable circuit of creation. Her work has run the gamut from Butoh dance to Tennessee Williams from Michlowice, Poland to Middle America Repertory Theater. For 6 years she was a company member of Rhodessa Jones' Theater for Incarcerated Women working in the California Federal Prisons. Most recent siting's with waxfactory in their new film 416 Minutes which premiered at The Japan Society and is scheduled for further development at Empac in 2013, blind.ness at PS122 and Cankarjev dom, Ljubljana, and Delirium 27 at Abron's Arts Center. She joined forces with The South Wing performing in Eponya's Labyrinth at HERE. The Gospel According to Jack Vitrolo at HERE, AOI! at Japan Society, DiVL! at LMCC Swing Space, Hanjo Redux at CRS, NYC & La Bellone, Brussels; and Saudade at HERE. Other New York sitings include Mary Cheney in Inverse Theatre's "What are you thinking Mary Cheney?" Tammy Faye Bakker in Stillpoint's Death Might Be Your Santa Claus, Vanya in Uncle Vanya with The Team at Classic Stage Company, and in Go! with San Francisco's The Train Station.
Jackie Moynahan
is a native New Yorker and a Brooklyn resident who has been creating and performing work in NYC and beyond since 2001. She graduated from the Long Island High School for the Arts holds a BFA in Dance From SUNY Brockport and an MS in Urban Policy from Milano The New School for Management & Urban Policy. Over the last 10 years Jackie's work has been presented in NYC theater spaces such as Dance New Amsterdam, Williamsburg Art neXus (WAX), Triskelion Arts, Studio 111, The Flea, Dixon Place, and Green Space as well as out of state at The Kumquat Center (PA), The Yard and Built on Stilts in MA and Highways Performance Space in CA. Jackie has also created/performed in site-specific exhibitions at Pier 63, Transmitter Park, and the Engine 212 Firehouse in Brooklyn. Jackie is a Co-producer and resident artist of Studio AIR where she has created and performed over 50 experimental solo works. In addition to exploring her own solo artistic endeavors Jackie is also a Board member of several community and arts organizations in Williamsburg, Brooklyn. She is the Chair of Northside Town Hall's Arts Committee cultivating programming for the currently vacant Engine 212 Firehouse, which will be renovated into a community and cultural center in the coming years. For more information visit:
www.jaxdance.com
.