Stephen Petronio Company announces "Bloodlines"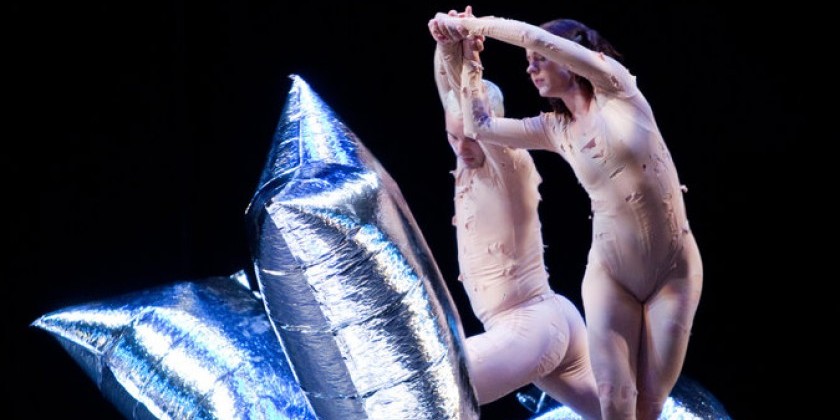 Company:
Stephen Petronio Company
Stephen Petronio Company announces Bloodlines,
a five-year project to preserve and perform works by major postmodern choreographers.
First works to be presented will be Merce Cunningham's RainForest and
Trisha Brown's Glacial Decoy
New York, NY (August 20, 2014) – Stephen Petronio Company announces Bloodlines, an initiative to honor a lineage of American postmodern dance masters. Conceived as a five-year pilot project, Bloodlines focuses on the preservation and performance of choreography from a family tree that straddles the 20th and 21st centuries. Works by choreographers who have inspired Petronio as a dance maker and with whom he has a strong connection will be incorporated into the repertory. Merce Cunningham's RainForest (1968) is the inaugural work and will be performed by the Stephen Petronio Company during its April 2015 Joyce Theater season. RainForest includes a live score by David Tudor and visual design by Andy Warhol. The original costumes were created by Jasper Johns. The second dance will be Trisha Brown's Glacial Decoy (1979), with visual design by Robert Rauschenberg, to be performed in subsequent engagements. Stephen Petronio Company is the first contemporary American company to perform these works outside of the original choreographers' companies.
Bloodlines is conceived as an active dialogue among movement languages beginning with Cunningham, Brown, and Petronio. Over the course of the project, multiple works by Cunningham and Brown will be added to the company's repertory and will be presented alongside new creations by Petronio, a descendant of the family tree. Such juxtapositions will offer audiences an experiential insight into the evolution of this strand of creativity in American choreography. Guest dancers from the originating choreographers' companies will join the casts of Petronio dancers when possible, beginning with Melissa Toogood, a former member of the Merce Cunningham Dance Company (MCDC), in RainForest.
As a student at Hampshire College and throughout the 1970s, Stephen Petronio studied Contact Improvisation intensively with Steve Paxton (who danced with MCDC from 1961 to 1964). Petronio later moved to New York where he became the first male dancer in the Trisha Brown Dance Company (1979-1986). The trailblazers of postmodern dance have always been his inspiration; it is a legacy that he now wishes to honor within his company. These dance makers were dedicated to rich, original movement languages that challenged audiences to reconsider the rules. They transformed the body of American dance for the artists who came after them. With 30 years of experience creating work on and with his own company, Petronio is now focused on a dialogue that speaks to the larger context of his foundations.
"I am following my natural path of history. I have trained my whole life to do this. Bloodlines is not only an opportunity to preserve and present the works of the masters of our time, some of whose companies no longer exist, but it also puts my work in dialogue with the minds that sparked my early creative path. It's a lineage rooted in a love of motion, visual art, and new music that I'm proud of and want to offer to the public for continued viewing. I'm starting with Merce and Trisha because they touched me so personally on such a profound level."
The educational aspects of this program will be developed in collaboration with the Merce Cunningham Trust and the Trisha Brown Dance Company. Dance students and scholars will have access to an ongoing and current conversation about the works and their creators. Petronio will eventually include works by related pioneers Anna Halprin, Steve Paxton, Lucinda Childs, and others. 
For thirty years, Stephen Petronio has pushed his distinctly virtuosic movement language to new realms of experimentation. His unique language speaks to the intuitive possibilities of the body within the shifting cultural moment, and he continues to create a haven for dancers with a keen interest in history and an appetite for the unknown. The creation of Bloodlines is a natural expansion of this impulse.
 
About Stephen Petronio Company
Stephen Petronio was born in Newark, NJ, and received a BA from Hampshire College in Amherst, MA, where he began his early training in improvisation and dance technique. He was greatly influenced by working with Steve Paxton as well as by the dancing of Rudolf Nureyev. He and was the first male dancer of the Trisha Brown Company (1979-1986). He has gone on to build a unique career, receiving numerous accolades, including a John Simon Guggenheim Fellowship, awards from the Foundation for Contemporary Arts, New York Foundation for the Arts, an American Choreographer Award, and a New York Dance and Performance "Bessie" Award.
Petronio has created over 35 works for his company and has been commissioned by some of the world's most prestigious modern and ballet companies, including William Forsythe's Ballett Frankfurt (1987), Deutsche Oper Berlin (1992), Lyon Opera Ballet (1994), Maggio Danza Florence (1996), Sydney Dance Company (2003, full evening), Norrdans (2006), the Washington Ballet (2007), The Scottish Ballet (2007), Ballet de Lorraine (2009), and two works for National Dance Company Wales (2010 and 2013).
His company repertory works have been set on The Scottish Ballet, Norrdans in Sweden, Dance Works Rotterdam, National Dance Company Wales, X Factor Dance Company in Edinburgh, Ballet National de Marseille, Ballet de Lorraine, and London Contemporary Dance Theater, as well as universities and colleges throughout the U.S.
Recent projects include Prometheus Bound (2011), a musical for the American Repertory Theater, in collaboration with director Diane Paulus (Hair), writer and lyricist Steven Sater (Spring Awakening), and composer Serj Tankian (Grammy Award, lead vocalist for System of a Down). In 2013, Petronio created a new work, Water Stories, for National Dance Company Wales in collaboration with composer Atticus Ross (Nine Inch Nails), photographer Matthew Brandt, and visual designer Ken Tabachnick.
Petronio, whose training originated with leading figures of the Judson era, performed Man Walking Down the Side of a Building in 2010 for Trisha Brown Dance Company at the Whitney Museum, and performed his 2012 rendition of Steve Paxton's Intravenous Lecture (1970) in New York City, Portland, OR, and at the TEDMED-2012 conference at the Kennedy Center Opera House in Washington, DC. In October 2012, Petronio received the distinction of being named the first Artist-in-Residence at The Joyce Theater, for a residency continuing through September 2014. Currently, he is entangled with visual artist Janine Antoni in a number of discipline-blurring projects, one of which is the video installation Honey Baby (2013) in collaboration with composer Tom Laurie and filmmaker Kirsten Johnson. In July 2014, Petronio performed the world premiere of his new solo, Big Daddy, at the American Dance Festival, which features text from his recently published memoir, Confessions of a Motion Addict.
Founded in 1984, Stephen Petronio Company has performed in 26 countries throughout the world, including over 35 New York City engagements with 18 seasons at The Joyce Theater. The Company has been commissioned by Dance Umbrella Festival/London, Hebbel Theater/Berlin, Theater Scène National de Sceaux/France, Festival d'Automne/Paris, CNDC Angers/France, The Holland Festival, Festival International Montpellier-Danse/France, Danceworks UK Ltd, Cannes International Danse Festival, and in the U.S. by San Francisco Performances, The Joyce Theater, UCSB Arts & Lectures, Wexner Center for the Arts, Walker Art Center, and White Bird, among others. Over the past year the Company performed in Houston, TX; Chicago, IL; Vancouver, BC; Catskill, Mamaroneck, and Sagaponack, NY; Boston, MA; Davis and San Francisco, CA; Portland, OR; New York, NY; and Scottsdale, AZ.  For more information about the company, visit www.petron.io.
Photo: The troupe of Stephen Petronio will perform Merce Cunningham's "RainForest," pictured here in 2011, with Brandon Collwes and Jennifer Goggans. Credit Rob Strong