Summer Dance Events at 92Y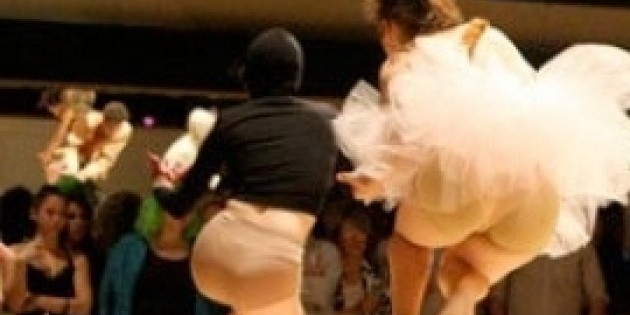 Dance parties, classes and performances!
Below you will find a listing of SUMMER DANCE EVENTS at 92nd Street Y. Highlights:
Jun 2 – Calpulli Mexican Dance Company
Jun 14 – Sacred Cows: Meat, Death Money with Zefrey Throwell and Carrie Ahearn
Jul 31 – Special demonstration and talk with Gelsey Kirkland
92ND STREET Y SUMMER
DANCE EVENTS
---
TICKETS/INFO |
www.92Y.org

| 1395 Lexington Ave. | 212.415.5500
---
-SUMMER 2013-
Sat, Jun 1, 2:30 pm, from 5
CALPULLI MEXICAN DANCE COMPANY: 10TH ANNIVERSARY | FAMILY PERFORMANCE AND WORKSHOP
Put on your dancing shoes and bring the kids to this fun family performance with interactive workshops. Performers include kids from Staten Island and Queens who have been studying with Calpulli.
Sat, Jun 1, 8 pm, from 0
CALPULLI MEXICAN DANCE COMPANY: 10TH ANNIVERSARY | DANCE PARTY
Enjoy a celebration, performances, live music, special guest artists, food, drink and high-spirited dancing. Calpulli brings its own company musicians and also mariachi and cumbia bands, traditional dances, delicious appetizers and a final dance where everyone can join in.
Sun, Jun 2, 2:30 pm, from 5, for children
Sundays at Three |
Calpulli Mexican Dance Company: 10th Anniversary | Celebration and Performance
92Y celebrates the 10th anniversary of the lively, vibrant Calpulli Mexican Dance Company. Calpulli performs and discusses traditional, fusion and contemporary works. Commissioned new works by choreographer Francisco Graciano will be performed alongside Calpulli's repertoire and new works from Artistic Director Noemy Hernandez
.
Sat, Jun 8, 8 pm-1 am, Class at 7 pm, 5 in advance/8 at door
Saturday Night Dance Parties | SWING DANCE
Join us for a fun-filled night of swing dancing to live music from the '30, '40s and '50s, hosted by Myrna Caceres. No experience or partner required!
Sat, Jun 8, 8:45 pm
ISRAELI FOLK DANCE: SPRING MARATHON
Celebrate the freshness of spring and approaching lushness of summer as you dance the night away.
Sun, Jun 9, 12 or 4 pm; Mon-Thu, Jun 10-13, 6-9 pm; Sat, Jun 15, 1:30-5:30 pm; 75 until Jun 2, 00 after
DEL June Intensive | GROWING A DANCER
With Bessie Award winner Ellen Robbins. This Dance Education Laboratory intensive aims to improve your ability to provide a complete modern dance experience for children from kindergarten to high school. Sessions include developmentally appropriate technique, improvisation and performance. The first day of class will be an observation of Robbins' students in performance at New York Live Arts. Participants seeking SUNY Empire State College credit may assist Robbins during rehearsals before the student performances.
Fri, Jun 14, 8 pm, from 5
MovementTalks | DANCE AND THE AMERICAN SACRED COWS: MEAT AND MONEY
Former dancer and choreographer and current Assistant Director of 92Y's Harkness Dance Center Edward Henkel presents a special series of talks on dance and its relationship to social behavior and (self) consciousness. Whether you're a casual So You Think You Can Dance viewer or a season ticket-holder to the ballet, you'll find entirely new ways of thinking about dance at MovementTalks. The last MovementTalks of the season is part performance, part talk. Multimedia artist Zefrey Throwell and dance and performance artist Carrie Ahern look at some of the things we don't like looking at – death, corruption and where our food comes from. These are blind spots in our culture. Reflecting that, audience members enter the event blindfolded, carefully led to their seats, while focusing on what they can hear rather than what they can see. Later, the blindfold is removed, there is dance, film and text and work inspired by the author Temple Grandin. Audience participation is part of the show, but entirely voluntary. To get in the mood, take a look at this preview video: (link).
Sat, Jun 15, 8 pm-12 am, Class at 7 pm
Saturday Night Dance Parties | BALLROOM BLISS
Welcome new ballroom hosts Jeni Breen and Gene Eagle for stardust evenings of ballroom classics—Foxtrot, waltz, cha cha and your favorite tangos. Trip the light fantastic!
Sat, Jun 22, 9 pm-2 am, Class at 8 pm, 5 in advance/0 at door
Saturday Night Dance Parties | BATTLE OF THE DJs HUSTLE PARTY
Round 4! Hustle diva Lori Brizzi brings together some of the hottest DJs, spinning the best in house, funk and disco classics that will set the dance floor on fire. Get down uptown for a night of classic and new-style Hustle, Latin and West Coast Swing. The final round will be on August 31. Full cash bar available.
Sat, Jun 29, 1:30-5:30 pm; Sun, Jun 30, 1:30-6:30 pm; Mon-Wed, Jul 1-3, 9:30 am-4:30 pm
Dance Therapy Training | KINESIOLOGY AND FUNCTIONAL ANATOMY
Learn foundational principles of anatomy, biomechanics and kinesiology through lecture, movement and problem-solving exercises. Integrate core concepts of these three intertwined sciences and examine selected body tissue (bone, cartilage, ligament, skeletal muscle, tendon and fascia) through several lenses. Practice movement analysis and hone skills for observing movement in the human body. 15 additional non-class hours required for final projects for students taking the class for credit.
Sat, Jun 29, 8:30 pm, 0 in advance, 5 at door
Saturday Night Dance Parties | SUMMER VINTAGE BALL
Dance your way into a different century and feel history come alive in our beautiful Buttenwieser Hall as you learn 19th and 20th century social dances set to Victorian and Ragtime music. All are welcome and no experience is necessary. Period or formal attire encouraged. Refreshments served. Hosted by Marc Casslar and Specialty Productions.
Sat, July 27, 9 pm, from
Saturday Night Dance Parties | PARTY LIKE IT'S 1999!
Lace up your Docs, unhitch that overall strap: Party Like It's 1999, Brooklyn's best '90s party, comes to 92Y. Join DJ Steve Reynolds (a Time Out Critic's Pick) as he spins the best pop, dance, hip-hop and R&B jams from the end of the century.
Mon-Fri, Jul 29-Aug 2, 9:30 am-4:30 pm, 50 until Jul 22, 75 after
Dance Education Laboratory | FOUNDATIONS OF DANCE EDUCATION AT DANCEWAVE
Professional dancers, dance teachers and classroom or arts teachers with a dance background—expand your abilities to cultivate dance artistry and awareness in students by studying Laban Movement Analysis; lesson and unit planning; effective methods and strategies; human development and dance; improvisation, technique and choreography with children and teens; approaches to integrating dance into the schools; evaluation assessment: and dance advocacy. This is the recommended first course for all DEL students. All classes will be held at Dancewave, 45 Fourth Avenue, Brooklyn, NY, 11217. Please call 212.415.5551 to register.
Wed, Jul 31, 12-1 pm, 8
BEHIND THE SCENES: THE GELSEY KIRKLAND ACADEMY OF CLASSICAL BALLET
Go behind the scenes as acclaimed ballerina Gelsey Kirkland conducts a demonstration with an advanced class at the Gelsey Kirkland Academy of Classical Ballet in Tribeca. After the demonstration, join Michael Chernov, the Academy's co-founder and co-artistic director, for a reception and Q&A about how he and Ms. Kirkland groom the next generation of dancers. Meet at the Gelsey Kirkland Academy, 355 Broadway, 2nd floor.
Sat, Aug 3, 9:30 pm – 2 am, Class at 8:30 pm, 5
Saturday Night Dance Parties | ARGENTINE TANGO
Perhaps the most seductive of ballroom dances. Tangos, milongas, valses and Latin musica tropica, hosted by Karina Romero and Dardo Galletto. Jackets required for men.
Sat, Aug 31, 8 pm, from 5
Saturday Night Dance Parties | BATTLE OF THE DJs HUSTLE PARTY
The last round of our "Battle of the DJs" parties. Who spins the best tunes? Who gets even shy types out of their seats and onto the floor? Come find out who wins host Lori Brizzi's "Battle of the DJs" as you dance to a hot mix of house, funk, disco, R&B and classics. Get down uptown!
In 1935, what became 92nd Street Y's Harkness Dance Center provided a home to the fledgling American modern dance movement and its leader, Martha Graham. In the decades that followed, every great American dancer and choreographer – visionaries including Alvin Ailey, Merce Cunningham, Jerome Robbins, Agnes de Mille, Robert Joffrey and Donald McKayle – spent time at 92Y, building the foundation for modern dance as we know it. Through the generous support of the Harkness Foundation for Dance, the Dance Center continues this proud tradition of dance teaching, creation and performance, serving the professional world and the community at large. Technique classes range from ballet and modern dance to hip-hop and Flamenco. Rounding out the program are several performance programs including the annual 92nd Street Y Harkness Dance Festival; a professional development program for dance educators; and several teen dance troupes. For more information, please visit
www.92Y.org/dance
.
92nd Street Y is a world-class nonprofit community and cultural center that connects people at every stage of life to the worlds of education, the arts, health and wellness, and Jewish life. Through the breadth and depth of 92Y's extraordinary programs, we enrich lives, create community and elevate humanity. More than 300,000 people a year visit 92Y's New York City venues, and millions more join us through the Internet, satellite broadcasts and other digital media. A proudly Jewish organization since its founding in 1874, 92Y embraces its heritage and enthusiastically welcomes people of all backgrounds and perspectives. For more information, visit
www.92Y.org
.