Sunhwa Chung/ Ko-Ryo Dance Theater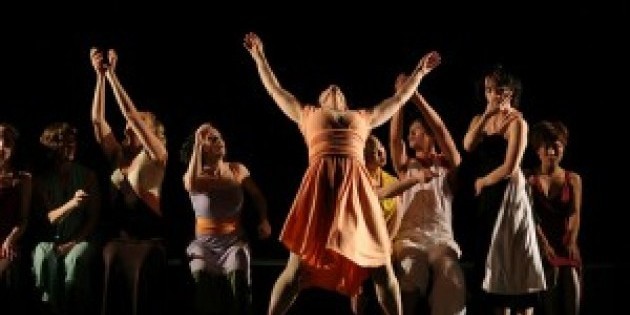 Company:
Dance New Amsterdam
October 17-20
WED-FRI at 7:30pm
SAT at 3:00pm and 7:30pm
Tickets:
7 general, 2 DNA members, 4 students/seniors, 2 advance
*There will be an opening reception at 6:30pm on October 17. There will be a post show discussion following the October 19 show.
OPEN REHEARSAL: Come see Sunhwa Chung/Ko-Ryo Dance Theater as they prepare for their opening night! Tuesday, September 25 from 6:00-8:00pm.
_____________________________________________________
Arirang - We Go Beyond the Crossroad
Direction and Choreography by Sunhwa Chung
Artist's Description: This piece is about the artist's life upon coming to the United States in the winter of 1994. She felt the need to remain close to her roots, but also to become secure enough to go beyond her own culture and learn to accept the new customs and ideas of another.
'Ms.Chung's work is "genuine … somber and haunting," like "re-living a powerful dream."' - Paul Ben-Itzak, The Dance Insider
'An "adept modern-dance choreographer" and "a delicately compelling performer of Korean traditional dance."' - Jennifer Dunning, New York Times
"The evening's indubitable showstopper was Ko-Ryo Dance Theater…" - Rebecca J. Ritzel, Washington Post
'Sunhwa Chung's choreography "… is dense, intense and hurtles forward." "She spins a whole vocabulary of original gestures." She is described as "highly effective" with an "inventive, fertile mind."' - Pamela Kidron, Washington Post
Sunhwa Chung is a native Korean and earned an MA in dance from American University, Washington, DC in 1999. Sunhwa Chung was born in Pusan, Korea, and she received a B.A. in dance at Pusan Women's University in Pusan, Korea and undertook one year of research in sports physiology at the Dong-A University, Pusan, Korea, 1993. She entered the United States in January of 1994. She was given the great honor of performing on television during the Asian Games of 1986 and the Seoul Olympics in 1998. She was awarded a scholarship for emerging choreographers from the Arts Club of Washington, DC in the spring of 1998 and also was selected as one of the great choreographers for the 16th Annual Choreographers Showcase by the Maryland National Park and Planning Commission, Department of Parks and Recreation, Prince Georges County Art and Cultural Heritage Division in 1999. She has performed intensively throughout Korea and Japan and performed both traditional and modern dance at prestigious local venues in the United States including the Kennedy Center, Lincoln Theater, Dance Place, Public Playhouse, UMBC Theater, American University Experimental Theater, Montgomery College Performing Arts Center, Asian American Arts Center and the Korean Embassy. She has danced in the multicultural performance We Are the One with Foreign Connection Cultural Ensemble and HANULSORI, a Korean Music and Dance Ensemble, in a style known as Samulnori. She has taught Korean Traditional dance for second generation Korean children at St. Andrew Korean School in Washington, DC. She has taught Korean Traditional dance workshops at the Kennedy Center, UMBC and various American high schools in Washington, DC, Maryland and Virginia. Ms. Chung has been a member of Da-de-rae-gi, a Korean traditional percussion group since 2003, which she has incorporated into her choreography to assist in celebrating her roots and heritage and to cultivate cultural awareness. She formed her own dance company, Sunhwa Chung/Ko-Ryo Dance Theater, in 2001 in New York City.
photos by Steven Schreiber and Paul Emerson
The 2012-2013 DNA PRESENTS Season is supported, in part, by public funds from the New York City Department of Cultural Affairs in partnership with the City Council and the New York State Council on the Arts.