Sylvie Guillem gives Final U.S. Performance at City Center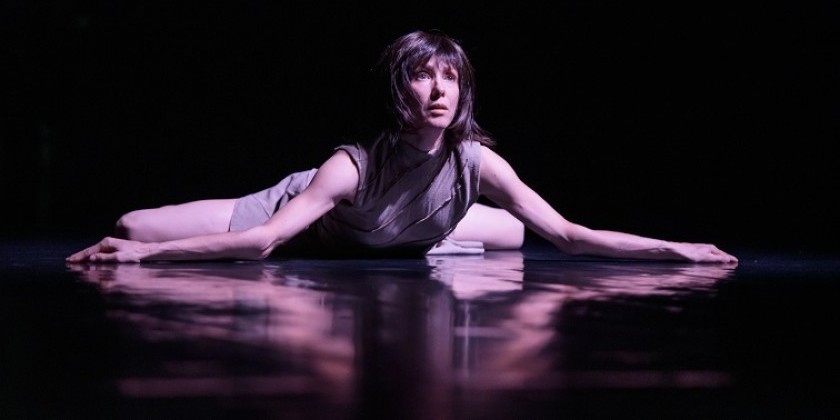 Company:
Sylvie Guillem
Sylvie Guillem To Make Final U.S. Performance
in
Sylvie Guillem – Life in Progress
Only U.S. Performance at New York City Center
November 12 – 14, 2015
New York, N.Y., May 28, 2015 – After an unparalleled career that has spanned nearly 35 years of ballet and contemporary dance, Olivier Award winner Sylvie Guillem will give her farewell performance on the American stage in Life in Progress, a dance program of both existing and new works, at New York City Center from November 12 -14, 2015. Life in Progress began an international tour on March 31 produced by Sadler's Wells in London, where it is currently playing; Guillem's only United States appearance will be at City Center.
In Life in Progress, Guillem will dance two new works: Akram Khan's technê, a solo accompanied by live musicians, and Russell Maliphant's Here & After, a duet with La Scala dancer Emanuela Montanari. The program will also feature Mats Ek's touching solo Bye, which was made especially for Guillem, and William Forsythe's Duo (1996), performed by two male dancers, Brigel Gjoka and Riley Watts.
"I have loved every moment of the last 39 years," said Guillem in a statement, "and today, I am still loving it in the same way. So why stop? Very simply, because I want to end while I am still happy doing what I do with pride and passion. Also...I have a friend, a sleeper agent, to whom I gave a 'license to kill' in case I tried to continue longer than I should! And frankly, I'd like to spare him this task. I started by skidding to a halt, I have been on an exhilarating journey, and now I'm about to change direction. This is a Life in Progress. My Life."
New York City Center presents Sylvie Guillem – Life in Progress, a Sadler's Wells Production, co-produced with Les Nuits de Fourvière and Sylvie Guillem.
Sylvie Guillem is a highly decorated artist whose awards include the Chevalier de la Légion d'Honneur, Officier dans l'Ordre National du Mérite, Officier des Arts et Lettres, and in Britain, an honorary CBE. In April 2015 she received a special award at the Olivier Awards, celebrating her achievements over the course of her career. Guillem was born in Paris and began as a gymnast, but switched ambitions at 11 after she and her gymnastics group attended the Paris Opéra's ballet school for polishing. Joining the Paris Company at 16, she raced up the hierarchy. Rudolf Nureyev was appointed Artistic Director of the company as she began her third year, and he gave her a small role in his debut production Raymonda. In December 1984, when Guillem was 19, Nureyev appointed her étoile (star dancer), coming onstage at the end of her first Swan Lake to make the announcement publicly. Over the next few years, many visiting choreographers—including William Forsythe, Bob Wilson, and Maurice Béjart—put Guillem into their creations. However, because the Opéra's administration would not change her contract to make it easier for her to accept invitations abroad, in 1988 she resigned and made London her main base, with a guest contract at the Royal Ballet. For the Royal Ballet, she danced principal roles in Ashton's Cinderella, Marguerite and Armand, and A Month in the Country; MacMillan's Romeo and Juliet, Manon, and Winter Dreams; Mats Ek's Carmen and Robbins' The Concert, as well as the classic roles. In recent years, Guillem has favored collaborations with modern choreographers and theater directors. In 2003 she collaborated with Michael Nunn, William Trevitt, and Russell Maliphant on Broken Fall. This led to a second Maliphant season in 2005, with two premieres, including a solo for Guillem and PUSH, a pas de deux with Russell Maliphant. Her subsequent work includes 2006's Sacred Monsters (with Akram Khan), 2009's theater/dance project Eonnagata (with Robert Lepage and Russell Maliphant), and 2011's 6000 miles away (a program created in tribute to Mats Ek, William Forsythe and Jiři Kylián).
New York City Center (Arlene Shuler, President & CEO) has played a defining role in the cultural life of the city since 1943. It was Manhattan's first performing arts center, dedicated by Mayor Fiorello La Guardia with a mission to make the best in music, theater, and dance accessible to all audiences. Today, City Center is home to many distinguished companies, including Alvin Ailey American Dance Theater, City Center's Principal Dance Company, as well as Manhattan Theatre Club; a roster of renowned national and international visiting artists; and its own critically acclaimed and popular programs. The Tony-honored Encores! musical theater series has been hailed as "one of the very best reasons to be alive in New York." In summer 2013, City Center launched Encores! Off-Center, a series that features landmark Off-Broadway musicals filtered through the lens of today's most innovative artists. Dance has been integral to the theater's mission from the start — and dance programs, including the annual Fall for Dance Festival, remain central to City Center's identity. Vital partnerships with arts organizations including Jazz at Lincoln Center and London's Sadler's Wells Theatre enhance City Center's programmatic offerings. City Center is dedicated to providing educational opportunities to New York City students and teachers through programs such as Encores! In Schools and the Young People's Dance Series. Special workshops cater to families, seniors, and other groups, while events such as the Fall for Dance DanceTalk series offer learning opportunities to the general public. In October 2011, City Center completed an extensive renovation project to revitalize and modernize its historic theater. For more information, visit www.NYCityCenter.org.
Sylvie Guillem – Life in Progress will run for three performances, from November 12 – 14, 2015, as follows: Thursday at 7:30pm and Friday-Saturday at 8pm.
Tickets are on sale now to City Center members. Tickets will go on sale to the general public beginning Friday, June 5, at 11am. All tickets begin at $25 and can be purchased online at www.NYCityCenter.org, by calling CityTix® at (212) 581-1212, or at the City Center Box Office at 131 W. 55th St. (between 6th & 7th Aves).
[Photo by Bill Cooper]