TAKE Dance premieres "Dark Mourning"
At Symphony Space September 27-28, 2013
TAKE DANCE Premieres New Works at Symphony Space 9/27-28
WHEN:
FRI 9/27 + SAT 9/28 at 7:30pm
WHERE:
Peter Norton Symphony Space,
2537 Broadway at 95th St, NYC, Train: 1/2/3 to 96th

St
TICKETS:
0 Advanced/5 Day of Show/Students + Seniors 5. To purchase, visit

symphonyspace.org

or call 212.864.5400.
MEDIA CONTACT:
April Thibeault, AMT PR, 212.861.0990,

april@amtpublicrelations.com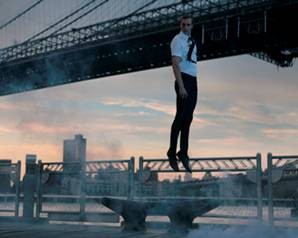 TAKE Dance,
the New York City-based contemporary dance troupe led by Artistic Director/Founder Takehiro Ueyama,
presents

DARK MOURNING -

two nights of world premiere works on Friday, September 27th

& Saturday, September 28th

at NYC's

Peter Norton Symphony Space

. The program will include: the world premieres of the eponymous

Dark Mourning

by Take Ueyama, and a specially choreographed new work by renowned choreographer/master teacher

Kazuko Hirabayashi

; along with the fan favorite and critically acclaimed

Flight

.
The program's centerpiece is the world premiere of

Dark Mourning, an interpretation of grief performed in nine sections by seven dancers. Inspired by his own mourning process experienced after the death of his aunt, Take says this piece is his way of saying goodbye. "I was bewildered by all the different and strong emotions I felt," explains Take. "I wanted to reconstruct this grief through dance. In a way, this choreography is the final step in my own healing process."
Dark Mourning
explores the visceral moments that is universally shared when someone or something passes. Juxtaposing sadness, struggle, fear, and loneliness are moments of acceptance, acknowledgement and even happiness. "Dark Mourning

is not all about suffering. It also reflects the beauty and enjoyment of life."
A long time mentor for TAKE Dance, choreographer/teacher Kazuko Hirabayashi creates a new duet work (title and details TBA) for Take and Jill Echo, both formerly of Paul Taylor Dance Company. The piece is
inspired by a Japanese ghost story and set to use Shakuhachi (the traditional Japanese bamboo

flute

music).
Hirabayashi is the founder and Artistic Director of Kazuko Hirabayashi Dance Theater since 1971.
Her work combines classical and modern American dance with Hirabayashi's Japanese heritage.
Premiering in 2010 at Dance Theatre Workshop,
Flight
embodies elements of the beauty of nature including purity, honesty, courage and danger.
"I find that nature inspires me most and this is what I try to capture in my work," explains Take.

Inspired by a flock of starlings playing in the sky in Rome, Take marries surprise with movement and hesitations to portray the birds' breathtaking unison flights and banking turns, sculpting the air so seamlessly elegant. "

Time stood still as they danced in the heavens leaving me on the ground wishing I could fly away with them."

According to the New Yorker,

Flight

"has speed, size, and a Philip Glass-driven turbulence cycle, as well as reverential calm, stillness, and silence." For this Symphony Space performance, former Paul Taylor dancer, Barry Wizoreck, joins as a special guest in

Flight.



Dark Mourning (world premiere)
Choreography: Takehiro Ueyama
Music: Songs from Early Music (Lachrymæ Antiquæ) by Kronos Quartet
Dancers: Kristen Arnold, Brynt Beitman, Elise Drew, John Eirich, Kile Hotchkiss, Gina Ianni, and Lynda Senisi
Title TBA
(world premiere)
Choreography:

Kazuko Hirabayashi
Dancers: Takehiro Ueyama & Jill Echo
Flight
(premiered 2010 at Dance Theater Workshop, NYC)
Choreography: Takehiro Ueyama
Music:
Ana Milosavljevic

Reflections with Terry Riley's Bird of Paradise: Part 1
,
Aleksandra Vrebalov

The Spell III
, and
Philip Glass

Meetings Along The Edge
Dancers:

Barry Wizoreck,

Kristen Arnold, Brynt Beitman, Elise Drew, Jesse Dunham, John Eirich, Jamison Goodnight, Jillian Hollis, Kile Hotchkiss, Gina Ianni, Lauren Kravitz, Lynda Senisi, Barry Wizoreck (special guest) and Marie Zvosec