THE CHOCOLATE FACTORY PRESENTS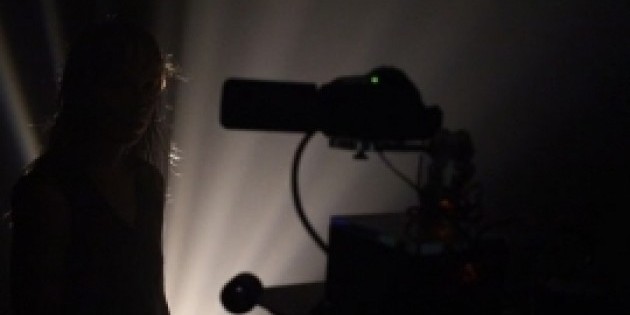 Aki Sasmoto: Aki Sasamoto
THE CHOCOLATE FACTORY PRESENTS
Aki Sasamoto
Centripetal Run

November 28 - December 1, 2012
Wednesday - Saturday at 8pm


@ The Chocolate Factory
5-49 49th Avenue, Long Island City, NY 11101
*7 train to Vernon/Jackson (1st stop in Queens - 5 minutes from Grand Central!)
"an all-around natural in terms of stage presence."
- Sophie Calle, New York Times

October 24, 2012 – The Chocolate Factory (www.chocolatefactorytheater.org) continues its Fall 2012 season with Centripetal Run, a new performance by Aki Sasamoto. Tickets are 5 and may be purchased in advance at (212) 352-3101 or on the web @ www.chocolatefactorytheater.org.

There is a proud stalker in pursuit of a perfect opposite. Between them lies the gray mass of a heavy ocean; matter expands and expunges little bubbles of wishes. Trying to bridge the gap will kill the joy, as well as the universe the stalker lives in. Grey equals rose. She is now pressed to gulp the not-red, not-white, rose wine.

Well known for her intricately detailed object-based performances (many of which have appeared at The Chocolate Factory), Aki Sasamoto's Centripetal Run explores parallels between gray situations in personal lives, and electromagnetic radiation that forms the universe. The show opens with Pau Atela's pendulum mechanism, leading into Sasamoto's movement exploration and interaction with her objects. Matt Bauder's music and Madeline Best's lighting add to the theatrical cosmology of Sasamoto's sculptural arrangement. Created by Aki Sasamoto. Music by Matt Bauder. Lighting by Madeline Best. Prologue by Pau Atela. Performance by Aki Sasamoto, Arturo Vidich.

Aki Sasamoto works in performance, sculpture, dance, small bar talks and whatever more medium that takes to get her ideas across. In her installation/performance works, Aki moves inside the careful arrangements of sculpturally altered objects, activating bizarre emotions behind daily life. Shown in exhibitions at Deutche Guggenheim, Germany; Yokohama Triennale, TAKE NINAGAWA gallery, Japan; Gwangju Biennial, South Korea; Zach Feuer Gallery, Chocolate Factory Theater, the Kitchen, Whitney Biennial 2010 at Whitney Museum, Greater New York at MOMA-PS1, New York; and other international venues. Besides her own work, she has collaborated with visual artists, musicians, choreographers, and scholars. Aki is also a co-founder of Culture Push Inc. www.akisasamoto.com
| | | |
| --- | --- | --- |
| | | |
| | | |
| --- | --- | --- |
| | | |
| | | |
| --- | --- | --- |
| | | |
The Chocolate Factory Theater

The Bessie and Obie Award winning Chocolate Factory Theater supports the creation of new work in a variety of disciplines including theater, dance, music, multimedia and the visual arts. The Factory's 5,000 square foot facility is home to new work by the company's founding artists; and (under the leadership of Artistic Director Brian Rogers) commissions and presents new work by visiting artists, providing multi-week creative residencies; dedicated access to space and technical equipment free of charge; marketing and press assistance; administrative support; and commissioning and artist fees.

Staff

Sheila Lewandowski, Executive Director
Brian Rogers, Artistic Director
Madeline Best, Production Manager
Stacy Grossfield, Bookkeeper
Youree Choi, Executive Assistant
Lydia Chrisman, Box Office
Stacy Grossfield, Box Office
Michael Reardon | m.design, Graphic & Web Design
Sarah Maxfield - THROW Curator

Contact Us

The Chocolate Factory
5-49 49th Avenue
L.I.C., NY 11101
(718) 482-7069
www.chocolatefactorytheater.org

Major Supporters

Aviation Development Council + Big City Graph–x & Printing + Bloomberg Philanthrophies + Brause Realty, Inc. + The Chocolate Factory Theater Trustees + Con Edison + Edith Lutyens & Norman Bel Geddes Foundation + Foundation for Contemporary Arts + The Fund for Small Theaters a program of ART/NY + Kaufman Astoria Studios + JetBlue Airways + Lambent Foundation + Materials for the Arts, NYC Department of Cultural Affairs • NYC Department of Sanitation • NYC Department of Education + M&T Bank + Mathis–Pfohl Foundation + Mellon Foundation + Mental Insight Foundation + Mertz Gilmore Foundation + Modern Spaces + National Endowment for the Arts + The New York Community Trust + NYC Council Member Jimmy Van Bramer + NYC Council Speaker Christine Quinn + NYS Assemblywoman Catherine T. Nolan + New York State Council on the Arts + Office of Mayor Michael R. Bloomberg + Peg Santvoord Foundation Plaxall + Queens Borough President Helen M. Marshall + Queens Delegation to the NYC Council + Rockrose Development Corp. Royal Waste Services + TD Bank, N.A. + TF Cornerstone + our MANY INDIVIDUAL DONORS & LOCAL TASTE OF LIC PARTNERS.
| | | |
| --- | --- | --- |
| | | |
| | | |
| --- | --- | --- |
| | Support the Chocolate Factory and Its Programs | |