THE SERIES from April 15-21 at The Secret Theater, LIC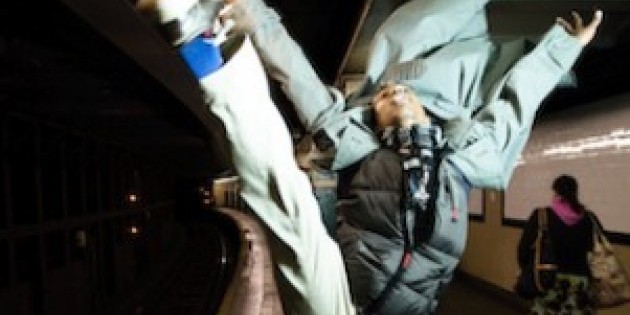 A little something different every night. See what tickles your fancy!
Presents:
7 nights of dance. 3 companies each night.
The Secret Theatre. 4402 23rd Street, Long Island City New York NY, 11101
Monday, April 15
Tuesday, April 16
Wednesday, April 17
Thursday, April 18
Friday, April 19
Saturday, April 20
Sunday, April 21
ALL PERFORMANCES AT 8 PM
Tickets: 5 for Artists and Students.
0 General Admission.
In keeping with its mission statement of producing 'artistically provocative yet commercially viable art', The Moving Beauty Series has created 'The Series' as a platform to present 20 exciting dance companies in concert at The Secret Theatre.
The Series kicks into high gear on April 15 with the premiere of Lost in Between, a dance and music collaboration with Alone Together (musical duo Arielle Baron and Elnard Jones on acoustic guitar and vocals, performing live) and Juan Michael Porter II. The evening continues with concert pieces from Hailey Lauren and Colleen Hoelscher, also in collaboration with Together Alone.

Tuesday April 16
features the brilliant Michael Mao Dance's latest collaboration with the composer, Huang Ruo, Sandra Kramerova & Artists' Eastern European influenced art, and Charly Wenzel & Dancers' hybrid of the artistic director's German background and American experiences. All three companies make vivid use of video art to accentuate their performances.

Wednesday April 17
showcases a wide palette of concert dance with Undertoe Dance Project's fusion of tap and concert jazz dancing, Caliince Dance's dance theatre story of building communities across the world, and finally Nikki Nasto and Animal Mechanical's presentation of experimental contemporary dance and performance art fused with jawdropping aerial feats.

Thursday April 18
delves into the world of spirituality and finding a sense of self with a collaborative multimedia work from Perceptions Dance and Studio Anya led by directors Melissa Gendreau and Courtney Bauer. The evening rounds itself off with a vision of isolation and recovery in Japan through the eyes of Abarukas' artistic director, Yoshito Sakuraba.

Friday April 19
is a night of dance theatre of every variety.
First with a magnificent opening from the world renowned tap dancer, TED Artist, and Artist in Residence at Webster Hall, Andrew J. Nemr. The evening moves into the waters of musical theatre with an exciting premiere from Glitter Kitty Productions before returning to the shore of traditional jazz and contemporary dance as shown by DoubleTake Dance's artistic Directors, Ashley Carter and Vanessa Martinez de Banos.
Saturday April 20
is the night of greatest variety. We have a story of community and positive American from ACB Dance Company, the story of isolation inspired by the wide proliferation of online communication, and an incredible retelling of 'Swan Lake' wherein 'The Swans assert their personalities and take over the story. A vision of dance like no other from the geographical locations of Connecticut, the American South, and Korea.

Sunday April 21
features a wide range of experience with the incredible new company of Michael J. Clark & Artists, the fearless and award winning Chris Ferris & Dancers, and an encore presentation of Juan Michael Porter II's 'Lost in Between'.
The perfect conclusion for a wonderful week of dance that offers almost every variety of concert dance.