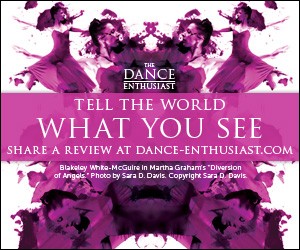 TOM GOLD DANCE TO PRESENT WORLD PREMIERE OF LA PLAGE with MUSIC by JOHN ZORN GERALD LYNCH THEATER at JOHN JAY COLLEGE
Company:
TOM GOLD DANCE
Tom Gold Dance will present two evenings of dance with a program that will feature the World Premiere of La Plage with music by John Zorn, also included on the program will be Faure Fantasy with music by Gabrielle Faure; Gershwin Preludes, music by George Gershwin; and Mad about the Boy with music by Ivor Novello and Noel Coward, all with choreography by Tom Gold.
Dancers to perform will be Director Tom Gold; Sara Mearns; Abi Stafford, principal dancer with New York City Ballet; Luciana Paris; Likolani Brown; corps with New York City Ballet; Gretchen Smith; Kristen Segin and Adrian Danchig Waring; soloist with New York City Ballet; Stephen Hanna; a former principal with New York City Ballet and star of Broadway's Tony Award winning, Billy Elliott; Devin Alberda and Andrew Scordato, corps with New York City Ballet.
Performances to take place on Tuesday, March 12th and Wednesday, March 13 at 7:00pm at The Gerald Lynch Theater at John Jay College at 524 W 59th St, between 10th and 11th Avenues, New York City.
The Tom Gold Dance work comes from the company's collection of over 20 original pieces and are all based in classical ballet vocabulary and range from traditional to contemporary.
"We are thrilled to present this world premiere during our spring season in New York," says Director Tom Gold, and this performance will be a highlight of our year for myself and our dancers.
A gala benefit dinner will follow the March 12, 2013, 7:00pm at Gabriel's Restaurant.
Each gala ticket includes Preferred Performance Seating and a three course dinner at Gabriel's Restaurant with the dancers after the show. Each 25 Gala ticket includes the show, dinner, and a 00.00 tax deductible donation. Tickets for the Gala are available only via email.
TOM GOLD DANCE
Tom Gold Dance was founded in 2007 by former New York City Ballet soloist Tom Gold. Since 1999, Mr. Gold had been organizing groups of dancers for brief tours abroad, and as his career at NYCB drew to a close, he decided to put more energy into these tours. He envisioned Tom Gold Dance as a core group of dancers who would be based in New York but would perform internationally. His goal was to give these dancers the opportunity to perform new works created specifically for them, as well as established ballets that they might not otherwise have a chance to take on. Tom Gold Dance has since performed in France, Spain, Israel, Bermuda, and Italy.
TOM GOLD
Tom Gold is an internationally known dancer and choreographer. He was a soloist with New York City Ballet for 21 years, where he performed leading roles in works by George Balanchine, Jerome Robbins, Lynne Taylor-Corbett, and William Forsythe. In 2002 Susan Stroman created the ballet Double Feature for Mr. Gold. He has performed as a guest artist with THARP!, Donald Byrd the Group, New York City Opera, and many companies throughout the U.S. He can also be seen in the Warner Brothers film version of George Balanchine's The Nutcracker, as well as many Live from Lincoln Center telecasts.
Mr. Gold has created works for New York City Ballet, Oregon Ballet Theater, Orlando Ballet, Balanchine on Broadway at Studio 54, An Evening of Tango at the Miller Arts Center, Ballet Academy East, Ballet School of Stamford, The Cuyahoga Youth Ballet, the Manhattan School of Music, and Vassar College and Kykuit. He choreographed a ballet for a "Works and Process at the Guggenheim" program presented at the Miller Arts Center, and created works for the Macy's Thanksgiving Day Parade.
PERFORMANCES
Tuesday, March 12 at 7:00 pm
Wednesday, March 13 at 7:00 pm
TICKETS:.
Tickets for the performances are 5.50 and 5.00
Gala dinner tickets will be 25 and include a post-performance cocktail reception and dinner with the cast
Tickets will be available through Ticket Central Box Office, 212-279-4200, tickets@ticketcentral.com, www.ticketcentral.com
WEBSITE:
www.tomgolddance.com.