TYKE DANCE makes experimental 'GIF dance' combining dance and photography and film using GIFs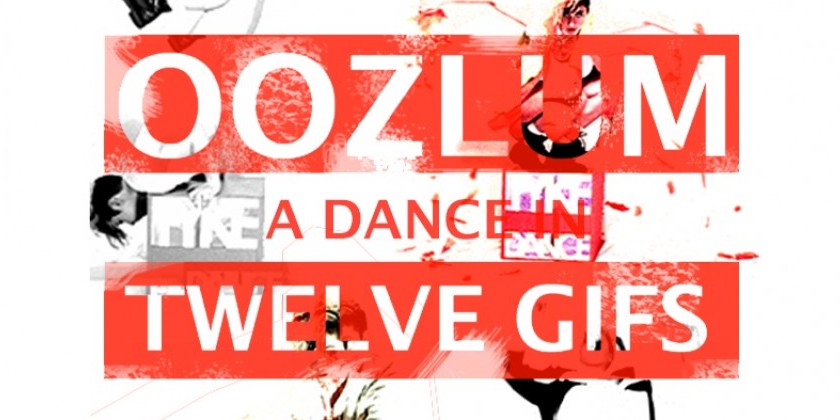 Company:
TYKE DANCE
SCROLL DOWN TO WATCH
On May 27, 2014, Artistic Director of TYKE DANCE Sophie Sotsky and artist Andrew Mixter premiered a dance created entirely in twelve GIF moving images at oozlum.com.
The dance is named OOZLUM after a mythical nonsensical bird, and is presented in a series of 12 endlessly-repeating GIFs. Oozlum takes full advantage of the unique and hypnotic properties of GIFs to condense a full-fledged modern dance experience into less than one minute of edited footage.  It embraces the way people consume media today, as it allows the viewer to engage with the artwork at his or her own pace, lingering or moving backwards at will, without breaking up the viewing experience.  This form of presentation also allows the viewers to share the experience with their friends around the world through any form of social media or electronic communication, and injects modern dance into situations of daily life where it is not normally seen.  The series can also be posted on any webpage.  All this is achieved while maintaining the artistic message, integrity, and impact of a unified work worthy of the title modern dance.
The dance itself deals with themes of perfection, human animal nature, and playfulness in a visceral and abstract visual style. In the week since it's premier, Oozlum has garnered tens of thousands of views, and prompted a widely read artist interview with Posture Magazine (link).
TYKE DANCE was founded by Brooklyn-based dancer and choreographer Sophie Sotsky in Brooklyn in 2011. Her work explores themes of exertion, exhaustion, error and effort in movement. Recently, TYKE DANCE has experimented with several new technological tools, such as motion-tracking projected graphics in "Header Munging" (2014) (link). Andrew Mixter has worked in many different media, especially film and graphic design, and is now pursuing a career in advertising.
TYKE DANCE PRESENTS: OOZLUM!