Taking Enthusiasm On The Road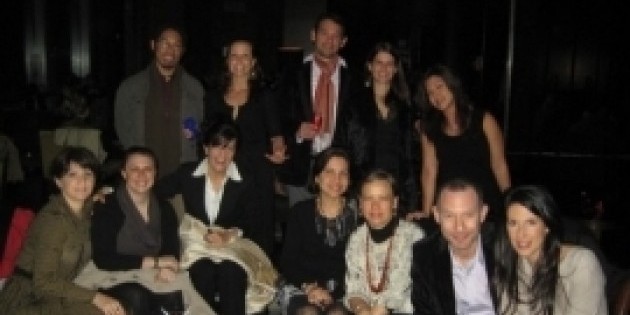 Upcoming Events Connect Audiences with Artists!

Taking Enthusiasm On The Road: The Dance Enthusiast's
Enthusiastic Events Initiative Connects Audiences To Behind The Scenes With Artists
NEW YORK, April 15, 2013—The Dance Enthusiast, leading an exuberant revolution in dance
communication, is pleased to announce the creation of its Enthusiastic Events Initiative and
the birth of the DancEnthusiasts NYC-#getenthused Meetup group. Designed to compliment
the organization's mission of service–engaging, educating, and creating new media discussions
to support the work of the NYC dance community—the initiative transports The Dance
Enthusiast's online audience out of the virtual world to events that offer real life connection with artists.
"The Dance Enthusiast is not only a website. We are community connector that brings artists,
audience and commercial interests together in celebration and support of this vital art form,"
says founding editor Christine Jowers. "Leveraging the access to Meetup's 13 million members,
we're finding new fans that are interested in behind the scenes access to artists and have a
strong interest in attending social events with dance enthusiasts of all genres."
Those interested in attending Enthusiastic Events should join the 60+ members on Meetup. To
partner with The Dance Enthusiast on creating an Enthusiastic Event, email info@danceenthusiast.com.
The first two events are as follows:
ENTHUSIASTIC EVENT 1
Rite of Spring Deconstructed with Martha Graham Dance Company
April 18, 2013, 6:30 p.m.
Graham Studio Theater, 55 Bethune Street, 11th Floor, New York
DancEnthusiast rate, 5
DancEnthusiasts NYC members will have unparalleled access to Martha Graham Dance
Company in this intimate studio showing. Admission includes an evening of dance performed by
this world-class company, a glass of wine and the chance to engage with artists and other
enthusiasts. Limited seats are still available for this inaugural Enthusiastic Event and can be
purchased on Meetup.
ENTHUSIASTIC EVENT 2
All You Ever Wanted to Know about Dance Enthusiasm and How to Plan an Exuberant Revolution
May 9, 2013, 7:00-9:00 p.m.
Triskelion Arts Aldous Theater, 118 N. 11th Street, Williamsburg, Brooklyn
suggested donation
Space limited, RSVP on Meetup
Triskelion Arts and The Dance Enthusiast host a festive evening open to artists, educators,
writers, presenters, publicists and fans of dance. The informal community conversation will
discuss ways the arts community can spread dance enthusiasm, share publicity and news, and
bring new energy to the dance field. A reception with light fare and beverages will accompany
the event provided by local sponsors including Brooklyn Brewery, Lokal, McClure's and
Sindicato. Stefanie Nelson Dance Group will share a mini-performance. Attendance is limited to 30 people.
###
ABOUT THE DANCE ENTHUSIAST
Founded by Christine Jowers in 2007, The Dance Enthusiast, an extension of the nonprofit
Moving Arts Projects, is an online platform devoted to dance appreciation and participation
through writing, video features, event announcements and more. The site provides unique and
compelling access to dance companies and moving artists, uniting those who passionately
create dance work with an enthusiastic community that appreciates the arts. Its approach to
audience engagement is threefold: to create original content in the form of previews, interviews, editorials,
videos and reviews; to share information from dance companies; and to encourage discussion among
audiences through the Audience Review Initiative, which allows dance audiences to share their
experiences of performance on a friendly, open forum. Readership has more than doubled since
2011 and the site boasts a quarter of a million unique page views since its launch. Recently The
Dance Enthusiast was awarded Dance USA's Engaging Dance Audiences grant to support its new video
series, The Dance Up Close Initiative. Visit
www.dance-enthusiast.com