Tango Greats, GABRIEL MISSE & ANALIA CENTURION, return to NY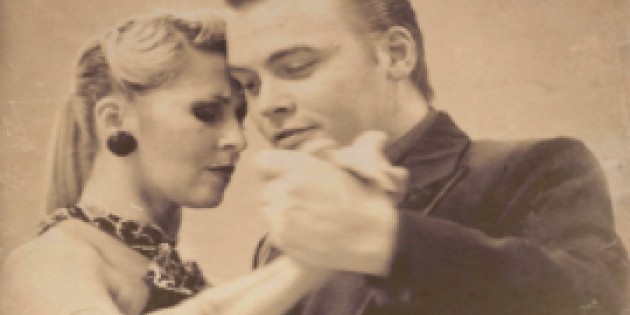 Argentine Tango Seminars and Performances from Aug 9-18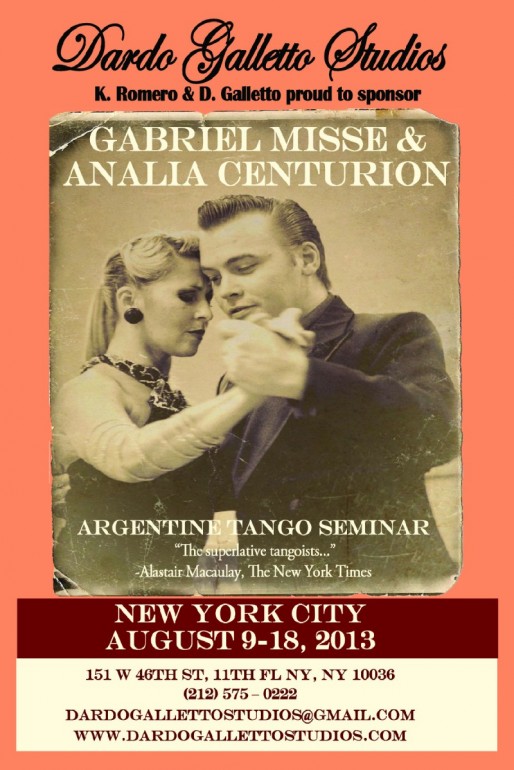 "Gabriel Misse, a master of Argentine tango and one of the most exciting dancers of our day....."
Alastair Macaulay, The New York Times, March 7, 2012
"Gabriel Misse and Analia Centurion do more than lead one to admire their skill: they inspire great joy in the audience."
Mindy Aloff,
wordpress.com
, April 8, 2013
"The tango aficionados at the milonga whooped and applauded with pleasure."
Marina Harss.
wordpress.com
, April 8, 2013
Tango greats Gabriel Misse and Analia Centurion will return to the Dardo Galletto Studios in Manhattan's theater district to teach Argentine tango seminars and appear in four performances. Over the span of 15 hours, the Buenos Aires-based artists will move beyond the traditional workshop format to a more robust and expansive tango seminar, designed to improve technique, develop sequences, and instruct in Argentine tango culture and music appreciation. Students may enroll for all 15 hours, or 7 1/2 hours, or on a e daily basis. Seminars are designed to benefit dancers of all levels and experience, August 9-18 at the Dardo Galletto Studios, 151 West 46th Street, 11th floor.
Gabriel and Analia have taught this course throughout the world, including San Francisco, Sydney, Moscow and Jakarta, and are offering these sessions for the first time in New York City. Known as generous and dedicated teachers, the artists go beyond the traditional workshop format to give students a more comprehensive knowledge of Tango. The first hour of each day will focus on technique; then move to styles and sequences of famous milongueros, tango culture, history and appreciation of tango music.
Location:
Dardo Galletto Studios, 151 West 46th Street, 11th floor
Seminar Rates: 75 in advance; 90 at the door for 15 hours
00 in advance; 20 at the door for 7 1/2 hours
5 in advance; 5 at the door for 1/2 hours
Performance Rates vary from 5 to 0
Reservations/Information: 212.575.0222
Schedule:
Friday August 9
7:30 to 10:15 - Seminar
10:30 to 2 AM - Milonga with Performance by Misse and Centurion
Admission to Milonga only: 5
Saturday August 10
4 to 6:45 PM - Seminar
9 PM - Tango Show of Galletto's New Generation Dance Company with Misse and Centurion as guests
Admission to Tango Show: 5 in advance; 0 at the door
Sunday August 11
5;30 to 8:15 PM - Seminar
Monday August 12
9:30 to 11:30 - Assisted Practica
Admission: 0
Tuesday August 13
9:30 PM to 12:30 AM - La Romeria Milonga with Performance by Misse and Centurion
Admission to Milonga: 5
Wednesday August 14
9:30 to 11:30 PM - Assisted Practica
Admission: 0
Friday August 16
7:30 to 10:15 PM - Seminar
10:30 PM to 2:30 AM - Milonga with Performance by Misse and Centurion
Milonga only: 5
Saturday August 17
4 to 6:45 PM - Seminar
Sunday August 18
5:30 to 8:15 PM - Seminar
www.dardogallettostudios.com