"Tap Attack" - Celebrate National Tap Dance Day's 25th Anniversary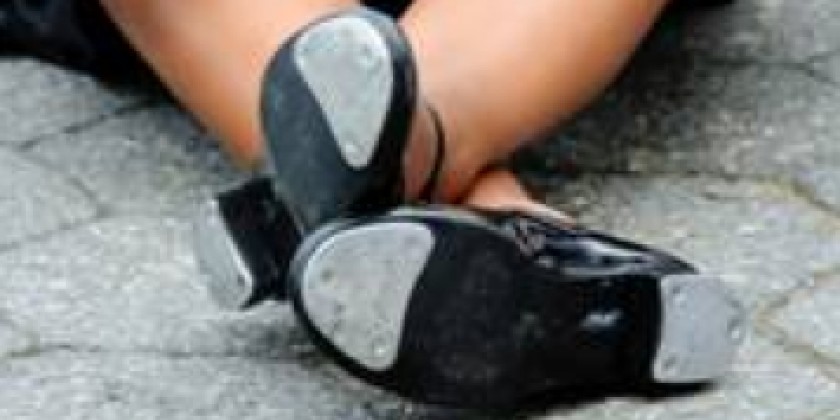 Company:
The American Tap Dance Foundation

L-R –ATDF 2012 Tap it Out; photos - Debi Field; R – Photo - Dariel R. Sneed
"TAP ATTACK" TO CELEBRATE 25TH ANNIVERSARY OF NATIONAL TAP DANCE DAY
Hudson River Park, Pier 45 – Sunday, May 25 from 1-3pm
100+Tappers, Jam Sessions, Special Appearances
New York, NY, May 19, 2014 – Tap Attack, a free, public, outdoor event presented by the American Tap Dance Foundation (ATDF), will be performed three times on the afternoon of Sunday, May 25 at Hudson River Park, Pier 45 at Christopher Street and the Hudson River.  Tap Attack will mark the 25th anniversary of National Tap Dance Day, a yearly celebration of tap dance as an American art form and national treasure.
Tap dance students of all ages (5-75 years old!), led by ATDF Artistic/Executive Director Tony Waag, will join with the "pros" to perform the Shim Sham Shimmy at 1pm, 2pm, and 3pm. Open jam sessions plus special appearances by top tappers Chloe Arnold (and her company Apt 33),  Japan's Kazu Kumagai, Michela Marino Lerman, Max Pollak, Jason Samuels Smith and ATDF's own Tap City Youth Ensemble will enhance the afternoon festivities.
National Tap Dance Day falls on May 25 of each year, selected to mark the birthday of tap dance legend Bill "Bojangles" Robinson (1878-1949). National Tap Dance Day is celebrated throughout the United States, but holds special resonance in New York City, the birthplace of American tap dance.  National Tap Dance Day was signed into law by President George W. Bush in November, 1989.
"I wanted to include our students, their families and their teachers in this year's National Tap Dance Day celebration – mix it up a bit, make it fun, make it free and open to the public. I just love when dancers of all levels, beginner to professional, have a chance to play together, show off a new step, make music with their feet and just let loose for a while," said Mr. Waag. "Throughout its entire history tap dance had a tradition of street performing, where tappers would improvise and busk with their peers at social events and public gatherings. What could be more appropriate then that we hold this event outside, where so much of the art form was literally created and developed?" he said.
TAP ATTACK! The American Tap Dance Foundation – www.atdf.org 
American Tap Dance Day – May 25
1-3pm – Hudson River Park, Pier 45
Christopher Street/Hudson River
ABOUT THE AMERICAN TAP DANCE FOUNDATION
ADTF was founded in 1986 by tap master Charles "Honi" Coles, his protégée Brenda Bufalino, and the Foundation's current artistic and executive director, Tony Waag. Called the American Tap Dance Orchestra until 2001, the organization was directed and choreographed by Ms. Bufalino and presented hundreds of stage performances and films from 1986 through 1999. From 1989 to 1995, it also operated Woodpeckers Tap Dance Center, where tappers from all over the world gathered for classes, workshops, jam session and performances. In 2002 with a new generation of tap dancers and enthusiasts, the Orchestra was renamed under the artistic direction and leadership of Tony Waag.
ATDF programs include:
• Tap City, the annual New York City Tap Festival
• The Tap City Youth Ensemble
• Concert Performances & National Tours
• The Gregory Hines Youth Scholarship Fund
• The International Tap Dance Hall of Fame
• Annual Hoofer & Tap Preservation Awards
• The Gregory Hines Collection of American Tap Dance archives at the Lincoln Center Library
American Tap Dance Center opened in 2010 as the home to the American Tap Dance Foundation, and offers year-round educational programs including:
• Tap Dance Conservatory
• Ongoing Classes for Youth, Teens & Adults
• Tap Choreography Intensives & Showcases
• Master Workshops for Professionals
• Artists in Residence Program
• Reconstruction & Choreography Commission Projects
• Rental Space for rehearsals
• Tap Talks, Jams & Film Presentations
American Tap Dance Foundation (ATDF)
American Tap Dance Foundation Programs