Tap City 2014 Registration Is Open!!‏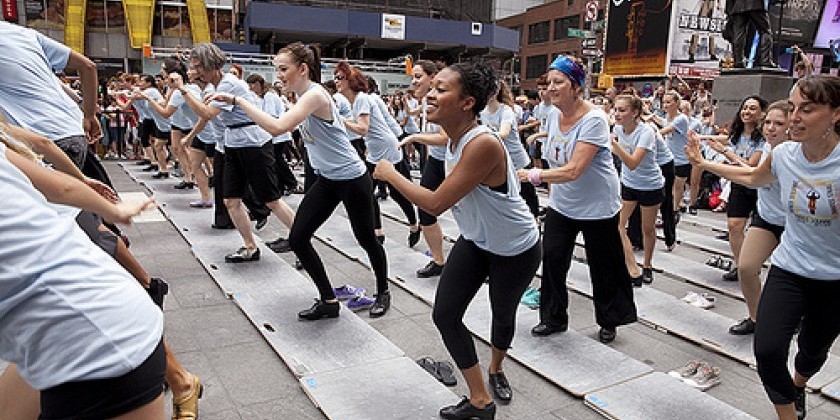 Company:
Tap City


July 5 - 12, 2014

Classes, Events, Performances. . . Tap City 2014 Offerings by Program:
 

Adult Program
(ages 15+)
4-Day Residencies
R1 Advanced:
Kurt Albert & Klaus Bleis (Tribute to Carnell Lyons)
R2 Intermediate:
Brenda Bufalino
R3 Intermediate/Advanced:
Derick K. Grant
R4 Advanced Beginner:
Olivia Rosenkrantz 
Detailed information about the Adult Program


Master Classes
(12+)
24 classes for all levels
Advanced Beginner - Advanced

Study with teachers:
Lynn Schwab, Germaine Goodson, Ray Hesselink, Deborah Mitchell, Barbara Duffy, Margaret Morrison, Chloe Arnold, Ryan Johnson, DeWitt Fleming, Michela Marino-Lerman, Germaine Salsberg, Dormeshia Sumbry-Edwards, Susan Hebach, Jason Samuels Smith, Cartier Williams, Randy Skinner, Lisa La Touche, Claudia Rahardjanoto, Thelma Goldberg, Chris Broughton
  
Detailed information about the Master Classes

Pre-Professional Program
(ages 14-19)

Tap City's popular Teen program is geared specifically to the advanced young adult  seeking a challenging and unique educational and performance opportunity. The all-inclusive program focuses on honing well-rounded tap skills in a professional environment that stresses self-discipline and excellence. Selected by video audition, students will work intensively with Lisa La Touche in the preparation of tap choreography that will be performed on the 4th evening of the program.
 
Detailed information about the Pre-Professional Program
 

Youth Program
(ages 9-15)

The Tap City Youth Program is 5 days packed with tap dancing fun for intermediate and advanced level dancers ages 9 to 15. Our program offers young dancers a fun, supportive and challenging environment to develop well-rounded tap skills. The 2014 choreographers are Sarah Reich, Claudia Rahardjanoto & Chris Broughton. Students will also have specially designed master classes with Michelle Dorrance, as well as daily rehearsals for Tap It Out.
  
Detailed information about the Youth Program

Tap It Out

Imagine a chorus of hundreds of tapping feet performing an a cappella choreography weaving together several tap dance styles and vernacular movement. Tap City participants will rehearse throughout the week of the festival to create this explosion of tones and rhythms. Tap It Out is created and staged by the mayor of Tap City Tony Waag and assisted by dancer Lynn Schwab.
 
Dancers who purchase a Residency Package, Youth Program or Pre-Professional Program are automatically registered for Tap It Out. Other dancers may purchase Tap It Out a la Carte.
 
Detailed information about Tap It Out


Evening Events
Many of the events are included in the price of packages - see pricing packages for details.
Copasetic Boat Ride: Circle Line cruise around Manhattan with live music and tap dancing
Tap Awards: Film presentations and performances honoring this year's awardees
Gene Kelly: The Legacy: An evening with Patricia Ward Kelly
Tap & Song: A rhythmic romp celebrating traditional vaudeville, comedy, classic and contemporary song and dance
Tap Future: All student showcase where all residencies (Youth, PPP, and Adult) perform