Tap City Tap It Out -July 13th... for the American Tap Dance Foundation's 25th Anniversary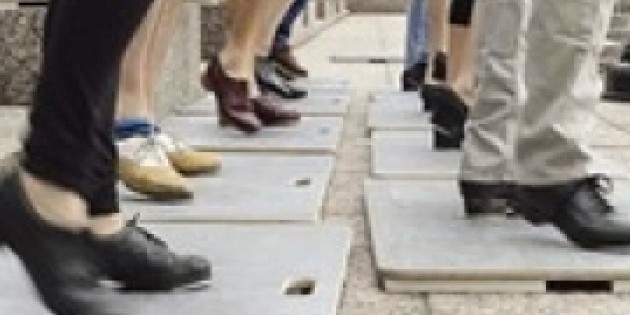 Tap City's Main Event
Tap It Out is a free, public and outdoor event that will be performed downtown at the World Financial Center Plaza & Marina, on the afternoon of Friday, July 13th as part of the acclaimed River to River Festival. Tap City participants will join local professionals in celebration of the 25th anniversary of the American Tap Dance Foundation. Imagine a chorus of 300 tapping feet performing an a cappella choreography weaving together several tap dance styles, grooves and vernacular movement, as well as classic and contemporary new work performed by leading tap dance soloists and ensembles. It promises to be a explosion of tones and rhythms created and staged by the mayor of Tap City Tony Waag, assisted by Lynn Schwab. Show times are 12noon, 1pm and 2pm.
For detailed information
& to participate visit:
atdf.org/tapcity.html
DIRECTIONS
World Financial Center Plaza, 200 Vesey Street
Just outside the glass-enclosed Winter Garden is the Plaza, an open-air piazza overlooking the North Cove Harbor on the Hudson River. Gracing the riverfront adjacent to the Plaza are beautifully landscaped seasonal gardens along the Battery Park City Esplanade, reflecting pools and works of art including sculptures by world-renowned artists. Spectacular views of the Hudson River make the 10,000-square-foot Plaza a magnificent setting for outdoor events.
By Train
2, 3, 4, 5, J, or Z to Fulton Street
A or C to Fulton Street
E to World Trade Center
From these stops, R or 1 to Rector Street; PATH to World Trade Center
By Bus
M20 or M22 to Vesey St - North End Av
X3, X4, X7, X9, X10B to Vesey Street-West Street
American Tap Dance Foundation
154 Christopher St. #2B
New York, New York 10014
info@atdf.org
American Tap Dance Foundation Supporters
The ATDF would like to thank the following for their generous support: Our Anonymous Angel, the National Endowment for the Arts, the New York Department of Cultural Affairs, New York State Council on the Arts, The 42nd Street Fund, the Tsunami Foundation - Anson and Debra Beard, Jr. and Family , Cigna, Stagestep, the Heckscher Foundation for Children, the Jerome Robbins Foundation, the Shubert Foundation, Capezio Ballet Makers, Inc. and numerous individuals, friends & families.