The Ailey Spirit Gala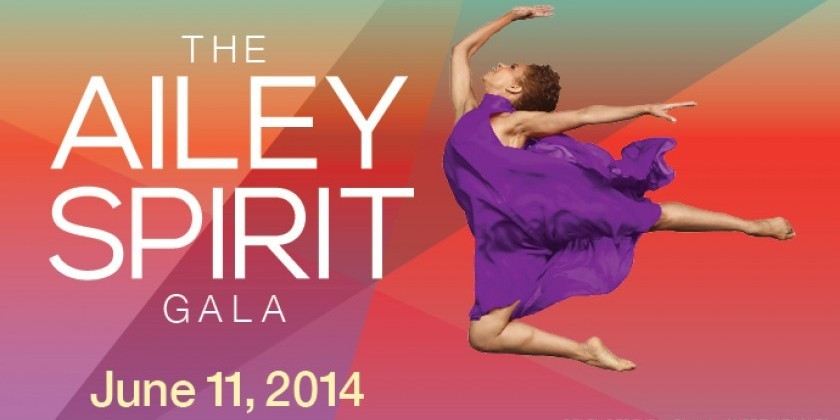 Company:
Alvin Ailey Dance Company
The Ailey Spirit Gala
June 11, 2014  7:00pm
Ailey's inaugural Ailey Spirit Gala will feature a one-night-only, star-studded performance at the landmark David H. Koch Theater at Lincoln Center. Proceeds provide vitally needed scholarships for talented students of The Ailey School and support Ailey's innovative Arts In Education & Community Programs.
 
Vanessa Williams
HONORARY CHAIR

Gina F. Adams
Lynne & Anthony M. Carvette
Almaz & Marc Strachan
Dr. Eboni Marshall Turman & Rossie E. Turman III
Pamela D. Zilly & John H. Schaefer
GALA CO-CHAIRS

Michele & Timothy Barakett
Natasha Leibel Levine, M.D. & Harlan Levine, M.D.
Leslie & Tom Maheras
Henry & Celia McGee
GALA VICE CHAIRS

A spectacular one-night-only performance featuring:
Alvin Ailey American Dance Theater
Ailey II
The Ailey School
AileyCamp

David H. Koch Theater at Lincoln Center
20 Lincoln Center Plaza
New York, NY

Soirée on the promenade to follow
featuring the musical stylings of deejay for the stars - DJ M.O.S.

*Festive Dress

Sponsored by FED-EX

For more information, please call 212-405-9031
Support The Ailey Spirit Gala
Single tickets for The Ailey Spirit Gala range from $250 - $1,000; groups of ten tickets range from $10,000 - $35,000.

If you are unable to attend, please consider making a contribution.