Contribute
Your support helps us cover dance in New York City and beyond! Donate now.
The Alice -In-Wonderland Follies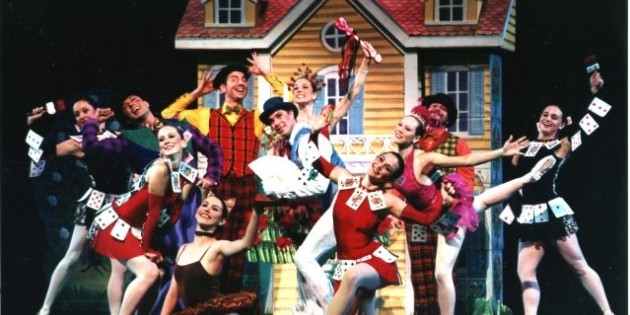 Company:
New York Theatre Ballet
New York Theatre Ballet Presents THE ALICE-IN-WONDERLAND FOLLIES
Friday April 8 & Saturday April 9 at Florence Gould Hall
New York, NY
– New York Theatre Ballet presents
Keith Michael's
The Alice-in-Wonderland Follies,
a high-spirited one-hour production with rapid-fire staging and droll humor @ 7:00 pm Friday, April 8 and Saturday, April 9 at Florence Gould Hall, 55 East 59th Street (between Park & Madison Avenues).
Tickets
are 5 and can be purchased online at www.nytb.org for or by calling Ticketmaster at 800-982-2787 or the FGH box office at 212-355-6160.
The show, whichrecreates a gala evening at New York's Palace Theater in 1913 celebrating the 50th anniversary of the Lewis Carroll classic Alice's Adventures in Wonderland, is set in the electric atmosphere of a vaudeville extravaganza. Headliners reminiscent of Joe Weber and Lew Fields, Lillian Russell, Helen Hayes, and Marie Dresler parody Alice's adventures with dance routines incorporating burlesque, soft-shoe, acrobatics, ballroom dance and African juba, all finessed with a touch of classical pointe dancing.
Originally created for NYTB in 2001, this performance of the
Alice-in-Wonderland Follies
marks the 10th anniversary of its premiere when
The New York Times
praised Mr. Michael (who also choreographed NYTB's
Nutcracker
) for finding "a clever way to make Lewis Carroll's verbal fantasies kinetic."
A playful romp between the White Rabbit, pink flamingos and playing cards at the Queen's croquet game; a raucous frolic with Alice, the Mad Hatter and the Dormouse at the Mad Tea Party; an Irish jig by Tweedledum and Tweedledee; and the complex rhythms of Jabberwocky bring the characters to life bring the characters to life in a rich tapestry of dance and humor.
Scenery designed by Gillian Bradshaw-Smith transforms the stage into Alice's fantasy world, and elaborate costumes by Metropolitan Opera's Resident Costume Designer Sylvia Taalsohn Nolan add to the production's whimsy and panache.
There will be an informal discussion with choreographer Keith Michael following the show.
The program is part of NYTB's Signatures 11 series. The next Signatures 11 performance will be Friday, May 14 & Saturday, May 15 at Florence Gould Hall.