Contribute
Your support helps us cover dance in New York City and beyond! Donate now.
The Bang Group at 92Y Harkness Dance Festival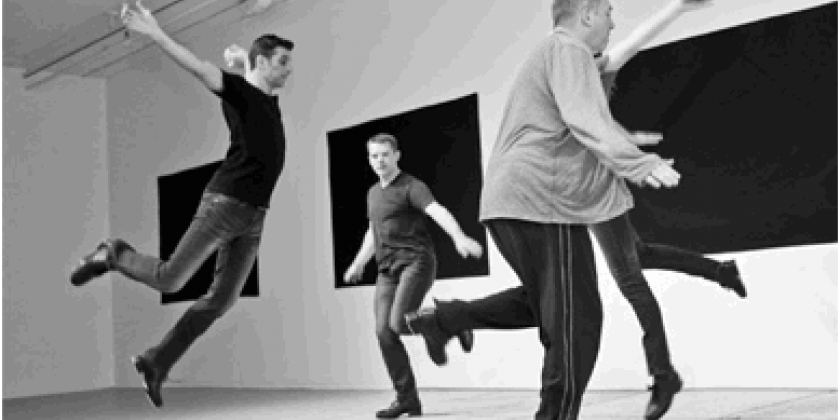 Company:
92nd Street Y
THE BANG GROUP: TAP LAB AT 92Y HARKNESS DANCE FESTIVAL
February 27, 28 & Mar 1
NEW YORK, NY: For the second week of 92nd Street Y's Harkness Dance Festival, The Bang Group founder David Parker and his company perform four dances from his new initiative, Tap Lab, which features contemporary dancers with roots in tap creating up-to-the-minute rhythm dance.
In a twist that highlights not only the look but the sound of dance, music by Mozart, Steve Reich and Morton Feldman is rendered by the performers themselves – with their bodies. "Along with tapping, Tap Lab's musical scores include vocalizing, percussive falling to the floor, audible barefoot hoofing, and intricate group 'body music' segments that mix clapping and hitting with dramatic gestures," explains The Bang Group's founder, David Parker.
The Tap Lab performance at 92Y includes four works: "Settling Scores," a tap quartet based on Morton Feldman's "For John Cage," which is traditionally a duet for piano and violin but is "played" here by the dancer's taps and bodies; "Bocca al Lupo," a tap quintet based on the score of Mozart's "Turkish March," which will be tapped and sung by the dancers; "Punctual Equilibrium," a quintet for barefoot dancers; and "Tempus Fugit," a tap sextet set to the rhythms of Steve Reich's famous "Clapping Music," which are "translated" into tap.
Using festival curator Doug Varone's "Stripped/Dressed" format, each choreographer spends the first half of the program taking apart the dance – talking about it, showing how it was built and giving the audience a direct experience of dance-making without lights or costumes. After intermission, the work is presented fully "Dressed."
In the "Stripped" portion of Tap Lab, Parker reveals the underlying process for building these exacting dances and demonstrates how the original recorded versions of the music is translated into various kinds of body music.
This year's Festival is dedicated to the late Theodore S. Bartwink, long-time executive director of the Harkness Foundation for Dance.
WHAT: 92nd Street Y Harkness Dance Festival: Stripped/Dressed -- Week TWO: THE BANG GROUP: TAP LAB
WHEN: Fri, Feb 27 and Sat, Feb 28 at 8 pm; Sun, Mar 1 at 3 pm
WHERE: 92nd Street Y, 1395 Lexington Ave, New York, NY, 10128
TICKETS: $25 at 92Y.org or 212.415.5500
Press Information: Carrie Oman at coman@92y.org or 212.415.5435
Upcoming performances at 92nd Street Y Harkness Dance Festival:
WEEK THREE
VICKY SHICK DANCE: PATHÉTIQUE, MINIATURES IN DETAILS
Fri, Mar 6 and Sat, Mar 7 at 8 pm; Sun, Mar 8 at 3 pm, from $25
WEEK FOUR
MARTHA GRAHAM DANCE COMPANY
Fri, Mar 13 and Sat, Mar 14 at 8 pm; Sun, Mar 15 at 3 pm, from $25  
WEEK FIVE
SALLY SILVERS: ACTUAL SIZE
Fri, Mar 20 and Sat, Mar 21 at 8 pm; Sun, Mar 22 at 3 pm, from $25
About 92nd Street Y Harkness Dance Center
In 1935, what became 92nd Street Y's Harkness Dance Center provided a home to the fledgling American modern dance movement and its leader, Martha Graham. In the decades that followed, every great American dancer and choreographer – visionaries including Alvin Ailey, Merce Cunningham, Jerome Robbins, Agnes de Mille, Robert Joffrey and Donald McKayle – spent time at the Y, building the foundation for modern dance as we know it. Through the generous support of the Harkness Foundation for Dance, the Dance Center continues this proud tradition of dance teaching, creation and performance, serving the professional world and the community at large. Technique classes range from ballet and modern dance to hip-hop and Flamenco. Rounding out the program are several performance programs including the annual 92nd Street Y Harkness Dance Festival; a professional development program for dance educators; and several teen dance troupes. For more information, please visit www.92Y.org/dance.
About 92Y
92Y is a world-class nonprofit community and cultural center that connects people at every stage of life to the worlds of education, the arts, health and wellness, and Jewish life. Through the breadth and depth of 92Y's extraordinary programs, we enrich lives, create community and elevate humanity. More than 300,000 people visit 92Y's New York City venue annually, and many more join us through digital and social media, live webcasts of events, and an extensive archive of stage programs and original content produced for the web, all available on 92YOnDemand.org. A proudly Jewish organization since its founding in 1874, 92Y embraces its heritage and enthusiastically welcomes people of all backgrounds and perspectives. For more information, visit www.92Y.org.