The Business of Making Art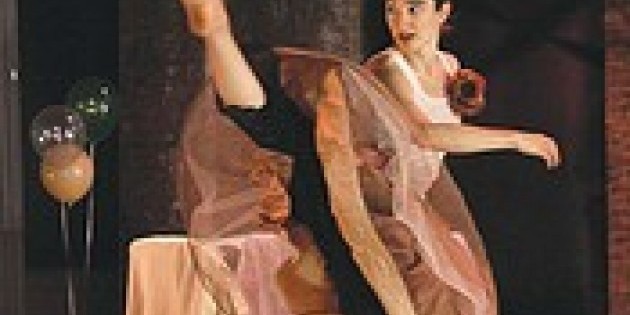 Company:
Dance New Amsterdam
Juggling Art and the Business of Being an Artist
with Monica Bill Barnes
Artistic Director and Choreographer, Monica Bill Barnes & Company
November 2
10:00am - 1:00pm
Battery Dance: 380 Broadway 5th Fl. (2 blocks south of Canal)
Fee: 0 advance payments, 5 at the door
Advance payments can be made with the DNA front desk by cash, check, or card.
Only cash or checks will be accepted at the door.
To pre-register/FMI: Contact Hannah Seidel at hseidel@dnadance.org or 212.625-8369 x206
Workshop Description
This class will focus on the balancing act of building a career which pays you to be a choreographer while at the same time continuing to nurture your own artistic development.
Monica Bill Barnes is a New York City based choreographer and performer. Born and raised in Berkeley, California, she moved to New York in 1995 after receiving her B.A. in Philosophy and Theater from the University of California at San Diego. Before she decided to become a choreographer Barnes studied on scholarship at the Alvin Ailey School, was a member of the high school debate team, played volleyball and wrote bad plays. Since pursuing choreography as a livelihood, she has created thirteen evening-length dance works, numerous site-specific events and multiple cabaret numbers for her company, Monica Bill Barnes & Company. Favorite New York performance venues include The Joyce Theater, Danspace Project at St. Mark's Church, Symphony Space, NYU Skirball Center and Dixon Place. Lincoln Center Institute invited Barnes to tour two of her shows, This ain't no Rodeo! (2003-2005) and Suddenly Summer Somewhere (2009-2010) throughout the tri-state school system as part of their Repertory Season. Barnes has been an invited Guest Artist at the American Dance Festival, Bates Dance Festival, North Carolina School of The Arts, Vassar College, Virginia Commonwealth University, Connecticut College, The College at Brockport, Florida State University, James Madison University, University of Michigan, Emory University, Steps on Broadway, Peridance and Dance New Amsterdam. In addition to stage works, she has created several site-specific works and theater productions, including From my Mother's Tongue (Dancing in the Streets), Game Face (SITELINES Festival), Limelight (Philadelphia Live Arts Festival) and several new works for The San Diego Dance Theater's Trolley Dances. Recent projects include commissions for Parsons Dance (Love, oh Love) and The Juilliard School (The way it feels). Barnes was thrilled to be a part of This American Life Live! on May 10, 2012, alongside her favorite radio show host Ira Glass and other fabulous guests.