The Chocolate Factory Theater Presents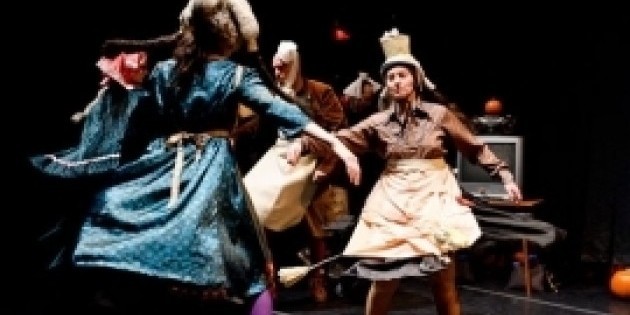 Ich, Kurbisgeist
| | |
| --- | --- |
| | |
| | | |
| --- | --- | --- |
| | | |
My dear shell-shocked water-logged friends, please drown your sorrows in a big cup of Ich, Kurbisgeist. We had to cancel yesterday's performance, for reasons that are obvious to everyone, but we are going on tonight. PLEASE come for the wait list - transportation is still jacked so there will certainly be no-shows, which means your chances are excellent; and really, EVERYONE from the wait list has gotten in so far. Take a chance. And just because we love you even more, we added a show on Friday (as in, tomorrow) at 10pm. The phone bank at ovationtix is still down, so the only way to buy tickets is online. And let me just personally say that my thoughts are with everyone who has suffered from this mess. LIC is fairly wrecked - a lot of our friends & neighbors are dealing with some pretty serious losses - but apart from the 7 train being underwater, we're doing fine. Knock on wood.

Changing subjects for a second: I have a gallery show opening next week, at Ventana 244 in Williamsburg. It's my first ever "solo exhibition" and it's an awesome little gallery run by a really great artist named Ana Busto and basically, I'm pretty excited about the opportunity. I'll be repurposing some material from Hot Box and showing these videos I made during my residency in Seattle. Scroll down for details and PLEASE COME!

Love,
| | | |
| --- | --- | --- |
| | | |
| | | |
| --- | --- | --- |
| | | |
NOW PLAYING: Big Dance Theater & Sibyl Kempson - Ich, Kürbisgeist. October 25 - November 10, 2012.

Performances added! Friday 11/2, Saturdays 11/3 & 11/10 at 10pm, TICKETS NOW ON SALE

Co-commissioned and presented with Performance Space 122.

A harsh, quasi-medieval locale facing destruction is populated by a community speaking a rigorous, specific, and completely invented language. Five absurdly fearful and doomed characters sing, dance,and harvest pumpkin seeds. Every word is semi-recognizable: an amalgam of English, Swedish, German - and Sid Ceasar. The language is as tough and unforgiving as the windswept, uncultivated landscape. At its heart Ich, Kürbisgeist is an olde-tyme agricultural vengeance play installed in a crypt-like basement for just 30 people a night.

Director Paul Lazar. Co-director / choreographer Annie-B Parson. Writer Sibyl Kempson. Performers Tymberly Canale, Eric Dyer, Molly Hickok, Paul Lazar, Kourtney Rutherford. Set Joanne Howard. Video Josh Higgason, Karinne Keithley, Jeff Larson. Music Karinne Keithley, Ben Williams. Lights Joe Levasseur. Sound Jamie McElhinney. Costumes Suzanne Bocanegra. Production Manager Brendan Regimbal. Produced by Aaron Rosenblum.
| | | |
| --- | --- | --- |
| | | |
COMING SOON: Brian Rogers - Sweat Tests. 11/9 - 12/15 at Ventana 244.

On view November 9 - December 15, 2012. Opening Reception Friday November 9, 6-9pm.

Collaborator: Madeline Best.

Ventana 244 is located at 244 North 6th Street, Williamsburg Brooklyn.

Sweat Tests is a three dimensional multi-channel video installation which draws from the visual material of Hot Box, a multimedia performance I created at The Chocolate Factory in September 2012. Hot Box challenged its audience to look, intensely and for a long time, at variations on a single image. The mechanics of this performance were extensively choreographed; but there was no real "content" to speak of. We worked extremely hard to maintain a focus that was directed, but empty. Responsibility for interpreting the juxtaposition of images, sounds, and the movements of the live performers, was left to the spectator. We wanted to make space and time for a multiplicity of meanings to unfold; and to find out what it meant to place a frame around something as a way of understanding it, even if that thing cannot or should not be "understood". In this performance, I was attempting to reconcile my ideas about video and my ideas about performance in a way that made each element feel essential to the other.

Inspired by films like Apocalypse Now and Fitzcarraldo, where the filmmakers achieved a kind of elegiac beauty under seemingly impossible conditions, Hot Box created a live performance situation that was violent, hazy, loud and chaotic; and from that chaos, attempted to compose a sequence of video images that were quiet, sustained, focused, and organized - but somehow coated with an intense emotional residue.

In the creation and performance of Hot Box, I endured states extreme drunkenness and physical exertion. In the making of Sweat Tests, I conducted a one-week residency at Velocity Dance Center in Seattle, Washington in which I asked a number of local participants to recreate and/or respond to the physical conditions (inebriation and exhaustion) of my Hot Box performance in the unadorned setting of a dance studio, while I filmed them from multiple perspectives. The resulting images have been combined with material from Hot Box and redesigned specifically for the intimate confines of Ventana 244.
| | | |
| --- | --- | --- |
| | | |
The Chocolate Factory Theater

The Bessie and Obie Award winning Chocolate Factory Theater supports the creation of new work in a variety of disciplines including theater, dance, music, multimedia and the visual arts. The Factory's 5,000 square foot facility is home to new work by the company's founding artists; and (under the leadership of Artistic Director Brian Rogers) commissions and presents new work by visiting artists, providing multi-week creative residencies; dedicated access to space and technical equipment free of charge; marketing and press assistance; administrative support; and commissioning and artist fees.

Staff

Sheila Lewandowski, Executive Director
Brian Rogers, Artistic Director
Madeline Best, Production Manager
Youree Choi, Executive Assistant
Stacy Grossfield, Bookkeeper, Box Office
Yasmeen Jawhar, Box Office
Lydia Chrisman, Box Office
Michael Reardon | m.design, Graphic & Web Design
Sarah Maxfield, THROW Curator

Contact Us

The Chocolate Factory
5-49 49th Avenue
L.I.C., NY 11101
(718) 482-7069
www.chocolatefactorytheater.org

Major Supporters

Aviation Development Council + Big City Graph–x & Printing + Bloomberg Philanthrophies + Brause Realty, Inc. + The Chocolate Factory Theater Trustees + Con Edison + Edith Lutyens & Norman Bel Geddes Foundation + Foundation for Contemporary Arts + The Fund for Small Theaters a program of ART/NY + Kaufman Astoria Studios + JetBlue Airways + Lambent Foundation + Materials for the Arts, NYC Department of Cultural Affairs • NYC Department of Sanitation • NYC Department of Education + M&T Bank + Mathis–Pfohl Foundation + Mellon Foundation + Mental Insight Foundation + Mertz Gilmore Foundation + Modern Spaces + National Endowment for the Arts + The New York Community Trust + New York Waterways East River Ferry + NYC Council Member Jimmy Van Bramer + NYC Council Speaker Christine Quinn + NYS Assemblywoman Catherine T. Nolan + New York State Council on the Arts + Office of Mayor Michael R. Bloomberg + Peg Santvoord Foundation Plaxall + Queens Borough President Helen M. Marshall + Queens Delegation to the NYC Council + Rockrose Development Corp. Royal Waste Services + TD Bank, N.A. + TF Cornerstone + our MANY INDIVIDUAL DONORS & LOCAL TASTE OF LIC PARTNERS.
| | | |
| --- | --- | --- |
| | | |
| | | |
| --- | --- | --- |
| | Support the Chocolate Factory and Its Programs | |