The Construction Company presents SALLY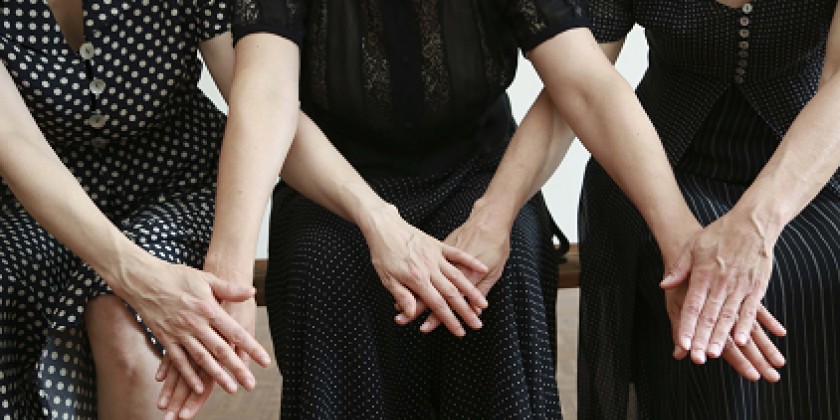 Company:
The Construction Company
The Construction Company presents
SALLY
Choreography by Sally Bowden, Sally Gross, Sally Silvers

Photo by Eileen Travell

On Friday, February 28th and Saturday, March 1st at 8 PM, The Construction Company will present dances by three dynamic and distinguished New York City choreographers: Sally Bowden, Sally Gross and Sally Silvers at University Settlement, 184 Eldridge Street (at Rivington Street) in New York City. Admission to the concert is $15 for general admission. For reservations call 212-924-7882. Information about the concert can be found at www.universitysettlement.org.

These three Sallies helped to reinvent dance – Sally Gross in the 1960s, Sally Bowden in the 1970s and Sally Silvers in the 1980s. They are still actively advancing the art form today. Experience Sally Bowden and Sally Gross performing original solos of their own work.  The program will include a look back at Sally Gross' repertoire with dancers Jamie DiMare Heather Lee and Tanja Meding. Sally Silvers will provide a first look at her next big project that explores the films and motifs of Alfred Hitchcock with dancers Dylan Crossman and Melissa Toogood.
 
Lighting is by Niluka Hotaling
 
The Program:
Sally Bowden
Shifts is a solo for Ms. Bowden exploring shifts of weight, changes of weight, and the resulting shifts in perception.
 
Sally Gross
Sally Gross and Company will present Two, a duet with music by Alex Mincek, Three, a trio with music by Robert Poss, and a solo (untitled) performed by Ms. Gross. The duet and trio will be performed by company members Jamie Di Mare, Heather Lee, and Tanja Meding.
 
Sally Silvers
Confection Size is a miniature jumpstarting of Sally Silvers' next big project taking on the world of Alfred Hitchcock's movies, this time funscaping his classic North by Northwest. It features a duet for the remarkable Merce Cunningham dancers, Dylan Crossman and Melissa Toogood, live video projections by Ursula Scherrer, and a sound design by Bruce Andrews. Then Silvers unleashes her signature "live choreographing" on Erin Cornell and Olsi Gjeci on the spot, as a duet-discombobulater. 
 
 
 
Short Biographies of the choreographers follow:
 
Choreographer, dancer, and teacher, Sally Bowden has presented her work at The Construction Company, Judson Church, University Settlement, Merce Cunningham Studio, and many loft performance spaces in New York City.  She has toured extensively, performing, teaching, and setting dances on professional companies and university dancers.  She has been artist-in-residence at Kenyon College in Ohio, North Carolina School of the Arts, University of Wisconsin – Madison, The Dance Center of Columbia College in Chicago, University of Minnesota – Duluth, Dallas Arts Magnet High School, and University of Illinois – Urbana-Champaign, among others.  She has created works in collaboration with choreographer Bryan Hayes, Texas composer Jerry Hunt, and choreographer Scott Caywood.  Ms. Bowden received an NEA grant for choreography, was on the faculty of the Merce Cunningham Studio and was co-director and teacher at The Construction Company Dance Studio, a studio and loft theater that served as home for many experimental choreographers in the 1970's.  She danced in the companies of Paul Sanasardo and Barbara Gardner, among others.  
 
Sally Gross began her professional career in the 1960s and has presented work annually.  In 2012 she was an artist-in-residence at the University of Wisconsin/Madison teaching interdisciplinary improvisation. The residency culminated in a student performance at the Madison Museum of Contemporary Art.  Douglas Rosenberg, Professor of Art at the University of Wisconsin/ Madison, is creating a documentary about the residency. Her work has also been documented in the Albert Maysles/Kristen Nutile film, Sally Gross: The Pleasure of Stillness. Ms. Gross' work has been supported by many grants and fellowships including a John Simon Guggenheim Choreography Fellowship, an NEA/Japan Friendship Commission Fellowship and residencies at Yaddo 2007-2010.
 
Sally Silvers has been making dances for over thirty years. She has performed and taught improvisation, composition, and repertory around the world and across the nation.  Her theoretical writing, scores, and poetry have appeared in several journals including The Drama Review, an anthology of new writings by women published by Illinois University Press, and many poetry magazines. Silvers has received support for her choreography from the National Endowment for the Arts six times, twice from Meet the Composer Choreographer Project for collaborations with John Zorn and Bruce Andrews, twice from the NY Foundation for the Arts, the Foundation for Contemporary Performance Arts, and she received a Guggenheim Fellowship in 1988.  Silvers is a New York Dance and Performance "Bessie" winner, has co-directed two dance films, Little Lieutenant and Mechanics of the Brain, and choreographed three musicals for the Sundance Theater Festival in Utah.  From 2006 to 2011, she danced in the new works of Yvonne Rainer. Bonobo Milkshake, a full-length dance based on the musicals of Stephen Sondheim, was presented at Roulette in 2012.