Contribute
Your support helps us cover dance in New York City and beyond! Donate now.
The Dinner Party : A Whodunnit Cabaret!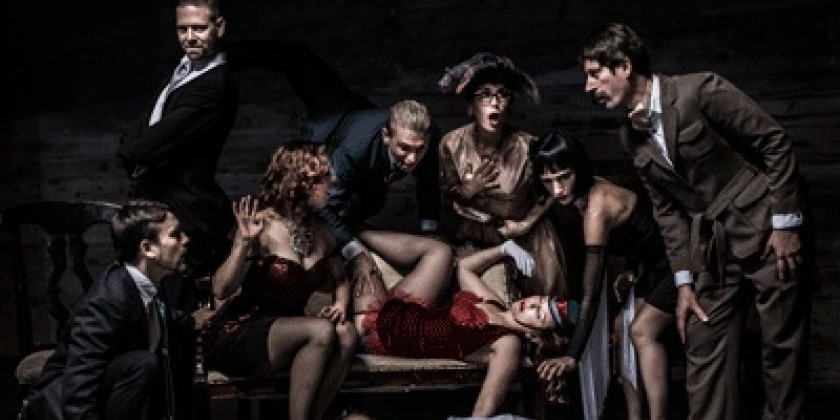 Company:
Jenny Rocha
Jenny Rocha
presents
The Dinner Party : A Whodunnit Cabaret!
October 24th & 25th, 8pm
At Galapagos Art Space, 16 Main St. Brooklyn, NY
 
New York, NY: On October 24th & 25th, Jenny Rocha will present The Dinner Party: A Whodunnit Cabaret! Venue is located at 16 Main Street, Brooklyn, NY 11201. Running time is 80 minutes.  Tickets are $15 advance and $20 at the door for general seating. VIP seating is available and walk-ins are also welcome. Doors at 7pm; Show at 8pm. For tickets: galapagosartspace.com. The show is an immersive dance, theater and circus experience based on the cult classic movie, CLUE. The Dinner Party is directed and choreographed by Jenny Rocha with music direction by Joseph Rivas.  Collaborators include 13 performers from a variety of performing arts.
   
"Every now and then, I see a production that makes me clasp my hands with delight and I want to send everyone to experience it for themselves."
—Amy Pearsall, NYtheater.com
The Dinner Party: A Whodunnit Cabaret is an immersive performance experience based on the movie, CLUE! It is a campy rendition of this beloved film using a super fusion of performing arts such as dance, acting, singing, circus arts and burlesque to tell the story.  Rocha's signature references to pop culture adds a twist of humor that is unique to her work, all the while celebrating certain infamous scenes from the film.  The format is not a variety show, but a cohesive story told through various performance mediums. Expect the focus to move around the venue/mansion.  A campy re-enactment of murder may happen right above you, beside you or on top of you!  Rocha's work is reputably funny, energized and theatrical.  The New York Times described her choreography as "authoritative work" and her company as "hilarious manic tootsies". Burlesque Beat described her work as "..wholly baked, completely conceptualized goodness…".  Jenny Rocha & Her Painted Ladies have been the resident dance company at Galapagos' Flagship Series, The Floating Kabarette since 2008. Rocha is collaborating with her dance troupe as well as variety performers in the nightlife scene in NYC. Cast includes: Joshua Dean, Ben Franklin, Lisa Natoli, Jason Mejias, Jillian Hollis, Jamie Graham, Rosie 151, Michael Karas, Courtney Drasner, Molly Merkler, Kenneth Ziegler, Jennifer Kovacs and Jenny Rocha. 
Bio:

Jenny Rocha is a versatile artist- creating contemporary and commercial dance works, mixing genres of dance and performing arts, designing costumes and teaching various classes. Currently, Jenny is a teaching artist at the Brooklyn Academy of Music, a resident artist at Galapagos Art Space since 2008 (Jenny Rocha & Her Painted Ladies), the artistic director of Rocha Dance Theater, the in-house choreographer for Elan Artists, a performer for Dances of Vice and on the guest faculty at Mark Morris Dance Center. She also choreographs for various entertainment companies and nightlife variety shows such as The Floating Kabarette, The Box, Dances of Vice, Roxy N Dukes, Scarlett Entertainment and many more. Rocha herself has performed in formal theaters, cabaret stages, operas, films, NBCs America's Got Talent and more. Jenny graduated with a BA in Dance from Roger Williams University where she received The Outstanding Achievement in Dance Award. Rocha has received support from The Emerging Artist Award Boston, the Thomas Moore Foundation, Danspace Projects Commissioning Initiative, The Puffin Foundation, a residency grant from Armitage Gone! Dance and The Boston Center for the Arts. jennyrocha.com
 "somehow managing to channel both the grace of Claudette Colbert and the comedy of Buster Keaton" – Amy Pearsal, NYtheater.com
Credits:

Choreography/Direction/Costume Design: Jenny Rocha
Aerial Choreography: Joshua Dean, Jennifer Kovacs, Lisa Natoli
Juggling Choreography: Michael Karas
Script Editing: Jenny Rocha & Ben Franklin
Original Monologue: Ben Franklin
Performers: Joshua Dean, Ben Franklin, Lisa Natoli, Jason Mejias, Jillian Hollis, Jamie Graham, Rosie 151, Michael Karas, Courtney Drasner, Molly Merkler, Kenneth Weston Ziegler, Jennifer Kovacs and Jenny Rocha                                                                                                                 Understudies: Casey Loomis, Stephanie Lane
Additional Costume Design: Joshua Dean, Ben Franklin, Michael Karas, Jennifer Kovacs, Jason Mejias, Jillian Hollis, Rosie151
Music Editing & Remixes: Joseph Rivas
Acting Coach: Natalie Martin