Contribute
Your support helps us cover dance in New York City and beyond! Donate now.
The Film Society of Lincoln Center announces 2015 Free Summer Talks: Julie Taymor, Alan Rickman, Joshua Oppenheimer & more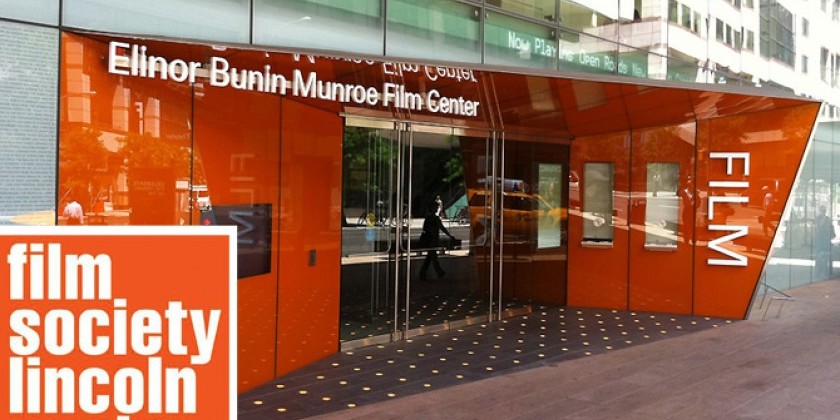 Company:
The Film Society of Lincoln Center

THE FILM SOCIETY OF LINCOLN CENTER ANNOUNCES 2015 FREE SUMMER TALKS FOR JUNE AND JULY

THE POPULAR SERIES RETURNS BEGINNING NEXT WEEK WITH SPECIAL GUESTS INCLUDING JULIE TAYMOR, ALAN RICKMAN, THE TRIBE DIRECTOR MYROSLAV SLABOSHPYTSKIY AND ACTRESS YANA NOVIKOVA, AND DOCUMENTARY FILMMAKERS MATTHEW HEINEMAN (CARTEL LAND) AND JOSHUA OPPENHEIMER (THE LOOK OF SILENCE)



New York, NY (June 9, 2015) – The Film Society of Lincoln Center announced today the initial June and July lineup for the popular FREE Film Society Talks series, sponsored by HBO. The returning summer series kicks off on Monday, June 15 with director, writer, and producer Julie Taymor, who will discuss the filmed version of her critically acclaimed stage production of A Midsummer Night's Dream. The upcoming events will include a combination of clips, trailers, and extended conversations, with questions also taken from the audience. Additional information on moderators and talks will be announced at a later date so stay tuned and visit filmlinc.com for more information. Talks will take place in the Amphitheater at the Elinor Bunin Munroe Film Center, 144 West 65th Street.

Additional guests include British director and actor Alan Rickman, who will discuss his romantic drama A Little Chaos on Tuesday, June 16. Cannes sensation The Tribe bowed at New Directors/New Films earlier this year and will be spotlighted on Wednesday, June 17 with director Myroslav Slaboshpytskiy and actress Yana Novikova in attendance to talk about how the strictly sign-language thriller was made with a cast of deaf, non-professional actors. Award-winning directors Matthew Heineman (Cartel Land) and Joshua Oppenheimer (The Look of Silence) will be on hand on Tuesday, June 30 and Wednesday, July 18, respectively, to discuss their searing new documentaries.

Free tickets will be distributed at the Elinor Bunin Munroe Film Center box office (144 West 65th Street, between Broadway and Amsterdam) on a first-come, first-served basis starting one hour prior to the talks. Limit one ticket per person, subject to availability. For those unable to attend, video from the event will be available online at filmlinc.com.


DESCRIPTIONS & SCHEDULE

Julie Taymor
A Midsummer Night's Dream

Julie Taymor is an Oscar-nominated and Emmy-winning director, writer, and producer whose visionary work has also extended to the stage with The Magic Flute and the Broadway smash-hit The Lion King. Taymor's big-screen credits include Titus, Frida, Across the Universe, and The Tempest. Her latest project blends the worlds of cinema and theater, presenting a multi-camera film that captures a 2014 live performance of A Midsummer Night's Dream at the Theatre for a New Audience's Polonsky Shakespeare Center in Brooklyn. Starring David Harewood (Homeland, Blood Diamond), Kathryn Hunter (Harry Potter and the Order of the Phoenix), Tina Benko (The Avengers), and Max Casella (Blue Jasmine), Julie Taymor's A Midsummer Night's Dream opened to rave reviews at last year's Toronto International Film Festival and will hit select theaters June 22.

Taymor's production of Shakespeare's most phantasmagorical play is visually breathtaking, funny, sexy, and darkly poetic. Ealing Studios, Londinium Films, in association with Theatre for a New Audience and producers Lynn Hendee (Ender's Game, The Tempest) and Ben Latham-Jones (Nina, The D-Train) have joined forces with Taymor to create this exclusive filmed production. Featuring cinematography by Academy Award nominee Rodrigo Prieto (The Wolf of Wall Street, Argo) and music by Academy Award–winning composer Elliot Goldenthal (Frida, Heat), this immersive, inventive cinematic experience allows audiences from around the world to witness this critically lauded, sold-out show. Taymor will share her experiences about bringing A Midsummer Night's Dream to the big screen.

Monday, June 15, 5:00pm

Alan Rickman
A Little Chaos

British actor and filmmaker Alan Rickman will appear at the Film Society to discuss his second feature as a director, in which he appears opposite Matthias Schoenaerts, Kate Winslet, Stanley Tucci, Jennifer Ehle, and Helen McCrory. Following a string of standout supporting roles in such films as Die Hard and Sense and Sensibility, Rickman won both an Emmy and a Golden Globe for his lead role in TV's Rasputin in 1996. Since then, he's appeared on the big screen in films on both sides of the Atlantic, playing such varied roles as the wizard Severus Snape in the Harry Potter movies, a corrupt judge in Sweeney Todd: The Demon Barber of Fleet Street, and President Ronald Reagan in Lee Daniels' The Butler. A Little Chaos is a romantic drama following Sabine (Winslet), a talented landscape designer, who, while building a garden at Versailles for King Louis XIV (Rickman), struggles with class barriers as she becomes romantically entangled with the court's renowned landscape artist (Schoenaerts). The film debuted at last year's Toronto International Film Festival and opens in the U.S. on June 26.

Tuesday, June 16, 6:30pm

Myroslav Slaboshpytskiy and Yana Novikova 
The Tribe

The Tribe packed the house when it screened earlier this year at New Directors/New Films, but Ukrainian director Myroslav Slaboshpytskiy unfortunately wasn't able to attend the festival. He will now be in town with lead actress Yana Novikova to talk about his crime-drama on the day of its release in the United States. Winner of multiple 2014 Cannes Film Festival Awards (including the coveted Critics' Week Grand Prix), The Tribe is a silent film with a unique difference: its entire cast is deaf, non-professional actors and the "dialogue" is strictly sign language—without subtitle or voiceover. Set at a spartan boarding school for deaf coeds, the film follows new-arrival Sergey (Grigory Fesenko), who's immediately initiated into the institution's hard-as-nails culture with a beating before ascending the food chain from put-upon outsider to foot soldier in a criminal gang that deals drugs and pimps out their fellow students. With implacable camerawork and a stark, single-minded approach worthy of influential English director Alan Clarke, Slaboshpytskiy overcomes what may sound like impossible obstacles to tell an intense, but uncannily immersive story of exploitation and brutality in a dog-eat-dog world.

Wednesday, June 17, 6:30pm

Matthew Heineman
Cartel Land

Director Matthew Heineman won audience accolades and the Directing Award at this year's Sundance Film Festival for his powerful documentary Cartel Land, and the film, which opens the Human Rights Watch Film Festival this week and opens July 3, has continued to impress on the festival circuit and will likely have a presence this coming Awards Season. Cartel Land is a classic Western set in the 21st century, pitting vigilantes on both sides of the border against the vicious Mexican drug cartels. With unprecedented access, this character-driven film provokes deep questions about lawlessness, the breakdown of order, and whether it is just for citizens to take up arms to fight violence with violence. Making a compelling documentary is never easy even under the most "ideal" situations; capturing the war that is right at the doorstep of the U.S. is nothing short of breathtaking.

Tuesday, June 30, 6:30pm

Joshua Oppenheimer
The Look of Silence

Texas-born filmmaker Joshua Oppenheimer's chilling Oscar-nominated documentary The Act of Killing (New Directors/New Films 2013) has elicited its fair share of controversy. The film, which opens July 17, asked former Indonesian death-squad leaders to reenact their mass killings using the cinematic genre of their choosing, resulting in lavish musical numbers and scenes in the style of classic Hollywood gangster flicks. Oppenheimer's follow-up, The Look of Silence (New York Film Festival 2014), returns to Indonesia to view the genocide of 1965-66 through the eyes of one of its victims, Adi, who tracks down a number of retired torturers—under the guise of paying them medical visits—to confront them about their past deeds. And as Indiewire critic Eric Kohn observes: "The result is the opposite of the unnerving showmanship that dominated The Act of Killing. A soft-spoken, levelheaded interrogator, Adi is an object of continual fascination as he attempts to get real answers from unwitting and potentially dangerous men."

Thursday, July 16, 6:30pm

ABOUT FILM SOCIETY OF LINCOLN CENTER

Founded in 1969 to celebrate American and international cinema, the Film Society of Lincoln Center works to recognize established and emerging filmmakers, support important new work, and to enhance the awareness, accessibility, and understanding of the moving image. The Film Society produces the renowned New York Film Festival, a curated selection of the year's most significant new film work, and presents or collaborates on other annual New York City festivals including Dance on Camera, Film Comment Selects, Human Rights Watch Film Festival, New Directors/New Films, New York African Film Festival, New York Asian Film Festival, New York Jewish Film Festival, Open Roads: New Italian Cinema and Rendez-Vous with French Cinema. In addition to publishing the award-winning Film Comment magazine, the Film Society recognizes an artist's unique achievement in film with the prestigious Chaplin Award, whose 2015 recipient was Robert Redford. The Film Society's state-of-the-art Walter Reade Theater and the Elinor Bunin Munroe Film Center, located at Lincoln Center, provide a home for year-round programs and the New York City film community.

The Film Society receives generous, year-round support from American Airlines, The New York Times, HBO, Stella Artois, The Kobal Collection, Variety, Trump International Hotel and Tower, the National Endowment for the Arts, and the New York State Council on the Arts.

For more information, visit www.filmlinc.com and follow @filmlinc on Twitter.