The Marches! Opening in just 2 weeks!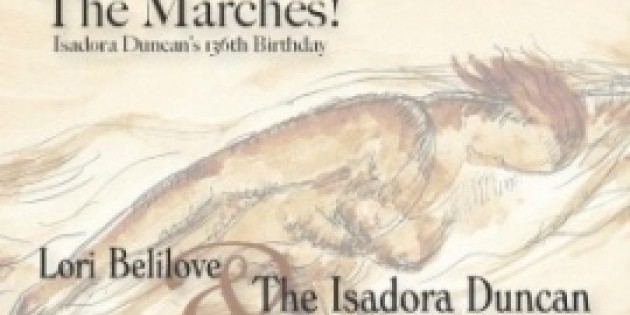 Isadora Duncan's 136th Birthday
General admission 0 /
Students and seniors 0
Children 12 or under 5
discount for advance purchase
May 16 Gala after party 00 (includes admission to performance)
Notes from the Musical Director
For the performance of the
Slow March
at this year's celebration of Isadora's birthday, I have created an arrangement for two female voices and piano of Franz Schubert's
March No. 5
from
Opus 40
. Vocalists
Bridget Ori
and
Kristin Dausch
will be accompanied by pianist Matthew Martin Ward who will be playing several pieces in the concert.
The Slow March was first performed by Lori Belilove & The Isadora Duncan Dance Company in 2011 for that year's celebration of the birth of Isadora Duncan. For that performance I created an arrangement for solo piano (Schubert wrote the piece for a pair of pianos) which was played by Matthew Martin Ward. Using voices to carry the melodies will more completely reveal the beauty of Schubert's composition.
Since 1997 I have been has been creating wordless arrangements of classical and jazz music that use the human voice as an instrument. In 1998 the John Link Vocal Quintet (five voices accompanied by guitar) performed a concert of my arrangements and compositions which is documented by the CD
Live at Saint Peter's
. In 2007 the John Link Project (five singers, guitar, bass, and drums) performed my arrangements of Fr
é
d
é
ric Chopin's
24 Preludes, Opus 28
, as accompaniment for Lori Belilove's choreography
The EveryWoman Series: The Red Thread
. Both a
CD
and
DVD
of that concert were released in 2009.
Even if you are intimately acquainted with Schubert's March No. 5, I believe you will have a new appreciation of his composition after hearing my arrangement. You're in for a treat!
-John Link
Advance discount tickets for all performances are available here:
This program is supported, in part, by public funds from the New York City Department of Cultural Affairs in partnership with the City Council, and the reconstruction project has been made possible by the National Endowment for the Arts as part of American Masterpieces: Three Centuries of Artistic Genius and Art Works.
available at performances.
Enter drawing to win a free copy.
We are excited to announce that we will have advance copies of the fully restored edition of Isadora's My Life, a remarkable account of a wildly artistic life, on sale at the shows. Come to The Marches! and enter the free drawing to win one of several copies of this new edition of Isadora's autobiography, courtesy of Liveright Publishing.
Photo by Margaretta K. Mitchell, 1987