The Moving Beauty Performance Series, SPLIT/BILLS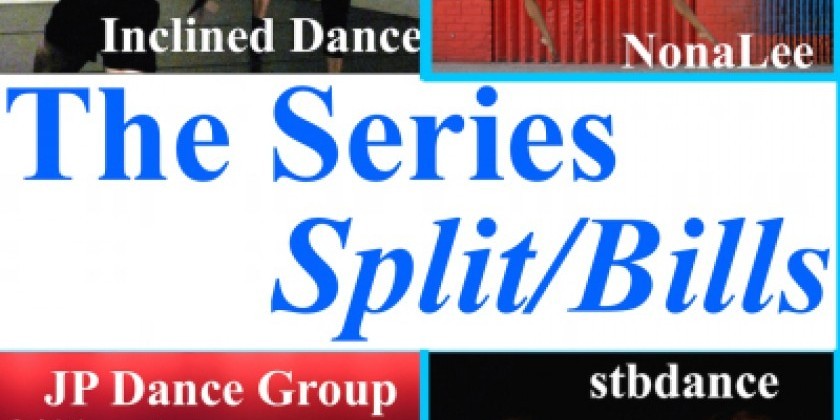 Company:
The Moving Beauty Series
 The Moving Beauty Series
continues
THE SERIES
2  dance companies each night, March 2-15
                                                              
                                         
The Moving Beauty Performance Series, March 2-15,   all events at 8 PM (unless otherwise noted)
The Secret Theatre, 44-02 23rd Street. Long Island City 
   Directions by subway: closest subways are E, G, M or #7 to Court Street/23rd Street
Tickets:  $20; $15 for students & artists
Available at the door   -    online at www.danceseries.org   -   or by calling 718.392.0722


The Moving Beauty Series, Juan Michael Porter II, Artistic Director, returns to The Secret Theatre in Long Island City with two weeks of fresh young dance companies, two companies on each program, March 2-15.   The Moving Beauty Series promises to offer something for every taste imaginable, with dances by over 30 choreographers, from veteran choreographers Michael Mao and Thomas/Ortiz, to emerging young dancemakers.   All events will take place at Long Island City's Secret Theater, 44-02  23rd Street, LIC.
THE SERIES - All performances at 8 PM
Opens March 2 @ 8-9 PM

March 2, 8 PM
An expression of the numerous pathways one follows in life from the  perspective of different choreographers, including selections from founder/director Ariana Champlin's 49th Parallel Dance Company's "Pathways", and the premiere of Juan Michael Porter II's dance/theater work "Pierrot: mais je suis clown," featuring the music of the Birdmask.

March 3, 8 PM
Premieres by the athletic contemporary dance company, DoubleTake Dance, sharing the program with NonaLee Dance Theatre's  "Awake,"  which explores the cosmic energy released through the 7 Chakras in the human body.

March 4, 8 PM
Premiere from T Production/Chieh HsiungHsiung that delves into the meaning of relationships that people have with their food. Sharing this split bill is Janice Rosario and Company, with emerging choreographer Rosario's first full length work, "Unleashed," which illustrates how women are defined by and define the world around them through their sexuality.

March 5, 8 PM
A cross-section of the diverse repertory of monica hogan danceworks that highlights the complexity and intimacy of human
relationships.  Sharing the program is Sue Samuel's Jazz Roots Dance with a  delightful program of scintillating classic jazz constructed by a true master of the form - joyful movement for the sake of movement.

March 6, 8 PM
The Korean American Sunhwa Chung/Ko-Ryo Dance Theatre in a story of self discovery in a foreign land while holding on to a cultural
past.   A Series favorite, DoubleTake Dance, returns with an encore performance of works.

March 7, 8 PM
The premiere of Cameron McKinney/Kizuna Dance's  "Ukiyo," a work that captures the changing spirit of Japan pre-WWII and the
period following, during which the society entered the Jazz era and a time of deep nationalistic fervor.  Janice Rosario and Company returns with an encore performance of "Unleashed."  Joining the evening will be artistic director Juan Michael Porter II's "Pierrot; mais je suis clown" with live music from Birdmask.

March 8, 8 PM
Opens with Inclined Dance Project's "Stuck Together Pieces," which simulates the effect that time, space, and distance has upon our
interactions with others, and "Temporizer," a duet which examines dominant and reticent energies. The evening closes with an encore performance of NonaLee Dance Theatre's "Awake."

March 9, 8 PM
Showcases the classical American choreographer Alison Cook Beatty's passionate exploration of community and Ginger Cox's bold and theatrical company, Link! the Movement.

March 10, 8 PM
Following on the heels of their smash sell out season at Dancespace, Mari Meade Dance Collective offers an encore presentation of
"Brood III"  and "The Interloper," an Alice in Wonderland style narrative tale.  stbdance, with direction and choreography by Sean T. Bible,  premieres "The Child Likes the Word," a full length series of duets that evolve from child like games to set patterns of interaction.

March 11, 8 PM
Showcases RedCurrant Collective's production of choreographer Julia Jurgilewicz's "Dust," a fantasy fiction-inspired journey composed of offbeat episodes, tumbles through the woods, and fateful duels. JP Dance Group shares this split bill with dances that look at the daily grind behind a cast of '9 to 5ers', and an abstract tribute to choreographer Julie Petrusak's Polish female ancestors.

March 12, 8 PM
Features two emerging choreographers with world premieres.  Sosa Dance Company, directed by Mexican dancer/choreographer Ana Sosa, takes a sardonic look at a woman who has lost her mind and humorously illustrates what it is to regain 'sanity'.  N Squared Dance, artistic director/choreographer Niicholas Neagle, presents work inspired by the theme of community.

March 13, 8 PM
Opens with Teresa Cuevas's IndoRican Multicultural Dance Project's "Taino Reign," expressing the belief that the Taino people were created in caves, and emerged to explore new beginnings in the outside world.  Emotions Physical Theatre, directed by Shawn Rawls, closes the program with the premiere of  "Blank," a dance/theatre piece that uses props and different dance styles to depict the societal gender manipulation of men and women.

March 14, 8 PM
Premieres seymour:dancecollective's "Milieux," an abstract, movement driven, female quintet inspired by classic MGM movies, created by director Chafin Seymour.  Jen Roit Dance finishes the evening with a collection of works that focus on the tenacity of the human spirit and what people will go through to attain their desires.

March 15, 8 PM
The Series closes with a lyrically beautiful program from veteran dance makers, Ted Thomas and Frances Ortiz.  Thomas/Ortiz Dance
illustrates such ideas as surviving a natural disaster, confronting overwhelming vices, and the transition between winter and spring.  Erin Dillon & Dancers completes the evening with a full-length premiere that deals with the ideas that we fabricate and project onto others.