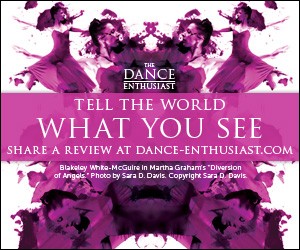 The Nostalgia of Vigorous Dancing curated by Jillian PeAa
BAX | Brooklyn Arts Exchange
is excited to announce


The Nostalgia of Vigorous Dancing
curated by Jillian Peña
presented as a part of the
2012/13 PERFORMANCE & DISCUSSION SERIES
February 22nd-23rd, 2013 @ 8:00pm
featuring work by Jen McGinn and Rebecca Warner
Directly engage the artists as they reveal their creative process.

Preview works-in-progress and give your impressions in a moderated post-performance discussion. The curators, either alumni or current Artists In Residence, bring the kind of diversity of thought, research, interest, and aesthetics we look forward to and celebrate.

The works of choreographers Jen McGinn and Rebecca Warner speak to the physical and visual memory of dance history and dance training. They look to dance training with nostalgia, like an old family member, and desire, like a middle school crush.

Very precise and vigorous, their work finds content within a landscape of bodies. Unapologetic, their work heads towards paradise, to the fantasy of utopia, filled with caravans, sea anemones, and robots.
Tickets: 5 General | Low-Income
Tickets will be available one month before the performance.
Jillian Peña
(curator) I am a dance and video artist based in Brooklyn. My work is primarily concerned with confusion and desire between self and other, focusing on the most complicated relationship we all have: that of the self to the self. I make dances that sometimes include people dancing, sometimes include you dancing, and sometimes hope that dance can exist without dance, by being moved by something.
I am inspired by psychoanalysis, queer theory, pop media, and spirituality. I have been presented internationally, including at Dance Theater Workshop and The Kitchen in New York, Akademie der Kunste Berlin, Centre for Contemporary Arts Glasgow, International Festival of Contemporary Art Slovenia, and Mix Brazil Sao Paulo. I have an MFA from the School of the Art Institute of Chicago, where I was a fellowship recipient, and a BA from Hollins University. I am a Jack Kent Cooke Graduate Scholar and a Practice-based MPhil candidate in Fine Art at Goldsmiths College, University of London. My video work is distributed by Video Data Bank. I was a 2009 Movement Research Artist-in-Residence, a 2009 DanceWeb Fellow at Impulstanz in Vienna, a 2010 Artist-in-Residence at Archauz in Århus, Denmark, and a 2011 Artist-in-Residence at the National Dance Center of Bucharest, Romania.



Rebecca Warner


Rebecca Warner grew up in Brookline, Massachusetts and graduated summa cum laude with a BA in Neuroscience from Columbia. She has performed with/currently performs with RoseAnne Spradlin, Jillian Peña, Aynsley Vandenbroucke, Beth Gill, Stacy Grossfield, Jim Findlay, Deganit Shemy, Karen Harvey, Megan Byrne, Sarah Michelson, Neta Pulvermacher, Muna Tseng, Diana Crum, Laura Vitale and Buck Wanner. She has assisted playwright/director Andrew Ondrejcak as movement/rehearsal director. Her work has been shown at the 2011 Meredith Monk Benefit, La MaMa, CATCH, Dixon Place and Movement Research at the Judson Church.

Into Glittering Asphalt -- This work celebrates movement, the performance of movement and the energetic landscape created by moving bodies.
Jen McGinn
Jen McGinn received her B.A. and M.F.A in Dance from Hollins University in partnership with the ADF. She has been an artist-in-residence at Dickinson College, Hollins University, Booker High School Visual and Performing Arts Center, ADF, West Coast Civic Ballet, nEW Festival, and University of Maryland, among others. She currently co-directs the Summer Institute in Dance at the University of the Arts and is a Dance Specialist for "Life Lines Community Arts Project". She has shown her work along the East Coast, primarily in New York (Movement Research at the Judson Church, Joyce SoHo, Dance Theater Workshop, AUNTS, Dixon Place, Danspace Project, etc.) and Philadelphia (Paraphrase at Nexus, Mascher Space Co-op, Live Arts Festival, nEW Festival, and the CEC, etc.). She recently returned from performing a new duet with her her brother, James McGinn, in Belgium, France and Luxembourg. Her interests include Cecchetti ballet, magical thinking, and logic problems.

TOMS, choreographed by Jen McGinn, examines a spectrum of femininity through the use of portraiture and absurdist formalism. Originally choreographed in 2004 as a solo for James McGinn, contemporary explorations compare the relationship of multiple enigmatic solos and the roles of performer and spectator. Performers include Parker Gard, Erika Hand, and Regina Rocke. Music includes popular songs from the 60's by The Velvet Underground, John & Jackie, Ricky Nelson, and Otis Redding.