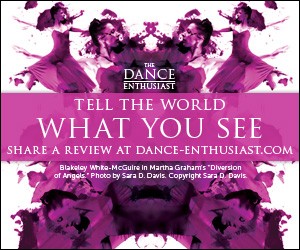 The Vilcek Foundation Presents
The Vilcek Foundation Presents the Winner and Finalists of the Vilcek Prize for Creative Promise at Joyce SoHo, Nov 15-18
New York, NY, October 5, 2012 ¾The Vilcek Foundation is pleased to present Pivotal Works: The Vilcek Foundation Project, a four-night series of dance performances at Joyce SoHo from November 15-18, featuring the talents of the 2012 Vilcek Prize for Creative Promise in Dance winner and finalists. The purpose of the Prize is to recognize contributions by foreign-born dance professionals in the United States. Leading off this program on November 15 & 16 will be the prize finalists Fanny Ara (France), Thang Dao (Vietnam), Alice Gosti (Italy) and Pontus Lidberg (Sweden). Showcasing a variety of dance styles, these choreographers will demonstrate both the cultural and artistic diversity of the contemporary dance field across genres such as modern, flamenco and experimental. Following the finalists program will be a two-night engagement, on November 17 & 18, by the Creative Promise Prize winner, Ivory Coast-born choreographer Michel Kouakou.
In speaking of this event series, Vilcek Foundation Executive Director Rick Kinsel said, "We are honored to present the work of this younger generation of foreign-born dancers and choreographers who have distinguished themselves early in their careers. Their innovative and inspiring talents represent the diversity and vibrancy that immigrants bring to American culture."
Linda Shelton, Executive Director of The Joyce Theater, noted, "It was my absolute pleasure to be a part of the review and selection process for the 2012 Vilcek Prize for Creative Promise in Dance. The distinguished panel comprised of Alicia Adams, Bonnie Brooks, Joan Finkelstein, Jane Forde, Larry Keigwin, Larry Rhodes, and Andrea Snyder supports these foreign-born artists making exceptional work in this country. For The Joyce to be able to host these artists at Joyce SoHo and provide further exposure for each, is an honor."
In the first program on November 15 & 16, Thang Dao will present Lenore, a choreographic narrative inspired by Edgar Allen Poe's The Raven, evoking a mysterious night the poet encounters during his slumber. Fanny Ara will perform Solea, a solo dance based on one of the deepest forms of flamenco song, emphasizing the dancer's upper body control through the use of slow motion movement contrasted with rapid and precise footwork. In Spaghetti Co, Alice Gosti investigates the relationship that individuals and families have with food, and the memories that are attached to certain tastes and smells. Each episode starts with three women, wine and a huge bowl of tomato-sauce spaghetti. Pontus Lidberg will present an excerpt from WITHIN (Labyrinth Within), a work created during Lidberg's tenure as 2012 Resident Artistic Director of Morphoses. The piece weaves together dance, film and interconnected relationships with music by David Lang.
Michel Kouakou's choreography draws upon all of his global experience incorporating both traditional West African and American contemporary dance. On November 17 & 18, Kouakou and his company Daara Dance, which he founded in 2003, will present a program of two world premiere works. In Shifters, Kouakou challenges time through perpetual moving bodies. While the dancers sync with the pulsating rhythm of each other's heartbeat and flow with the varying weight changes in each other's movement, their timing provides momentum and supports a willingness to continue shifting. A Drop from Nowhere is a duet that unravels individual memories through a mutual initiation of body parts, maintaining an understanding of each other while in pursuit of personal identity.
The Vilcek Prize winners dance series will take place at Joyce SoHo from November 15-18, Thursday through Saturday at 7:30pm, and Sunday at 2pm. Tickets are 5 (all proceeds go to the Joyce Theater Foundation). Receptions will follow the performances on November 15 & 17. Joyce SoHo's onsite box office is only open one half-hour prior to performance time to sell tickets exclusively for that performance. Tickets may also be purchased online at joyce.org (no service fees), via JoyceCharge at 212-242-0800 or in person at The Joyce Theater at 175 Eighth Avenue at 19th Street Mon-Sun, 12pm-6pm. On days when there are performances, The Joyce Theater's box office is open for advance sales up to one hour prior to Joyce curtain times and up to three hours prior to Joyce SoHo curtain times. The Joyce Theater's box office is closed on major holidays.
For more information about this event and the featured artists, please visit vilcek.org.
Program subject to change.
The Vilcek Foundation was established in 2000 by Jan and Marica Vilcek, immigrants from the former Czechoslovakia. The mission of the Foundation, to honor the contributions of foreign-born scholars and artists living in the United States, was inspired by the couple's respective careers in biomedical science and art history, as well as their personal experiences and appreciation for the opportunities they received as newcomers to this country. The Foundation hosts events to promote the work of immigrants, and awards annual prizes to prominent immigrant biomedical scientists and artists who make outstanding contributions to American society. To learn more about the Vilcek Foundation, visit vilcek.org.