The Yard 2017 Summer Internships - apply November 1st!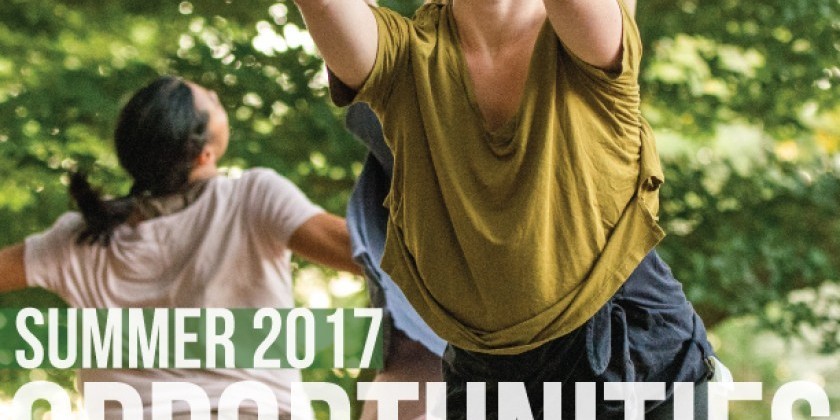 Company:
The Yard
The Yard, a non-profit contemporary artist residency and dance performance center on Martha's Vineyard, in Chilmark, MA, is looking for summer interns for our 2017 Summer Performance Season. The internship focuses both on the administrative facets of an art non-profit as well as an opportunity for skilled dancers and artists to partake in performance and choreographic experiences. The successful candidate should expect to be involved in all aspects of arts management with focus on their individual areas of interest/expertise throughout the summer season.
NOW SEEKING APPLICANTS FOR:
MEDIA AND COMMUNICATIONS
COMMUNITY PROGRAMS & EDUCATION 
ARTIST SERVICES
TECHNICAL PRODUCTION
DEVELOPMENT AND MARKETING 

Internship benefits include: 
Working with an experienced team of art enthusiasts who care deeply about producing quality work
Learning the ins and outs of arts management in a hands-on setting 
Experiencing all performances at The Yard, artist Q&A's, community dance classes, and more 
Receiving professional advancement training and recommendations for future career paths
Multiple professional performance and choreographic opportunities throughout the summer season
Gain a broad perspective on the performing arts field 
$1,250 Stipend, and up to $200 travel reimbursement 
Beach passes to famed Martha's Vineyard beaches 
Live in a community of artists in shared on campus housing with laundry and full kitchen facilities
Monday-Friday dance technique classes 
Monday-Sunday Yoga classes
Farm shares from local farms
One day off a week
Mentorship from Executive/Artistic Directors, Senior Staff, and Resident Artists
At the heart of The Yard's summer internship program is a major focus on Artist Services.  While The Yard seeks interns with individual specialties (see below positions and job descriptions), each participating intern is expected to assist the Senior Staff in the day-to-day management of a single theater venue with 3 weekly on-site performances, 2-3 off-site performances, and 5-10 community events throughout the summer. Interns are required to participate every day throughout the season in many different areas of Artists Services work with rotating leadership roles each week.
With this in mind, The Yard is looking for candidates who possess: 
Excellent and personable communication and customer service skills
Creativity and close attention to detail
A positive attitude in the face of constant multi-tasking, long hours, and some physical labor
The confidence to work independently or with peers on important projects 
And most importantly, a strong respect for the arts–specifically the performing arts
At The Yard you'll work hard and play hard in one of the most beautiful places to spend a summer!
All applications due to ArtistServices@dancetheyard.org by February 15th.
Priority Consideration: January 15th. 
Applications are reviewed in the order that they are received.