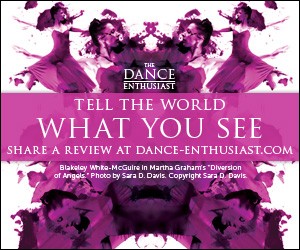 This Week In the Studios: David Dorfman and Pilates Course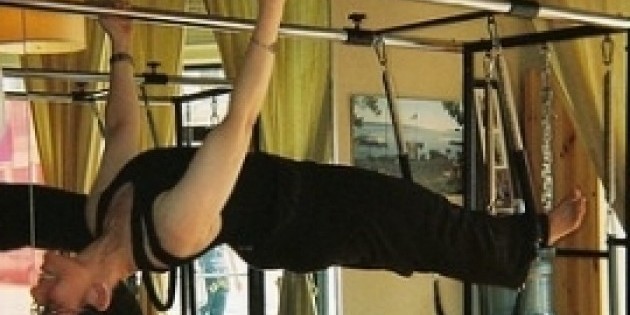 Company Class Series:
David Dorfman Dance
David Dorfman Dance will teach hour and a half release-based technique class focusing on dynamic shift, efficiency in movement, mobility/stability, and driving momentum.
Pilates Circuit Class for Dancers is Back with

Mary Burns
January 8 - February 28
Tuesdays and Thursdays
9:00 - 10:30am
DNA Pilates Room
This Pilates class for professional or aspiring dancers will be offered in six week increments, incorporating weekly circuit sessions, mat and exercise ball regimes designed for dancers, utilizing all equipment and accessories at DNA's fully equipped Pilates studio.
Only six people maximum per class. To register, contact Mary Burns.

photo by Bernice Ruo
Advanced Pilates Mat Exercises with Small Props CEC
January 11
3:00 - 8:00pm
The Advanced Mat Exercises with Small Props CEC begins by reviewing the basic Pilates movement and core principles. With these principals in mind, classes will discuss common ways of altering mat exercises (using tempo, lever length, body weight and gravity) to increase the level of difficulty. This class explores the use of small props such as small balls (with and without weight), dynabands and unstable surfaces and incorporates mat exercises derived from Reformer and Cadillac practice. The class will practice combining exercises into choreographed sequences to challenge the muscular endurance and strength of advanced clientele.
APAP 2013 DNA PRESENTS Spectrum Festival
Dance New Amsterdam is excited to once again participate in the 2013 Association of Performing Arts Presenters (APAP) festival. This year, DNA is incorporating not just performances, but a special discount on classes, too.
From January 11-15, all classes at DNA will be 6.
Join the celebration of dance - see all that is dance and all that is DNA!
For more information on APAP and the performances at DNA, click
here
or scroll to the bottom of this email.
Photo by Florence Baratay
Company Class Series:
Alexandra Beller/Dances
Alexandra Beller/Dances
There are so many enigmatic, intangible qualities that go into being a great "performer" that we sometimes let go of teaching "performance qualities." The gifts of strong stage presence, responsibility towards the piece, strong vocal technique, and the ability to create strong narrative relationships seem to come naturally to some artists and not as quickly to others. Yet there are so many tools that we can use to open the channels to the self to reveal the performer within. I believe a great performer is someone who has both a rich and vivid internal awareness and facility (including strong and efficient voice and natural and versatile use of the body) and a more global awareness of the space, the other performers, the sound, lights, and the larger narrative of the work. This class aims to target both the individual internal awareness, as well as their sense of the whole in order to create mesmerizing, vivid, challenging and idiosyncratic performers. We will work on repertory and task based creative process from the work of Alexandra Beller/Dances.
FREE Classes with Rachel Feinerman
January 16 & 23
2:00 - 4:00pm
Join Rachel Feinerman in her new Advanced Contemporary class time, 2:00pm on Wednesdays. Class on January 16 & 23 will be FREE for everyone!
Drawing from the studies of many different mind-body and dance techniques, class will slowly awaken all parts of the body to help create the opportunity for thick, luscious movement from head to toe. We will learn to develop strength while minimizing tension, to breathe while moving, and to balance a sense of humor with our seriousness of purpose. Class will focus on stability in off-balance movement, spinal articulation and expressiveness, finding stillness while in motion, performance quality, and musicality.
Rent the Pilates and Wellness Rooms
Dance New Amsterdam's Pilates and Wellness rooms have flexible hours, competitive fees, and a comfortable environment for you to work with your clients. Our Wellness Room is perfect for licensed pra
ctitioners to perform treatments in massage, Reiki, reflexology, and more. Our Pilates Room is fully equipped with a wide variety of equipment and props.
For more information, please visit our website.
Faculty Spotlight: Benny Simon
Benny Simon
Slow Int Modern (Simonson Technique)
Sundays 2:30-4:30pm
Benny Simon has been a faculty member at Dance New Amsterdam since 2004 and is currently a Master's candidate in Dance Education at New York University.
He trained at Syracuse University, Giordano Dance Center, and Dance New Amsterdam, and is certified in the Simonson Technique.
He currently dances for Diane McCarthy, and has also performed his own work, as well as work by Alexandra Beller.
Stay up to date with all of Benny's dance happenings by clicking here.
Modern Guest Artists
January 10-20
For a full MGA class schedule, please visit our
website
.
Raja Kelly photo by Nick Edwards; Julie Mayo photo by Rachel Tredon
Substitutions January 10-20
January 11 at 9:15am

Jenni Hong for Laurel Desmarais
January 11 at 3:00pm

Jenni Hong for Ali Schechter
January 11 at 5:00pm

TaraMarie Perri for Hunt Parr
January 12 at 4:30pm

Alexandra Taylor for Stephanie Landouer
For a full list of subs, please visit our
website
.
FREE Class Friday for Members
Modern
January 11 at 3:00pm
Suzanne's class cultivates athleticism, technical proficiency, artistry, and a supportive community of dancers. Rigorous conditioning enhances the dancers' strength, stamina, stability, and fluidity; dancers practice balancing on one leg, moving into and out of the floor, going upside down, and jumping. The students practice full-bodied movement and learning material quickly, both critical skills for performances and auditions. While collecting strategies of how to execute complex phrasework, students are encouraged to think about dynamics and their relationship to space and music. Each student will work to develop a mature awareness of her/his body as an expressive medium.
Class is FREE for DNA Members and 7.50 for nonmembers. More information can be found
here
.
Congrats to Ava for being our December FREE Class Friday Survey winner! She won a free class, the next one could be you! Have you m
ade a New Years Resolution to get fit? Let us help you out with our January FREE Class Friday Survey Promotion! By attending FREE Class Fridays during the month of January and filling out our helpful surveys, you will automatically be entered into a drawing at the end of the month for a free Yoga or Pilates class or two free Fitness classes! Check your emails if you've been attending FFEE Class Fridays.

photo by Al Viciedo
CHOREOLAB
January 19 at 7:30pm
Tickets: 0 suggested donation
Choreographers:
Jamie Boyle, Ariel Jaime, Heidi Kaufman, Belen Labanca, Delaney Larimore, Samantha Pulsifer, Susie Simpson, Jasmin Vrban, and Samsam Yung
CHOREOLAB is a three-week guided process that serves as the culmination of the four-month Choreographic Investigation Course (CIC). It allows choreographers to create work within a supportive, safe and inspiring environment, and to show work in class and receive feedback from both the group and the facilitator. The workshop culminates with a show in DNA's intimate 130-seat theater.
Interested in being part of the next Choreographic Investigation Course and CHOREOLAB? Applications are currently being accepted through January 22 for the Spring 2013 course, running February 1 - May 25. Faculty includes Yanira Castro, Christopher Williams, and Dan Safer. More info can be found on our website

.
photo by Lexi Namer
Foam Roller Pilates Exercise CEC
January 25
3:00 - 8:00pm
The Foam Roller Pilates Exercises Course begins by reviewing the movement and core principles involved in the Pilates Mat exercises. Students work through the basic mat series and discuss ways to incorporate the foam roller into each exercise. Participants learn to perform, teach and cue these exercises with additional exercises derived from Reformer and Cadillac work. Balance exercises and self-massage/stretching techniques are also discussed.
Kids @ DNA Showcase
Come see our amazing DNA Kids as they perform what they've learned this year in Story time Ballet. The showcase is free and open to the public!
Business of Making Art with Alexandra Beller
Funding and Self Production/Production
January 26
10:00am - 1:00pm
Navigating the world of fundraising can be incredibly daunting, particularly in a competitive environment like NYC. This seminar walks students through the steps of various fundraising options, from traditional grant seeking to in-kind donations, corporate backing, private fundraising events, and online efforts.
Writing About Your Work/Work Samples
January 26
10:00am - 1:00pm
Writing about your work is an essential component to sharing your work. Whether it is your artist statement, project description, or company mission, being able to effectively and clearly define your passion, aesthetic, and process to a stranger is a delicate and difficult practice. In this writing workshop, we will read and critique the writing of the participants.
Trisha Brown Dance Company Weekly Wednesday Series
7:00 - 9:00pm
Join us for a weekly class with the Trisha Brown Company.
Core principles of Trisha's work - whether aesthetic, compositional, or kinetic - are taught via the creative and physical practices of past and current Company members. Each teacher offers a unique focus and range of personal experience related to their understanding of Trisha's choreographic sensibility, with the goal of empowering students in their artistic pursuits.
The language of Gaga originated from the belief in the healing, dynamic, ever-changing power of movement. Gaga has two tracks: Gaga/dancer, which is the daily training of Batsheva Dance Company members, now taught also for other dancers in Israel and abroad Gaga/people, open to the public and available for anyone at any age, without the necessity of previous experience.
Gaga/people - Thursdays from 8:00 - 9:00pm
Gaga/dancer - Mondays and Wednesdays from 5:45 - 7:00pm
photo by Gadi Dagon
Cunningham Technique™ at DNA
Cunningham Technique™ is a rigorous, but not codified, training technique for dancers, which places an emphasis on acquiring strength, clarity, and precision. The Elementary level is for students new to the Cunningham Technique™, but who also have an understanding of basic dance training. Students will learn exercises for the back and how to make changes of weight, as well as combinations of back positions and weight changes in moving phrases. This class focuses on the basic techniques of moving clearly in place and in space. Dancers are expected to have a strong sense of center and display clear shapes of movement.
photo by Babette Mangolte
Fitness @ DNA
Classes offered daily!
Keep an eye out for the DNA street team to grab a off coupon!
Who can take an hour off to go to the gym? Not you. But you might have a little time to kill in between dance classes. So DNA is offering 20-minute classes designed to tone, stretch, and shape your body but not take up your entire day.
And at just 0 a class, we are easy on both your body and wallet. So stop and give us 20.
This Week in the Theater:
APAP 2013 DNA PRESENTS Spectrum Festival