This week: Luciana Achugar's OTRO TEATRO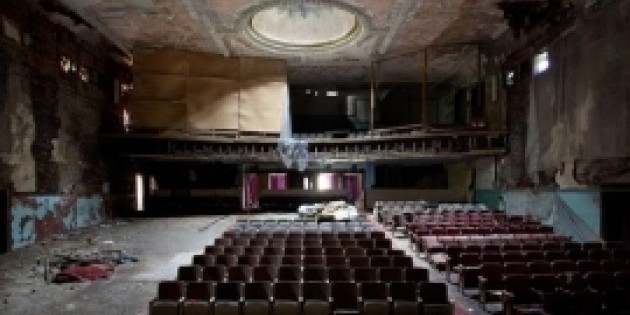 "another theater" or "other theater"
This Week at New York Live Arts...

Photo: Courtesy of the artist

Studio Series
luciana achugar
OTRO TEATRO

Jun 7 & 8 at 6pm
In-Process Talk moderated by Marya Warshaw


Placed metaphorically in the ruins of a collapsed theater, OTRO TEATRO is achugar's current search for another kind of theater; a ritual of becoming; an occasion for communion. OTRO TEATRO, which translates both to "another theater" and "other theater" in achugar's native Spanish, is a dark rite of passage from destruction to rebuilding. It is a dance that is meant to be felt as it is seen, giving voice to the arcane spirit and desire of our uncivilized bodies.

more info>

luciana achugar
Shared Practice

Jun 8 at 1:30pm
5

I like to think of dance class as a chance to grow a new body. I am in a process of developing language that gives me access to a more sensual, animal, connected, bloody, fleshy, fatty, bony, magical and vibrational body--deeper than even the marrow of the bone. I'd like to share my practices with you. Using imagination, breath, voice, touch and discussion you will learn tools for strengthening connections and for letting go of patterns of use within yourself. Always moving towards pleasure…

Big Dance Theater, photo by Paula Court

Introducing our 2013-14 Season!


Our third season kicks off on September 25, 2013 and includes more than 100 performances by nearly 40 featured artists. Season highlights include world premieres by commissioned artists, including Molissa Fenley, Beth Gill, John Jasperse, Donna Uchizono and others; eight international productions, including the U.S. premiere of Jérôme Bel and Theater Hora's Disabled Theater, and a residency by the Trisha Brown Dance Company and performances by Big Dance Theater as part of our beloved Replay Series.

Reserve a season pass today to secure your seat at these sure-to-sell-out shows and save nearly 60% on single ticket prices.

Photo: Paul B. Goode

Bill T. Jones/Arnie Zane Dance Company
A Rite
at Bard College

Jul 6 at 8pm, Jul 7 at 3pm
Fisher Center, Sosnoff Theater
5 - 5


A Rite (2013) represents an intriguing and powerful collaboration between two leading American directors and their companies. Coinciding with the 100th anniversary of the premiere of Igor Stravinsky's The Rite of Spring, the Bill T. Jones/Arnie Zane Dance Company and SITI Company combine forces to explore the impact of this revolutionary piece of music, imagining the consequence of hearing the score played for the very first time.