This week: Pam Tanowitz, Lobby TALKS, The FLUX Quartet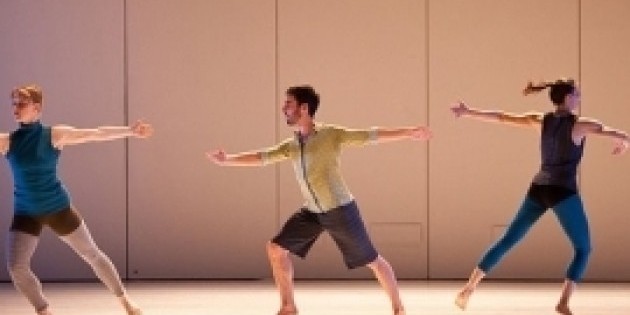 Dance performance, a quartet & a lobby discussion
Photo: Matt Murphy

Pam Tanowitz
The Spectators

May 15 - 18 at 7:30pm
0/5

Driven by a distinct vision for reimagining classical ballet vocabulary in an ultra-post-modern framework, Pam Tanowitz's dances elegantly layer full-bodied dancing with a clear visual design. The Spectators continues Tanowitz's investigation of dance steps as objects and will explore decorative movements alongside practical and structural movements. Consisting of a series of interrelated solos, duets and ensemble pieces, The Spectators is set to music by Annie Gosfield played live by The FLUX Quartet and an original score by Dan Siegler.

*Volunteer ushers are needed for Friday's performance. If interested, please contact the Box Office at 212.924.0077.

Lobby TALKS
Curating Performance: The New Wave

May 14 at 7:30pm
Ford Foundation Live Gallery
Free

Young curators discuss live work in the diverse contexts of historical sites, theaters, museums, Biennials and beyond.

Panelists: Lydia Bell, Travis Chamberlain, Christopher Lew, Lana Wilson

Originally created by Dance Theater Workshop, Lobby TALKS create a forum for open and in-depth discourse on contemporary issues in dance and performance. Conceptual themes are investigated, challenged and considered by an invited group of artists, curators, scholars and critics. Discussions are open to all who would like to participate. Lobby TALKS are organized and moderated by Marissa Perel.

Stay Late Performace
The FLUX Quartet


May 17 at 8:45pm
Free

The FLUX Quartet, referred to by The New York Times as "...an intrepid ensemble devoted to illuminating the pricklier corners of the contemporary music repertory..." plays a free set featuring assorted works following their Friday evening performance as part of Pam Tanowitz's The Spectators. Stay late and join us for the intimate musical performance.

Purchase Dance Company
New York City Season

May 22 - 25 at 7:30pm
0/5/0

The Conservatory of Dance at Purchase College's School of the Arts is one of the premier professional training programs in the world. Members of the Purchase Dance Company are selected from the BFA program and represent the most talented performers of the next generation of dance artists. The Company will perform works by five choreographers including Bill T. Jones' Spent Days Out Yonder and George Balanchine's Valse-Fantaisie, as well as new works created specifically for the Company by Loni Landon, Claire Porter and Ori Flomin. In addition, each evening will feature a graduating senior dancing a repertory solo.