Contribute
Your support helps us cover dance in New York City and beyond! Donate now.
This week at Movement Research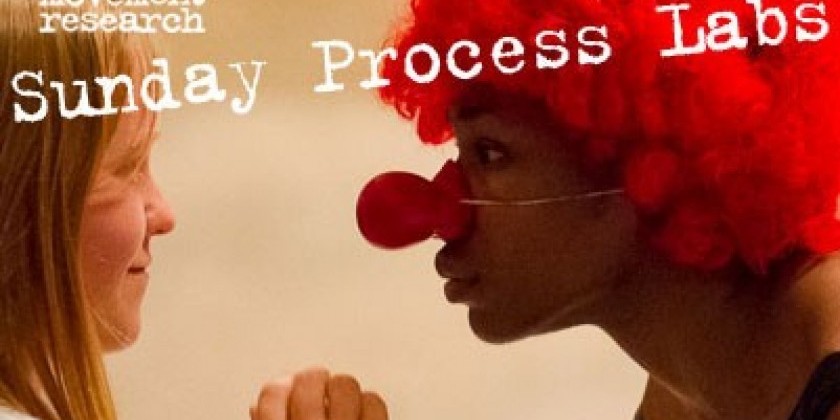 Free Outdoor classes, Sunday Process Labs, and more
CLASSES AND WORKSHOPS

September 11, 18 & 25 WED 6-8:30pm
Movement Research at Eden's Expressway
4
Margaret Paek is dedicated to collaboration and sees dance as a life practice. She is a Lower Left collective artist (
www.lowerleft.org
) and is deeply influenced by her relationships with Contact Improvisation, Ensemble Thinking, Alexander Technique, Barbara Dilley, Nina Martin, Shelley Senter, Loren Dempster, and her daughter. Margaret teaches at Marymount Manhattan and Manhattanville Colleges, and has taught at the International Contact Festival Freiburg, Kontakt Budapest, and the Swedish Dance Alliance. She received her MFA from Hollins University/ADF.
www.margaretpaek.com
Fall/Winter Contact Improvisation Teachers:
October: K.J. Homes
November: Bradley Teal Ellis
December: Ted Johnson
January: Charles Mosey
February: Elise Knudson
TEACHING THIS WEEK
Vicky Shick
September 3 - October 3 T TH 10am-12pm 4
Danspace Project, 131 E 10th St
Juliette Mapp
September 4-27 M W F 10am-12pm 4
Eden's Expressway, 537 Broadway
Join Juliette in celebrating her birthday this Wednesday, September 11.
As a generous gift to MR, Juliette has offered to make her birthday class a "donation to MR day;" all income from that day's class will be donated to Movement Research. Thank you Juliette and Happy Birthday!!
FIRST STREET GREEN
Free Workshops on Saturdays 12-1pm
First Street Green Art Park
33 East 1st St (between 1st and 2nd Avenues)
The classes are open to all; no previous dance or movement experience necessary. The park is concrete so please wear comfortable shoes.
FOR KIDS:
Yvonne Meier
September 14 SAT 12-1pm
Kid's class with Yvonne Meier
(geared towards children ages 4-6)
We will warm up with the principals of straight, round and curvy. Then we will engage in an extraordinary freeze dance using fancy scores. Class will end with locomotion like walking like a spider across the floor.
Mariangela Lopez
September 21 SAT 12-1pm
Low, Middle, High
(geared towards children ages 5-10)
Mariangela will share with children how to make small dances by combining simple body actions. Children will explore the levels in which the body can move through the space and find infinite possibilities. Mainly this class will be an opportunity to have fun outside while dancing and sharing with friends.
FOR ADULTS:
Kota Yamazaki September 28
Jaime Ortega October 5 & 12
Click here for full workshop description.



NEW SERIES!
This week's Sunday Process Lab will be led by:
Sunday September 15 5-8pm
Movement Research at Eden's Expressway
The Cypher: A Soulful Improv Jam
The Cypher: A Soulful Improv Jam is an opportunity for people of all backgrounds, levels, and disciplines, to explore their voices as movers; an approach to improvisation using the functionality of the circle as reflected in African Diasporic practices. We will use the Cypher to launch us into collective choreographic exploration, pushing ourselves to be less precious about our material, and observing our work the through lens, skills, and creativity of our peers. Come prepared to offer and teach a small bite of material... then let the PLAYING COMMENCE!
About Sunday Process Labs:
Each of these three-hour sessions are led by a different movement-based artist. Participants will engage each artist's individual creative practices in a dynamic format that encourages a peer to peer relationship in a lab type setting.
Future Process Labs led by:
Elena Demyanenko (12/15)




PERFORMANCES AND EVENTS


OPEN PERFORMANCE
Starts tomorrow September 10
Please note new location, date and time change:
Eden's Expressway, 537 Broadway
FREE
Moderated by Cristiane Bouger**
Anjoli Chadha, Katrina Juliette Muffley, Kristin Swiat
**2012 Movement Research Artist-in-Residence
The new CC team is in place with Abigail Levine joining Nicole Daunic as co-editor and Hilary Tanabe joining Alyssa Gersony as CC intern.
Just published:
Joshua Lubin-Levy in conversation
with Neal Beasley
...this conversation covering Neal Beasley's career with the Trisha Brown Dance Company as well as his own choreographic interests, offers practical and theoretical insights into the embodied forms of archiving that take place in the work of repertory and contributes to the question of what it means for a visual arts institution to collect a dance.
The Coalition for Diasporan Scholars Moving, part 2 - A Conversation with A'Keitha Carey and Liana Conyers
To deepen the conversation around issues addressed in Jaamil Olawale Kosoko's discussion with Brenda Dixon Gottschild, we asked two dancer-scholars to share and discuss their own encounters with systemic racism in university dance programs.