Contribute
Your support helps us cover dance in New York City and beyond! Donate now.
Tiffany Mills Company is performing at BAM!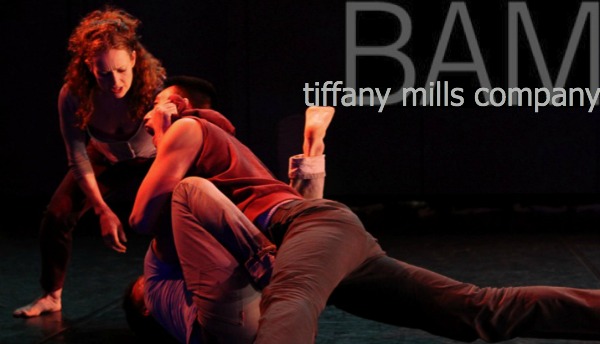 The hour-long quartet features some serious rough-and-tumble and wit of the physical as well as verbal variety. Mills' terrific and durable dancers journey through a raw, precarious emotional landscape. If you follow them, you'll wind up feeling as if you've just been spun around in a blender, but how can you not follow…It takes serious teamwork to pull off a work this rich and complex…



-- Eva Yaa Asantewaa,
InfiniteBody Blog

May 30-June 2, 2013

Save-the-date!

Tiffany Mills Company is honored to have been selected by BAM (Brooklyn Academy of Music), in collaboration with the DeVos Institute of Arts Management (DVIAM) at the Kennedy Center, to participate in the inaugural session of BAM's Professional Development Program, which culminates in a NYC Season at the BAM Fisher's Fishman Space, May 30-June 2, 2013. The Company is thrilled to place foot on BAM soil and perform at the Fisher during its opening year.

Tiffany Mills Company will present a new movement-packed work, featuring deeply dedicated and ferocious dancers/collaborators (Jeffrey Duval, Kevin Ho, Tiffany Mills, Petra van Noort, Emily Pope-Blackman). The Company's BAM Season will also premiere their latest dance/theater project, Berries and Bulls (World Premiere), with collaborators: Tiffany Mills (Choreographer), Peter Petralia (Dramaturge), Kay Cummings (Editing Advisor), and Chris Hudacs (Lighting Designer). Additionally, Berries and Bulls will incorporate an augmented cast of fourteen dynamic dancers, plus new music, sets, and costumes. Critic Lori Ortiz writes about Berries and Bulls: "Like Brechtian tragicomedy...Berries and Bulls does reverberate...Its fantasy, romance dance-plot begins with paper airplanes and ventures into the possibility of flight...In brief precious moments that represent the whole, Berries and Bulls levitates us."