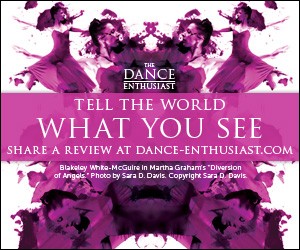 Tom Gold Dance in Spain
Company:
Tom Gold Dance
Tom Gold Dance has been invited back to be a part of Stars Of Ballet in Bilbao, Spain, as part of the program Works & Process at the Guggenheim. This will be the 5th season for the company in Bilbao. They will present performances on Wednesday, August 21 and Thursday, August 22 at 7:30 pm at El Auditorio del Museo Guggenheim, Bilbao, Spain.

The program will include Apollo with choreography by Balanchine, music by Stravinsky; Flower Festival at Genzano, with choreography by Helsted, music by Bournonville; Concertino with choreography by Robbins, music by Stravinsky. Concertino, a rarely seen Robbins ballet, will be a premiere for the company. Concertino will be danced by Sara Mearns, Andrew Scordato and Stephen Hanna. La Plage withchoreography by Tom Gold and music by John Zorn will complete the program.
The works come from the company's collection of over 20 original pieces and are all based in classical ballet vocabulary and range from traditional to contemporary.
Dancers on this program will include Sara Mearns, Abi Stafford, Adrian Danchig Waring, Stephen Hanna, Andrew Scordato, Devin Alberda, Likolani Brown, Marika Anderson and Tom Gold.

"We are thrilled to be invited back to be a part of the Stars of Ballet at the Guggenheim in Spain", says Director Tom Gold, "this performance will be a highlight of our year for myself and our dancers. "
Works & Process at the Guggenheim is a program produced by Mary Sharp Cronson that began in New York in 1984 as part of a program to offer direct contact with the public to the representatives of the arts on a national level.