Tough Cookie Dance & Rebecca M. Sproul and Dancers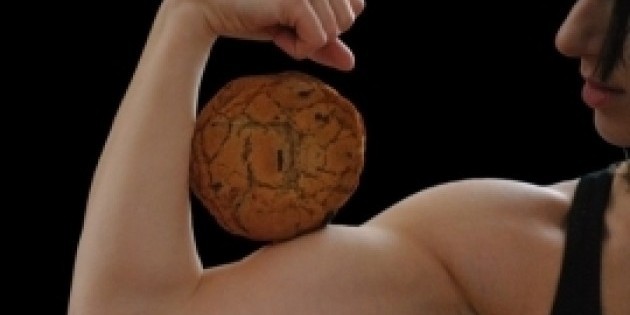 Triskelion Arts is proud to present a shared evening featuring Josselyn Levinson and Michael Richman of Tough Cookie Dance with Rebecca M. Sproul and Dancers
Rebecca M. Sproul and Dancers
Triskelion Arts' Aldous Theater
February 22 - 23, 2013 at 8pm
Brooklyn, NY: Triskelion Arts is proud to present a shared evening featuring Josselyn Levinson and Michael Richman of Tough Cookie Dance with Rebecca M. Sproul and Dancers.
The comedic minds of Tough Cookie Dance are at it again. This time the satirical and sarcastic choreographers, Josselyn Levinson and Michael Richman, attempt to merge two genres that clearly have nothing to do with each other. Acting and Dancing… finally brings the popular art of film acting to the abstract modern dance stage, an event the whole world has been greatly anticipating. Come watch your favorite notable movie scenes (My Cousin Vinnie, Devil Wears Prada, A Few Good Men, and more) pasted together and played out in a mesmerizing way you never thought possible.
Tough Cookie Dance is a contemporary interdisciplinary dance-based company currently comprised of dancers and co-artistic directors Michael Philip Richman and Josselyn Levinson-Dustin. Founded in 2011, Tough Cookie has been presented in Triskelion Arts' Split Bill series and Comedy in Dance Festival, and have guest taught for Moving Target Boston. Tough Cookie aims to bring humor to contemporary dance and dance/theater performance while maintaining technical rigor and virtuosity in their choreographic work. Michael and Josselyn are active members in the NYC arts community currently dancing for Seán Curran and Motley Dance, respectively. They have previously danced together for Gabriel Masson Dance. Inspired by film, stand up, sketch comedy, and contemporary theater and dance performance such as Christopher Guest, Fred Armisen (SNL) and Carrie Brownstein, Woody Allen, Sacha Baron Cohen, Big Dance Theater and Chunky Move, Tough Cookie strives to present eclectic, entertaining and cleverly crafted dance work that is thoughtful, quirky and, above all, accessible.

Sitting atop bar stools in ball gowns, Rebecca M. Sproul and Dancers present an ode to their new home, Brooklyn. They tear out their fear that evil lurks in every dark corner of this city. Called to duty by their newest and cutest, the A-team snarls as they fit safety goggles across their brow; ready for action. They go to work, fighting crime, kicking cats, and drinking their faces off. Get ready to hear their battle yell, these chicks play hard. Eat your heart out, Johnny, because they're dancing like you've never seen them before. Laughing their way through the most serious piece they've created so far, and dropping in and out of haunting narrative, aggressive dancing, shouting, and song, you'll see all this and more from the creative minds of Rebecca M. Sproul and Dancers.
Founded in 2010, the mission of Rebecca M. Sproul and Dancers is to create and perform art that stimulates a kinesthetic perspective, generates sensational physical experiences, and harnesses a broad qualitative range for the expressive execution of movement by engaging in a collaborative creative process to build dance works. This season, Sproul is joined by company members Kristi Ann Schopfer, Sarah Morrill, and Angela Gorman, and welcomes to the stage their newest members Eileen Hollis and Maggi An Wilson. The company, based out of Brooklyn, NY, is excited to reveal their collaborations with set designer Daniele Dejesus, costumer Laurie Turnbull Hollis, and Triskelion's resident lighting designer Andrew Dickerson. Learn more about the company by visiting rebeccasproul.wordpress.com or find them on Facebook.
All shows @ 8pm in the
Aldous Theater
Triskelion Arts, 118 North 11th Street, 3rd Floor, Brooklyn, NY 11249
For more information, visit www.triskelionarts.org.