Triskelion Arts Presents CollabFest 2015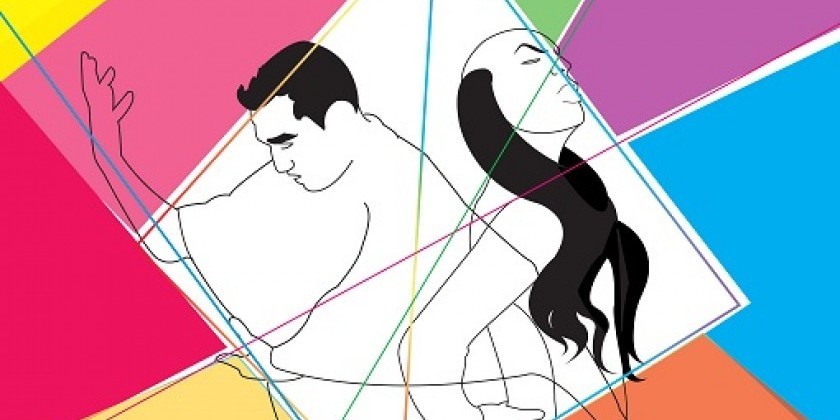 Company:
Triskelion Arts
[Graphic: James Gardella & Untitled Queen]
Triskelion Arts Presents
CollabFest 2015
Thursday – Sunday, October 15 – 18, 2015 at 8pm
The Collaborations in Dance Festival is a celebration of movement-based performance developed through striking collaboration with artists working in other media including film, sound, costuming, visual art, and more.
Tickets: $16
Thursday, October 15: Jules Bakshi/ Subtle Details Dance Theater, stb x at, Y.A.K. collective, Cameron McKinney / Kizuna 絆 Dance, Juliana Garber, Serry Park & Mei Yamanaka
Friday, October 16: The Lovelies, Heather Stewart with Marc Bartissol, Dishman + Co./Matt Choi, James Gardella and Untitled Queen, Grant Jacoby & Dancers, dancesbyremi & Michelle Golden
Saturday, October 17: The Juvenals, Abby Bender & Cassie Tunick, RETTOCAMME, Jenny Pommiss, Jackie Dorage and Sarah Konner, Charlotte Adams & Dancers, Lone King [Projects by Marissa Brown]
Sunday, October 18: Jackie Dorage and Sarah Konner, Current Harbor with choreography by Annalisa Ledson, Serry Park & Mei Yamanaka, Justin Porter, Cuong Nguyen, and Susan Summers, Racoco Productions, seymour::dance collective, Abby Bender & Cassie Tunick
Jules Bakshi/Subtle Details Dance Theater premieres Mountain, the story of 5 characters who meet on Mount Everest, all on separate journeys. The mountain itself represents physical and emotional struggle for all those who encounter it, while the piece as a whole is an homage to the collaborative process, the magic that occurs when artists bring their experience, passion, generosity, and intuition together to make something larger than the sum of its parts.
Dance and percussion group stb x at presents their latest creation Plastique Romantique. Dancer Sean Thomas Boyt and percussionist Dr. Andy Thierauf's newest cross-disciplinary collaboration questions permanence and impermanence found in consumption, waste, and interpersonal relationships. Creating and performing their work in festivals and tours over the past three years, the "dance/perc duo" is continually expanding their repertory of pieces involving physical theater, electronics, and improvisation.
Cameron McKinney / Kizuna 絆 Dance presents Three Poisons, a hyper-physical representation of the three sins in Buddhism – ignorance, craving, and attachment. Using Japanese Kanji characters to create spatial patterns and tidbits of pop culture's infinite wisdom, Three Poisons addresses the vices of being a 21st century citizen while allowing dance to become its own form of meditation.
Juliana Garber explores the physical and sonic manifestation of impulse in a new trio created in collaboration with composer Paulus Van Horne and dancers Jessie Kardos and Sarah Lass. Exploring impulse on individual and interpersonal levels, the piece delves into the essence of action, asking questions "What is impulse?" and "How do one's impulses affect and inspire the actions of others?
Serry Park and Mei Yamanaka present I'm here, a new piece rooted in Park's real life story. It is about a relationship between two sisters, one who is alive, the other who has passed away. Their relationship continues years after their separation. The dancers Mei Yamanaka and Misuzu Hara will perform as the siblings expressing, through movement, emotions that are often too complicated for words. The work includes a visual installation by Park.
The Lovelies work to uncover, establish and conclude the present through discovery.  Makers of dance and sound, sculptors of space and designers of time, the Lovelies push each other, question the possibilities, listen to the thing, and create pieces in the moment.  For this latest work, the Lovelies seek to work collectively to establish an environment and work with everyone involved: dancers, musicians and audience members, to build a dance spontaneously.
roil is a solo work created by Canadian choreographer Heather Stewart in collaboration with composer Marc Bartissol. The circular structure of the choreography is driven by the word 'roil', which relates to the process of stirring liquid. With this idea as an underlying motivation roil evokes an ongoing state of suspension, using the body as an expression of shifting form. Stewart's work has been presented in Canada, The United States, the UK, Germany and Spain.
Terra Firma, a dance video by choreographer Elizabeth Dishman and videographer Matt Choi, is a study on territory and dancing with the enemy. The work revels in the contested but shared space between Caitlin Yuhas and Anthony Shevlin who grapple within a carefully plotted piece of ground. Hollis Bartlett, Ariane Bernier, Joseph Giordano, Leah Ives, Hannah LaBonte and Nattie Trogdon amplify the intimate struggle, with additional videography by Evan Daniels and music by Garth Stevenson.
someone's rainbow is a collaborative performance and installation between James Gardella and Untitled Queen that examines the ways in which prisms transform light. Through drag, dance, and costume, the performers come undone as refracted, bent pieces of light and vibrating wavelengths of color, opening a porthole to a world of pattern and color in a constant state of construction and destruction.
Boston-based Grant Jacoby & Dancers presents the debut of their new work, bitte. Sculpted as a dialogue between the known and the unknown, bitte explores the relationship between the dancers and the space: what has come before, and what has yet to transpire.  Reveling in nothingness and lack of specific meaning, bitte also features an original score composed by Andrew Marco.
Remi Harris/dancesbyremi and Michelle Golden present a new multidisciplinary collaboration that showcases the vibrancy of a changing city from the viewpoint of native New Yorkers. With original music the audience is led through a journey that combines projected film with live dance. The piece culminates in a performance that intertwines cityscapes with the wild and abstract.
The Juvenals premiere PANEM ET CIRCENSES; A violent testimony to an undying lethargy; A performance created for the purpose of entertainment-proper. The Juvenals collaboration embodies music, dance and live video in an overstimulating environment. Constantly ossifying and destroying, PANEM ET CIRCENSES merges bread and circus and filtered, mass content for the sole purpose of your entertainment. Behold, nothing matters anymore! There is no lower case in the roman world.
During their recent residency at The Yard, collaborative duo Abby Bender and Cassie Tunick invited fellow artists and community members to provide content, forms, objects, and images which become the seeds of the dance. Part magpie potluck and part scavenger hunt of the imagination, this dance draws humor from the ordinary, beauty out of the mundane, with body as the ever-central conjuring force. 
RETTOCAMME presents HCI (high claim item) – an abstract and humorous interpretation of a fine art museum heist. This quick caper for three dancers and a picture frame features choreography by Emma Cotter, an original score by Loopstock, projected animation by William Torres, and hair/make-up concepts by Amanda Miller.
In With Love From Blank To You, Jennifer Pommiss/Lux Dance draws inspiration from anonymous love notes written on Post-its. The notes, both real and imagined, range from one-sentence confessions to lovelorn treatises. They take the pulse of a community in regards to matters of the heart: love, longing, desire, and regret. With Love From Blank To You was initially conceived as a writing project by writer and teacher Muna Gurung.
Jackie Dorage and Sarah Konner premiere Pink for Skies as a part of Jackie's Explosion watercolor series. The clouds stay floating for now, laying themselves thickly across buildings and ground. Look to the skies, where gasses billow and light bends; to dirt, where star-dust sits sliced and shuffled. Born of obliteration and decay, pastel lights swing and bask in deaf, callous certainty. And we sit with piles of what we dream to see.
Dysphonia, a collaborative new work by choreographer Charlotte Adams and composer Jason Palamara, combines interactive electronics and dance in a potent, ominous demonstration of artificial intelligence.  Sensors worn by a dancer communicate with Palamara's self-designed computer program, HIDI, as Adams choreography considers the impersonal nature of modern medicine.  Palamara's sonorous score with his live violin and saxophone accompaniment pair with six compelling dancers and a rolling hospital gurney that react to the power of AI and it's possible alarming consequences.
Lone King [Projects by Marissa Brown] premiers a new work in collaboration with visualartist Janaye Brown. You can lay your coat on top of mine layers and overlaps both video and movement observing the relationship between guests at a cocktail party.
Current Harbor's '59RPM' explores American pop music and violence, stemming from the top billboard songs of 1959. Underneath the bubble gum veneer of these familiar tunes is a dark, eerie and often absurd story of our past, echoing to the present. Follow our leading lady as she battles, questions, and rejects these melodies with an ensemble of ferocious dancers. A collaboration of sound, movement, and storytelling from Current Harbor's artistic core – composer Mark Van Hare, choreographer Annalisa Ledson and director Jamie Watkins.
Cosmic Meditation is an interactive meditative composition for dancer, alto saxophone, electronics and visual projections written by the composer Justin Michael Porter. For the performance, the dancer will secure an iPhone to his arm that sends gestural data into the computer. Using custom software written by the composer, the program will effectively translate the dancer's gestures and movements into real time control of the musical and visual elements within the piece.
Unfolding chronicles the tactile interactions between quixotic dance-theater company Racoco Productions and visual artist Stephanie Beck's puppet-like paper sculptures, to live music by composer Lynn Wright. The shifting dynamics between the dancers and the paper highlight the relationship between architecture and the body and the psychological experience of size and space as our constructed psychological and physical worlds alternate between strength and fragility.
Share Your Audience Review. Your Words Are Valuable to Dance.
Are you going to see this show, or have you seen it? Share "your" review here on The Dance Enthusiast. Your words are valuable. They help artists, educate audiences, and support the dance field in general. There is no need to be a professional critic. Just click through to our Audience Review Section and you will have the option to write free-form, or answer our helpful Enthusiast Review Questionnaire, or if you feel creative, even write a haiku review. So join the conversation.