Triskelion Arts presents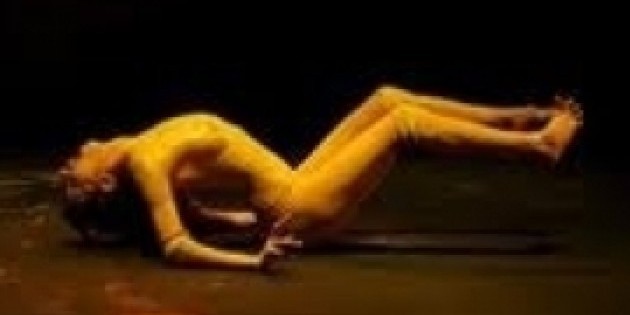 Vangeline Theater Spectral
VANGELINE THEATER
SPECTRAL
CREATED BY ARTISTIC DIRECTOR VANGELINE
FEBRUARY 1ST AND 2ND, 2013
New York Butoh dance company Vangeline Theater will make its Triskelion Arts debut February 1st and 2nd, 2013, with the New York Premiere of SPECTRAL, an evening-length work by Artistic Director Vangeline. Tickets for the Triskelion Arts debut engagement of Vangeline Theater are 5 and can be purchased through Brown Paper Tickets online at
http://www.brownpapertickets.com/event/281355
.
Triskelion Arts is located at 118 North 11th Street in Williamsburg, Brooklyn.
During this Triskelion Arts presentation of SPECTRAL, audiences will have the rare opportunity to see the critically acclaimed company perform in an intimate space. Choreographed by Vangeline, described by the New York Times as "captivating in her devotion to simple movements," SPECTRAL is a performance of Butoh—the avant-garde Japanese dance form that developed after Hiroshima—that seeks stillness in search
of the sacred within. SPECTRAL is Artistic Director Vangeline's first collaboration with filmmaker and video Artist Geoff Shelton. Set in a dream landscape with dancers wearing period costumes and white body make up, SPECTRAL uses unique production elements to create an unknown world of darkness enhanced by projection on smoke and flickering light. Vangeline's solo, which conjures up haunting images of the ghosts of women past and their often forgotten sacrifices, has been critically acclaimed by Time OUT Chicago (Best Dance Visits 2011) and featured in the film The Letter (2012) with Winona Ryder and James Franco.
ABOUT VANGELINE THEATER AND BUTOH DANCE
The Vangeline Theater fuses the post-apocalyptic vision of Butoh (the Japanese dance form that developed after Hiroshima) with the near-cinematic aesthetic of 21st Century science-fiction noir. Time Out Chicago recently named the Vangeline Theater "one of the best Dance Visits of 2011." Los Angeles Times wrote: "Vangeline moves with the clockwork deliberation of a practiced Japanese butoh artist." Vangeline recently performed the critically acclaimed role of Elizabeth Short in the Los Angeles production of 'The
Chanteuse and the Devil's Muse' directed by David J (Bauhaus) which was selected by Theater in LA to be one of "the best performances of 2011." Recent projects include a starring role alongside actors James Franco and Winona Ryder in the feature film by director Jay Anania, "The Letter" and an eight-page spread in Vanity Fair Italia (2012).
Butoh, the explosive, convention-shattering performance art that has redefined the limits of dance and theater, is the original Japanese contribution to modern dance. The form was created in the late 1950s by Tatsumi Hijikata and Kazuo Ohno, avant-garde postwar Japanese artists who drew upon their native agrarian myths, the iconoclastic theater of Antonin Artaud and the influences of Western modern dance. Today, Butoh enjoys an extraordinarily high level of popularity worldwide, currently being preserved and evolved
by dance groups like Sankai Juku and soloists alike.
The Triskelion Arts debut of Vangeline Theater featuring the New York Premiere of Spectral, an evening-length work by Artistic Director Vangeline, will play the following schedule for two-days from February 1st to February 2nd, 2013 at 8pm (Friday and Saturday).
Tickets are 5
Tickets can be purchased online at
http://www.brownpapertickets.com/event/281355
.
Triskelion Arts is located at 118 North 11th Street, 3rd Floor, Brooklyn, NY 11249
(between Berry and Wythe)
(718) 599-3577
L train to Bedford Avenue
www.triskelionarts.org
This presentation is funded in part by the Japan Foundation.
--
Triskelion Arts has a two-fold mission as a 501(c)3, non-profit organization: To foster the development and presentation of the performing arts by providing quality, affordable, accessible rehearsal, class, and performance space to the general public and to provide opportunities to the arts community, including resident companies, for the creation and presentation of new work.