#TweetDance by Under One Dances in "Readymade Cabaret" at Judson Church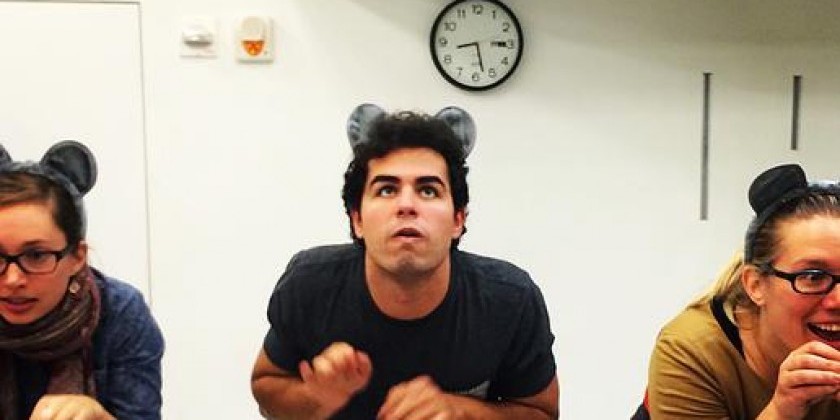 Company:
This is Not a Theatre Company
Chance, Choice, Fate, and Free Will
in Readymade Cabaret
In This is Not a Theatre Company's Readymade Cabaret, the play's scenes and the order in which they are performed are determined by a roll of the dice, giving audiences 1 out of a mission possible plays in any given performance. Based on the notion of readymade art and the philosophies of Dada as practiced by Marcel Duchamp, Readymade Cabaret tackles the issues of chance, control, fate, and free will, interspersing scenes with post-modern versions of the Duchamp-Rauschenberg box with chance music, an aleatory composition, John Cage's 4'33", snippets of Tzara's Dada manifestos, an audience-created Dada poem, as well as #TweetDances: one-minute dances prompted by audience tweets (@NotATheatreCo #TweetDance) and set to music chosen by the shuffle function on the stage manager's iPad.
Readymade Cabaret is helmed by the dynamic female duo of director Erin B. Mee and playwright Jessie Bear. Mee and Bear's last collaboration on A Serious Banquet was heralded by Show Business Weekly as a "profound immersive theatrical experience where performance and life intertwine effortlessly… collaborators Jessie Bear and Erin Mee are paving the way ... Let them begin again, and again, and again."
Celebrate the beauty of chance encounter and make your own meaning in Readymade Cabaret, featuring Caitlin Goldie, Ali Kennedy Scott, Karoline Xu, Anne Flowers, Chris Moriss, and Kyla Ernst-Alper.
Readymade Cabaret performs at the historic Judson Church on April 25 and 30, and May 7, 10, 14, 20, 23, 24, 27, and 28 at 7:00 and 9:00pm. Tickets are $25.00 and available at https://www.artful.ly/store/events/5257
Readymade Cabaret is supported by a grant from the Lower Manhattan Cultural Council
Website:  www.thisisnotatheatrecompany.com