Unreal Hip-Hop: June 25-29 at Jacob's Pillow Dance Festival‏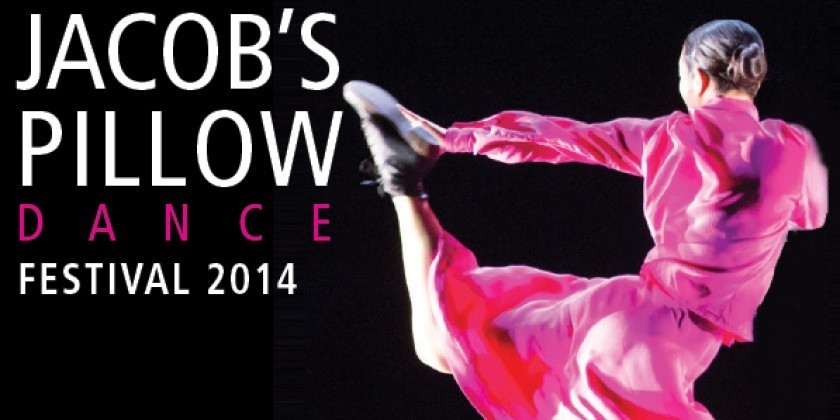 Company:
Jacob's Pillow Dance Festival‏
EXCLUSIVE UNREAL HIP-HOP PROGRAM
BRINGS SLEEK, STYLISH INNOVATION
TO THE DORIS DUKE THEATRE
FEATURING DECADANCETHEATRE,
EPHRAT "BOUNCE" ASHERIE, AND THE WONDERTWINS
June 8, 2014 — (Becket, Mass) Jacob's Pillow Executive and Artistic Director Ella Baff brings together some of today's most innovative hip-hop dancemakers for a new, Pillow-exclusive production. Unreal Hip-Hop features the diverse styles of Brooklyn-based crew Decadancetheatre, b-girl Ephrat "Bounce" Asherie, freestyle and pop 'n' lock duo The Wondertwins, plus the musical stylings of DJ Boo. These artists can only be seen together at the Pillow, June 25-29 in the Doris Duke Theatre.
"These particular artists are amazing movers and shakers of hip-hop," Baff comments. "We also want to show that as with classical ballet, contemporary dance, or tap, hip-hop is diverse in style, vocabulary of movement, and invention that moves the form forward."
Unreal Hip-Hop juxtaposes various traditions in the family of hip-hop dance, showcasing individual expressions and styles. Hip-hop emerged in the 1960's and encompasses forms such as uprock, breaking, locking, roboting, boogaloo, and popping. With origins as an underground, competitive "street" dance form, innovations by choreographers and crews like those featured at the Pillow are bringing more hip-hop to the concert stage.
Directed by Jennifer Weber, Decadancetheatre performs 4, its interpretation of Vivaldi's Four Seasons. Andrew Boynton called 4 "a deft hybrid of hip-hop and modern dance" that saw its performers "fall in and out of unison in simple gestures that riff on popping and locking" (The New Yorker). Decadancetheatre was established 10 years ago in Brooklyn, NY and has toured internationally across the U.S., U.K., and France with the mission to redefine the image of women in hip-hop. The members of Decadancetheatre, hail from France, Germany, Norway, Nigeria, Japan, and the U.S. and have performed with artists ranging from the Black Eyed Peas and Jay-Z to Faye Driscoll and Yoko Ono. Decadancetheatre has appeared as part of the Inside/Out series at Jacob's Pillow four times, most recently in 2011.
B-girl Ephrat "Bounce" Asherie originally trained in modern dance and ballet before finding her artistic home in hip-hop and breaking. Asherie, called "fiercely talented" by Siobhan Burke of The New York Times, performs a selection of acclaimed solos and duets including  "brothers," an eclectic, dramatic solo drawing on her diverse movement background and silky power. Asherie has appeared live with recording artists LL Cool J and Elephant Man, at New York City Center with Jason Samuels Smith, as part of Rennie Harris' Legends of Hip Hop, and with many other artists both live and onscreen. In 2013, Asherie performed with her company as part of the Inside/Out series; she will also appear during Festival 2014 with Dorrance Dance, July 16-27.
Boston-based identical twin brothers Billy and Bobby McClain a.k.a. The Wondertwins have toured the world with the likes of Bobby Brown, won Amateur Night at The Apollo six times, and performed at numerous international festivals and conventions with their rapid-fire pop 'n' lock style. They joined dance crew The Funk Affects at the age of 10; during their time with the crew they performed with KRS One, Run DMC, LL Cool J, and Afrika Bambaataa.  With captivating synchronicity and mind-blowing speed, The Wondertwins present wholly engaging and theatrical works with stylish flair.
DJ Boo, of Decadancetheatre, will provide musical interludes between dance works and will also spin during an end-of-performance jam session involving the Unreal Hip-Hop artists with audience members.
The Pillow has a strong history of presenting hip-hop dance as well as choreography with hip-hop influences beginning in the 1980s. Hip-hop has also been included in the curriculum of The School at Jacob's Pillow, most recently in 2009. Compagnie Käfig, Rennie Harris Puremovement, Mr. Wiggles, Anthony DeNaro a.k.a. Bboy Ynot, Cachet Ivey, Marjory Smarth, Moncell "ill Kozby" Durden, and the Dash Ensemble are among the artists who have performed at Jacob's Pillow and served on faculty. In addition to Decadancetheatre, Companhia Urbana de Dança and doug elkins choreography, etc.—two  hip-hop related companies that have performed in recent Pillow seasons—return for week-long engagements at this year's Festival. Doug Elkins performs in the Doris Duke Theatre August 13-17, and Companhia Urbana de Dança performs in the Ted Shawn Theatre August 13-16.
Artistic personnel from the cast of Unreal Hip-Hop will lead a master class for intermediate/advanced dancers on Sunday, June 29 at 10am. Pre-registration is required the week prior to the class; call the Jacob's Pillow Education hotline at 413.243.9919 x5 to register.
Performance and ticket information
Doris Duke Theatre
Wednesday, June 25 — Saturday, June 28, 8:15pm
Saturday, June 28 & Sunday, June 29, 2:15pm
Free Pre-Show Talks with Scholar-in-Residence Maura Keefe are offered on the porch of the Doris Duke Theatre 30 minutes before each performance

A Free Post-Show Talk with artists appearing in Unreal Hip-Hop will take place onstage immediately following the performance on Thursday, June 27

Tickets $22-42, $10 Youth tickets available for Friday, June 27 at 8:15pm and Saturday, June 28 at 2:15pm (must be accompanied by an adult ticket). $19 Under 35 tickets are available for Friday, June 27 (limited availability). Now on sale online at jacobspillow.org, via phone at 413.243.0745, or in person at the Jacob's Pillow Box Office.

Box Office hours: Sun, Mon, Tues, 11am-5pm; Wednesday- Saturday, 11am-8pm
Pillow Members receive exclusive benefits. To become a Member, call 413.243.9919 x125.
Jacob's Pillow is located at 358 George Carter Road in Becket, MA, 01223 (10 minutes east on Route 20 from Mass Pike Exit 2). The Jacob's Pillow campus and theaters are handicapped accessible.
ALSO THIS WEEK:
Sunday Film Event: Never Stand Still
Sunday, June 29, 4:30pm
Blake's Barn
Never Stand Still is Ron Honsa's award-winning documentary about Jacob's Pillow Dance Festival, featuring interviews with legendary dancemakers and behind-the-scenes footage. This is the only opportunity to see this remarkable film onsite during Festival 2014. Tickets $10, available at jacobspillow.org and via phone 413.243.0745.
FESTIVAL 2014 FREE EXHIBITS — ON VIEW JUNE 14-AUGUST 24
Gotta Dance!
Blake's Barn
Open Tues through Sun, noon through final curtain.
The art of the dance movie poster is celebrated in this extraordinary group of vintage posters from throughout the world, selected from the personal collection of one of the genre's foremost experts, Mike Kaplan, an award winning campaign designer and producer. Among the star dancers featured are Gene Kelly, Rita Hayworth, Cyd Charisse, and Astaire & Rogers, with a special salute to Marge Champion on the occasion of her 95th birthday.
Denishawn Centennial
Ted Shawn Theatre Lobby
Open 60-minutes pre-performance
One hundred years ago this summer, the iconic dance soloist Ruth St. Denis married Pillow founder Ted Shawn and formed a company that spawned American modern dance. Their union was celebrated here with a lavish 50th Anniversary celebration in 1964 (despite their formal separation in 1930), and now their partnership is explored through treasures from the Jacob's Pillow Archives.
104 Work Weeks: On Tour With Merce Cunningham Dance Company
Doris Duke Theatre Lobby
Open 60-minutes pre-performance
Visual artist Kenneth E. Parris III documented the Merce Cunningham Dance Company's final tour in a series of drawings and paintings focusing on the dancers' backstage life, displayed here on the five-year anniversary of the company's last Pillow performances and Merce Cunningham's death that same week.
Jacob's Pillow Dance Archives
Blake's Barn
Open Tues-Sun, noon to approximately 9pm
This informal library and reading room allows impromptu visitors to view videos, browse through books, access the Pillow's computer catalog, or peruse permanent collections of Pillow programs and photographs. Pillow Interactive, the popular touch-screen kiosk, provides instant access to rare film clips ranging from the present day back to the 1930s. Visitors may also sample videos from other Dance Heritage Coalition archives and companies throughout the country.
FREE THIS WEEK
Free Inside/Out Performance: Sayat Nova Dance Company
Wednesday, June 25, 6:15pm
Marcia & Seymour Simon Performance Space
The Sayat Nova Dance Company of Boston (SNDC) was formed in 1986 as an independent, non-profit dance ensemble, under the direction of Apo Ashjian. SNDC performs traditional Armenian folk dance, which is recognized as a celebration and reflection of the life and legacy of the Armenian people. Each dance symbolizes livelihood, aspirations, legends, and an appreciation of beauty. FREE
Free Inside/Out Performance: Nai-Ni Chen Dance Company
Thursday, June 26, 6:15pm
Marcia & Seymour Simon Performance Space
Choreographer Nai-Ni Chen fuses dynamic modern dance with traditional Asian forms to create "endlessly proliferating forces of cosmic energy" (The New York Times). Nai-Ni Chen Dance Company has toured internationally to Mexico, China, Korea, and Poland, presenting mesmerizing and dramatic works that defy cultural boundaries. FREE
Free PillowTalk: Gotta Collect!
Friday, June 27, 5pm
Blake's Barn
Mike Kaplan, award-winning poster art director (A Clockwork Orange) and producer (The Whales of August) talks about poster design and his monumental collection highlighted in Gotta Dance!, an exclusive Blake's Barn exhibition at the Pillow this summer. FREE
Free Inside/Out Performance: Buglisi Dance Theatre
Friday, June 27, 6:15pm
Marcia & Seymour Simon Performance Space
Artistic Director and former Martha Graham Dance Company member Jacqulyn Buglisi creates theatrical, emotional contemporary dances with multidisciplinary inspirations, saying: "using images, literature, poetry, heroic archetypes and a consuming physicality, I craft dances that explore human relationships revealing the bold visceral strengths, humor and exquisite vulnerabilities of the individual." Buglisi Dance Theatre celebrated its 20th anniversary season last year. Since 2011, the company has presented an annual concert in commemoration of the 9/11 attacks called "The Table of Silence" at Lincoln Center for the Performing Arts in Manhattan. FREE
Free PillowTalk: Trey McIntyre's Best Moves
Saturday, June 28, 4pm
Blake's Barn
In this final week of performances by Trey McIntyre Project, a panel of friends and fans pay homage and show clips from some of their favorite McIntyre dances. FREE
Free Inside/Out Performance: Tap Program, The School at Jacob's Pillow
Saturday, June 28, 6:15pm
Marcia & Seymour Simon Performance Space
Dancers from the Tap Program of The School at Jacob's Pillow present variations coached by program director Michelle Dorrance. Dorrance is a recipient of the Jacob's Pillow Dance Award (2013), and her troupe Dorrance Dance performs for two weeks in the Doris Duke Theatre, July 16-27. FREE
ABOUT THE PILLOW
Jacob's Pillow, celebrating its 82nd Festival in 2014, is a National Historic Landmark, recipient of the National Medal of Arts, and home to America's longest running international dance festival. Each Festival includes more than 50 national and international dance companies and 350 free and ticketed performances, talks, tours, classes, exhibits, and events. The School at Jacob's Pillow, one of the most prestigious professional dance training centers in the U.S., encompasses the diverse disciplines of Ballet, Cultural Traditions, Contemporary, and Jazz/Musical Theatre Dance, as well as an Intern Program in various disciplines of arts administration, design, video, and production. The Pillow's extensive Archives, open year-round to the public, chronicle more than 80 years of dance in photographs, programs, books, costumes, audiotapes, and videos. Year-round Community Programs enrich the lives of children and adults through public classes, residencies in area schools, and an extensive schedule of free public events. Through Jacob's Pillow Curriculum in Motion®, a nationally-recognized program, artist-educators work with Berkshire County teachers and students grades K-12, transforming curricula such as biology, literature, and history into kinesthetic and creative learning experiences. Creative Development Residencies, in which dance companies are invited to live and work at the Pillow and enjoy unlimited studio time; choreography commissions; and the annual $25,000 Jacob's Pillow Dance Award all support visionary dance artists and choreographers. Virtual Pillow is aimed at expanding global audiences for dance and offers the opportunity to experience dance and Jacob's Pillow from anywhere in the world via online interactive exhibits, global video networks, and social media. As part of the Virtual Pillow initiative, Jacob's Pillow Dance Interactive is a curated online video collection of dance highlights from 1936 to today. On March 2, 2011, President Obama honored Jacob's Pillow with a National Medal of Arts, the highest arts award given by the United States Government, making the Pillow the first dance presenting organization to receive this prestigious award. For more information, visit www.jacobspillow.org.