Wanderlust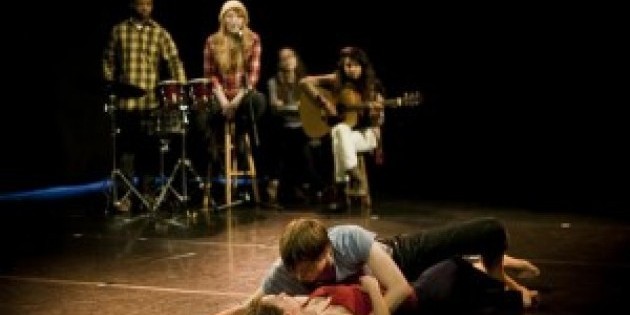 Company:
Movement Workshop Group
The Movement Workshop Group Presents
Wanderlust
A Live Rock Band, Five Extraordinary Actor/Dancers, & a Landscape of Light Bulbs Ignite a Story about One Woman's Fight for Cosmic Love
The Movement Workshop Group presents WANDERLUST as part of the 3rd Annual Planet Connections Theatre Festivity. The Festival will take place June 1st through the 26th with performances at The Robert Moss Theater (440 Lafayette Street). Wanderlust is the final piece in a series of four full-evening dance theater works each inspired by an element. The air piece premiered in 2005, earth in 2006, water in 2008 and this is the final fire piece with previous works earning "Dance Pick of the Week" by The Boston Globein both 2006 and 2008. As Movement Workshop Group's most ambitious work to date, the company of actors, dancers and live musicians tell a story about rising up out of the ashes – a human story about letting people down but also about redemption and forgiveness. The production stars Rachel Garis, Alex Hernandez, Sara Ciampa, Quincy Ellis, Cydney McQuillan-Grace as lead singer, Colin Summers as lead guitarist, Chris Coluzzi on drums, Josh Henderson on violin, and Thomas Murphy and Angelica Olstad on piano. The production features scenic and costume design by Katherine Day, and lighting design by Erik Fox. The work was created collaboratively by Leslie Guyton, Pauline Legras, and the entire Movement Workshop Group.
QUICK FACTS
WHAT Wanderlust
WHERE The Robert Moss Theater
440 Lafayette Street (N/R to 8th Street or 6 to Astor Place)
WHEN Wednesday June 8th at 6:30pm Sunday June 12th at 11:30am Monday June 13th at 8:30pm Monday June 20th at 8:00pm Friday June 24th at 4:30pm Saturday June 25th at 12:00pm
TICKETS 8

THE PLANET CONNECTIONS THEATRE FESTIVITY is New York's premiere eco-friendly socially conscious theatre festival. Fostering a diverse cross-section of performances, the festival seeks to inspire artists and audiences both creatively and fundamentally. At the heart of the festivity are like-minded individuals striving to create professional, meaningful theater, while supporting organizations which give back to the community at large.

THE MOVEMENT WORKSHOP GROUP (MWG) creates dance theater works that transport audiences and the company members to higher, more inspired psychic states. They combine cutting-edge physical acting with highly athletic choreography. The work is dynamic and touching; emphasizing story and characterization through dance and gesture. Movement Workshop Group company members train together in both modern dance and physical acting techniques as well as teach the company's methods to the public. Furthermore, as a collaborative, MWG works closely with playwrights and dramaturges to craft original text and with bands and sound designers to create evocative soundscapes. This joining of artistic voices makes the Movement Workshop Group a unique creative force.

LESLIE GUYTON (Artistic Director) is a dance & theater director based out of Brooklyn, NY. She's the Co-Founder and Artistic Director of the Movement Workshop Group. Her most recent projects outside of the Movement Workshop Group include: choreographer for Foster the People's Houdini music video, choreographer for the Adidas Dance Mash-up advertisement, and Assistant Director for Under Construction with Anne Bogart and SITI Company .