Works & Process at the Guggenheim: Vogue Dance Class with Ballroom Legend Omari Wiles on April 24 @ 6:30pm - 12am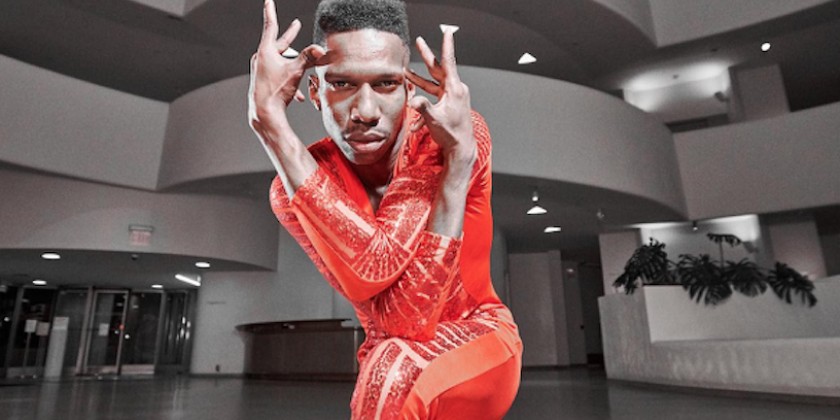 Works & Process at the Guggenheim
presents
Vogue Dance Class with Ballroom Legend Omari Wiles
April 24, 2020 from 6:30pm - 12am

Works & Process, the performing arts series at the Guggenheim, presents a virtual Vogue Dance Class with Ballroom Legend Omari Wiles on Friday, April 24, 2020 at 6:30pm. Details are available at https://www.guggenheim.org/event/vogue-dance-class-with-ballroom-legend-omari-wiles.
 
Ahead of the fall premiere of the Works & Process commission New York Is Burning with Les Ballet Afrik, Omari Wiles, the dance company's creative director and founding father of the House of Oricci, will teach a virtual introduction to vogue dance class. Get ready to sweat and work!
 
The class will held be on Instagram Live (@worksandprocess). Participants should have access to a computer or phone. Participants must have an Instagram account.
 
To learn more about Ball culture, watch the documentary Paris Is Burning.
 
For more information, email info@worksandprocess.org or visit worksandprocess.org.
 

About the Fall 2020 Premiere of New York Is Burning
In 1990, the documentary Paris Is Burning was released to critical acclaim. The film chronicled New York City Drag Balls, Ball culture, and Voguing in the 1980s, capturing the elaborately structured Ball competitions and showcasing rival houses. Beyond the Ballroom, each house served as surrogate families for young Ball-walkers who faced rejection from their biological families for their gender expression and sexual orientation. The Voguing that took place at these Balls has entered mainstream culture in the years since, serving as a touch point for a multi-leveled exploration of a queer African-American and Latino subculture.
 
To celebrate its 30th anniversary and to pay homage to Paris Is Burning, Omari Wiles, founding father of the House of Oricci, presents New York Is Burning, a Works & Process commission made in and for the Frank Lloyd Wright-designed theater at the Guggenheim. Performed by his company, Les Ballet Afrik, New York Is Burning will bring the Ballroom to the Guggenheim and feature Wiles's AfrikFusion, a style that fuses traditional African dances and Afrobeat styles with House dance and Vogue.
 
New York Is Burning is commissioned by Works & Process at the Guggenheim and was supported in part by Kaatsbaan's UpStream® Residency.
 
Lead funding for Works & Process is provided by the Ford Foundation, Florence Gould Foundation, the Christian Humann Foundation, Mertz Gilmore Foundation, Stavros Niarchos Foundation, Rockefeller Brothers Fund, and Evelyn Sharp Foundation, with public funds from the New York City Department of Cultural Affairs in partnership with the City Council and the National Endowment for the Arts.
 
Ousmane Wiles began his training in various African dance styles at the young age of 6. He then joined his Father and Mother - Marie Basse Wiles and Anthony Olukose Wiles - in the family company: The Maimouna Ketia School of African Dance, taking on the role of Assistant Director by the time he was a teenager. Having trained and worked with master African Dancers, Mr. Wiles' understanding of the different cultures, rythms, and dances create the strong foundation on which his excellence stands. Venturing further into his skillset, Ousmane also has trained in other styles such as Hip-Hop, Modern, House and Vogue, affording him the chance to work with artists such as Rashaad Newsome, Janet Jackson, Goldlink, Beyoncé, John Legend, Ephrat Asherie Dance, Jidenna, Maleek Berry, Jennifer Husdon, Forces, and Naomi Campbell, just to name a few. Ousmane has been published in Dance Magazine's "top 25 to watch," Korean Vogue, British Vogue, The Observer, and The New York Times. Mr. Wiles is best known as Legendary Omari NiNa Oricci, Founder of The House of Nina Oricci, and Creative Director of his company LES BALLET AFRIK.