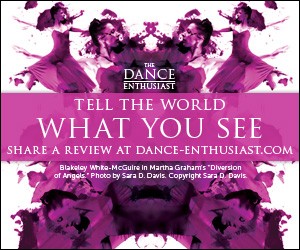 Workshop/Audition Marie-Christine Giordano Dance
Company:
Marie-Christine Giordano Dance
Marie-Christine Giordano will teach a 5-day workshop starting Monday, August 22 every day from 4 to 6PM. 5 full scholarships will be awarded at the end of the workshop to selected dancers to join the company, further study MCGD technique and join its new creation's rehearsals in September. The new creation will be premiered in NYC and in Switzerland.
To register for the intensive, send your resume and a video clip at dancers@mcgdance.org and explain why  you are interested in working  with MCGD.
Deadlline for registration: May 1, 5PM
Once confirmed canditates will pay a rsvp fee of $20 by May 15 and the full workshop tuition of $110 by June 15.
Marie-Christine Giordano, founder and artistic director of Marie-Christine Giordano Dance studied ballet with Beatrix Consuelo in Geneva and Marika Besobrasowa in Monte Carlo. She was awarded a Swiss Scholarship to the Alvin Ailey School and a Merit Scholarship from the Martha Graham Center. She earned her Professional Trainee Certificate in the Martha Graham technique and performed with the Martha Graham Company in New York and on tour internationally. She has choreographed and danced commissioned works for performance in New York and Switzerland and is the recipient of grants from New York City Department of Cultural Affairs. She has created a unique modern dance training technique and Giordano Alignment, which she has taught as a faculty member at Broadway Dance Center, the Joffrey Ballet School Jazz & Contemporary Intensives and internationally. She is a founder and instructor of an outreach program in New York public school system and is the Salon Series Curator for MCGD.
[Photo by Jamie Phillips]