Contribute
Your support helps us cover dance in New York City and beyond! Donate now.
World Premiere of "Palissimo"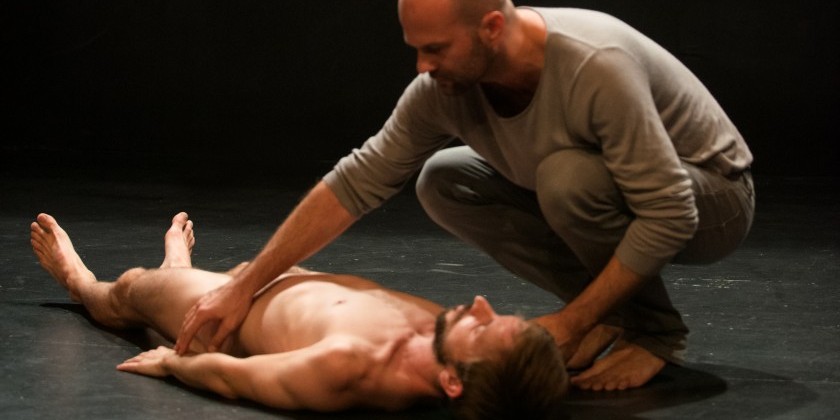 Company:
PAVEL ZUŠTIAK AND PALISSIMO
ABRONS ARTS CENTER PRESENTS THE WORLD PREMIERE OF
ENDANGERED PIECES, FROM PAVEL ZUŠTIAK AND PALISSIMO, OCTOBER 2-12
Featuring Performances by Zuštiak, Jaro ViAAAˆarský, Matthew Rogers,
Live Music by Christian Frederickson and Bobby McElver, and Lighting by Joe Levasseur
Zuštiak creates no movement that looks like dancing for its own sake. It becomes a statement of identity, a task to be completed, an urge to be satisfied.—Deborah Jowitt, Arts Journal
Abrons Arts Center is pleased to begin its 2013-14 season with the world premiere of Endangered Pieces, from Pavel Zuštiak, 2011 Guggenheim Fellow and a winner of the 2013 LMCC President's Award for Excellence in Artistic Practice, and his company, Palissimo. The production, which also marks the company's Abrons debut, instantiates Zuštiak's signature: assembling artists of various disciplines to create cutting-edge work through risk-taking and experimentation. In Endangered Pieces, Palissimo charts new territories, with performances by Zuštiak, Jaro ViAAAˆarský, Matthew Rogers and musicians Christian Frederickson and Bobby McElver, and with lighting by longtime collaborator Joe Levasseur.
Performances will take place October 2, 4-5, and 10-12 at 8pm in the Playhouse at Abrons Arts Center (466 Grand Street). Tickets are $20 and can be purchased by calling 212.352.3101 or visiting www.abronsartscenter.org.
A man in an empty space: in a field, onstage, in combat. Is this his ultimate battle and can it be won? The performance unfolds in a series of dream-like scenes set amidst a looming calamity. Throughout, the visceral trumps the literal, leaving visual impressions, both alluring and unsettling, that linger and gestate in the subconscious.
Endangered Pieces follows Palissimo's The Painted Bird Trilogy, which is nominated for two awards in the upcoming Bessies: Outstanding Production and, for Jaro ViAAAˆarský, Outstanding Performance. The Slovak-born, New York-based Zuštiak treats each aspect of Palissimo's productions—dance, movement, sound, light, set and video design—with equal priority and hopes to challenge and engage audiences with rich, innovative aesthetic and intellectual experiences. At the same time, the work is intended to be accessible, and not to require audiences to learn a new "language" to understand. An audience member may lose the literal thread of the work, but still grasp the intrinsic meaning of the piece.
Endangered Pieces was created in residencies and with support of Abrons Arts Center, Czech Center New York, Vermont Performance Lab, and Stanica Zilina. This piece was made possible with funding from The Jerome Foundation, The Mertz Gilmore Foundation, Trust for Mutual Understanding and New Music USA.
About the Artists
Pavel Zuštiak (Choreographer, Artistic Director), born in communist Czechoslovakia and trained at the School for New Dance Development in Amsterdam, is a NYC-based director, choreographer, and performer. He is known for sophisticated, multidisciplinary works with piercing emotional content and abundant surrealist imagery that explore "the darker shades of human behavior" (The New Yorker) and reach spectators as totalizing multi-sensory experiences. "A striking performer who projects an exquisite, unknowable vulnerability" (The New York Times), Zuštiak is a recipient of 2013 Lower Manhattan Cultural Council President's Award for excellence in artistic practice, 2012 New England Foundation for the Arts Award, 2010 John Simon Guggenheim Fellowship, 2010 Maggie Allesee National Choreographic Center Fellowship and a winner of the 2007 and 2009 Princess Grace Award. Zuštiak was named an ambassador of Košice European Capital of Culture 2013, his birth city that was selected together with Marseille as European cultural capitals.

Jaroslav ViAAAˆarský (Performer) was born in 1978 in the Eastern Slovakia. He attended the Academy of Performing Arts in Bratislava and Prague's Academy of Arts majoring in choreography. As a dancer he collaborated with such choreographers as J. Hamilton, S. Sandroni, C. Brumachon, F. Faust, N. Charnock, I. Stamou, I. Wolf. He is the founder of DuWadance chamber dance troupe that performed in Slovakia, Czech Republic, Russia, Croatia, Austria, Portugal, Romania, Bulgaria, Denmark and France. Jaroslav's solo piece The Last Step Before, received the Audience Prize at the Czech Dance Platform competition and the Tanec Praha festival's main Sazka Award for "discovery in dance" in 2006. The Sazka Award commissioned his male quartet titled Paisyn – a full-length evening performance co-produced by the Grotowski Institute in Poland. Jaroslav also works extensively with Belgian choreographer Karine Ponties (ten years of collaboration) as a soloist in productions presented at the Theater de la Ville, Avignon Festival and numerous venues in Europe. His most recent work, ANIMALINSIDE, premiered in December 2012. For his performance in Palissimo's The Painted Bird Trilogy, he is nominated for an Outstanding Performance award in the upcoming Bessies.

Matthew Rogers (Performer) is from Gloucester, Virgina. Based in NYC from 2003 to 2011, he developed conceptual design in dance performances with collaborators including Jack Ferver, Maggie Bennet and Jaro ViAAAˆarský. He danced for many years with Tere O'Connor, Pearson Widrig/Dance Theater and Amber Sloan. He  now calls Zilina, Slovakia home. Recent European projects include more experiments with ViAAAˆarský in A Takto? and Insideanimal, as well as creative support in workshops through SKOK!. At Kampnagel in Hamburg, Germany in 2012-13 with Antje Pfuntner, he worked on Nussknacker and with Jenny Beyer in her recent work ALL. Upcoming projects include Na Kraj Zeny, a duet with Sona Feriencikova directed by ViAAAˆarský and produced by Stanica, Zilina.
Christian Frederickson (Composer/Musician) is a founding member of Rachel's, who released six albums on Touch and Go Records. He is also a member of The Young Scamels, whose Tempest was one of John Schaefer's top five albums of 2010. He co-composed and performed in Palissimo's recent The Painted Bird Trilogy, in New York City, Brzezinka, Zilina, Prague, Columbus, Cedar Rapids, Kosice and San Diego. Other recent credits include The Master Builder (BAM); Trojan Women (SITI Co. BAM Next Wave 2012); Through the Yellow Hour (Rattlestick, 2013 Drama Desk nomination); A Midsummer Night's Dream, Unnatural Acts, and Three Sisters (CSC); The Emperor Jones (Irish Rep, 2010 Lortel nomination); Romeo and Juliet (Actors Theatre of Louisville). Film scores: Death Metal Angola, Martiality Not Fighting. www.christianfrederickson.com

Bobby McElver (Composer/Musician) is a sound designer, composer and musician who works with theater and dance artists. He has been a company member of The Wooster Group since 2011 and tours with them internationally, building new shows and remounting old ones. For The Wooster Group he has worked on Troilus & Cressida (as a sound designer and performer, in collaboration with The Royal Shakespeare Company), Early Plays (directed by Richard Maxwell/NYC Players, as a sound designer and performer), Vieux Carre (as a sound designer and performer), and Hamlet (as a sound designer). He has also worked with Tina Satter (Half Straddle), Julia Jarcho, Young Jean Lee, Erin Markey and Michou Szabo. He writes and performs original music in a yet-to-be-named band. More: www.bobbymcelver.com
Joe Levasseur (Lighting Designer) has collaborated with Palissimo since 2003, and has worked with dance and performance artists including John Jasperse, RoseAnne Spradlin, Sarah Michelson, David Dorfman, Jodi Melnick, Beth Gill, Maria Hassabi, Ishmael Houston-Jones, LeeSaar the Company, Anna Sperber, Megan Sprenger and Christopher Williams. He has received two Bessie awards for his design work, and in 2009 his Drop Clock Installation was featured in the lobby of Dance Theater Workshop (now New York Live Arts). In 2010 he showed a collection of original paintings at Performance Space 122. Ongoing projects include work with Big Dance Theater, Jennifer Monson, Brian Brooks and Jane Comfort. For more information: www.joelevasseur.com.  
About Palissimo
Palissimo is a New York-based performance company established by Pavel Zuštiak, who serves as Artistic Director. The company pursues communion and dialogue with its audience through performances, research and teaching. Its work is content-based, emotionally charged and strongly visual. Palissimo treats each aspect of the production—dance, movement, sound, light, set and video design—with equal priority and hopes to challenge and engage audiences with rich, innovative aesthetic and intellectual experiences. At the same time, the work is intended to be accessible, and not to require audiences to learn a new "language" to understand. An audience member may lose the literal thread of the work, but still grasp the intrinsic meaning of the piece.
Palissimo has premiered a number of original works since its inception, including The Painted Bird Trilogy, La MaMa in June 2013 and Wexner Center for the Arts in September 2012 (and, prior, as three individual works at La MaMa, Baryshnikov Arts Center (BAC) and PS122); Halt! (Whitehall Ferry Terminal, NYC, 2009); Weddings and Beheadings (92nd Street Y Harkness Dance Festival at Ailey Citigroup Theater, NYC, 2009); Itch in the Stitch (Dance New Amsterdam, NYC, 2007); Le Petit Mort (Performance Space 122, NYC, 2006); and Blind Spot (Chashama, NYC, 2003). Palissimo was commissioned by Laboratory Company Dance in Pittsburgh, PA to perform (S)even at Pittsburgh's New Hazzlett Theater in 2007 and, that same year, by Yale School of Drama to perform Bertolt Brecht's Baal. Website: palissimo.com; FB: facebook.com/Palissimo; Twitter: @palissimoco
About Abrons Arts Center
The Abrons Arts Center is the performing and visual arts program of Henry Street Settlement. The Abrons supports the creation and presentation of innovative, multi-disciplinary work; cultivates artists in all stages of their practice with educational programs, mentorships, residencies and commissions; and serves as an intersection of engagement for local, national and international audiences and arts-workers.
Each year the Abrons offers over 250 performances, 12 gallery exhibitions and 30 residencies for performing and studio artists, and 100 different classes in dance, music, theater, and visual art. The Abrons also provides New York City public schools with teaching artists, introducing more than 3,000 students to the arts.