You are Invited: BalletCollective, World Premiere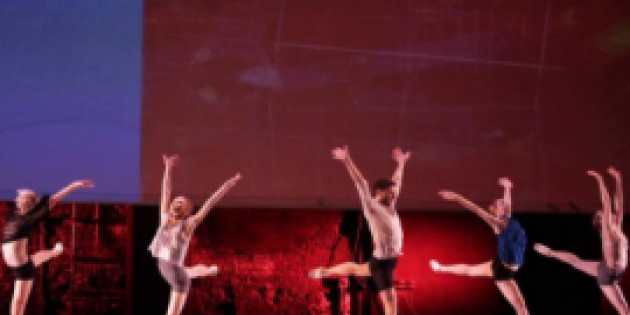 August 14 & 15 at The Joyce
BalletCollective
to present the World Premiere of
The Impulse Wants Company
and Epistasis
at The Joyce Theater, August 14 and 15
New York, NY, July 23, 2013 – BalletCollective (formerly Satellite Ballet) will make its Joyce Theater debut
on August 14 and 15 as part of the Ballet 6.0 Festival, with the world premiere of The Impulse Wants
Company, as well as a revised version of the company's Epistasis (2012), both choreographed by
BalletCollective director Troy Schumacher.
BalletCollective's work reflects the company's commitment to collaboration with a diversified group of
artists, who collaborate as equals, exchanging ideas to absorb each others' influence throughout the
creation of distinctive works of art. At the heart of BalletCollective lies process. In multiple combinations a
writer considers musical notes on a page, a choreographer the structure of a poem, a composer the movement of a group.
The Impulse Wants Company (world premiere) is a collaboration between Schumacher, composer Ellis
Ludwig-Leone, poet Cynthia Zarin, The American Contemporary Music Ensemble – ACME, lighting designer
Brandon Stirling Baker, fashion label Aritzia, and dancers Harrison Coll, Kaitlyn Gilliland, Lauren King, Ashley
Laracey, Meagan Mann, David Prottas and Taylor Stanley.
Epistasis (2011, 2012, 2013) "Epistasis" is a genetic term referring to the complicated ways in which genes
develop and evolve by affecting one another. BalletCollective's second ballet, Epistasis was created as a
collaboration between Schumacher, composers Nick Jaina, Nathan Langston, Amanda Lawrence and David
Moss, and poet Kevin Draper, with costumes styled by Daniel Applebaum and lighting design by Brandon Stirling Baker.
BalletCollective will also be featured in a short film being produced by Aritzia, the cutting-edge women's fashion boutique
for their online magazine and website at Aritzia.com to be released in conjunction with their Joyce season.
The film, based on The Impulse Wants Company, will be choreographed by Troy Schumacher with music by
Ellis Ludwig-Leone, featuring BalletCollective dancers in Aritzia fashions.
BalletCollective was founded in 2010 as Satellite Ballet by choreographer Troy Schumacher of the New York City Ballet.
BalletCollective has presented three original ballets and a song cycle in 2011 and 2012, as well as a Fridays at Noon lecture at the 92nd St Y.
Each work reflects the company's commitment to collaboration with a diversified group of artists.
American Contemporary Music Ensemble (ACME), led by artistic director Clarice Jensen,
is dedicated to the outstanding performance of primarily American masterworks from the
20th and 21st centuries. The ensemble presents cutting-edge literature by living composers alongside contemporary "classics".
ACME's dedication to new music extends across genres, and has earned the group a reputation among both classical and rock crowds
The New York Times describes their performances as "vital," "brilliant," and "electrifying."
Ellis Ludwig-Leone, Resident Composer and Music Director. is the bandleader for Brooklyn-based band San Fermin,
whose self-titled debut LP will be released by Downtown Records in September 2013. Ellis has written for ensembles and soloists including
The Declassified, JACK Quartet, Fifth House Ensemble, and Lavinia Meijer. Recent collaborations include
Lee Ranaldo (Sonic Youth), André de Ridder and the Solistenensemble Kaleidoskop.
Troy Schumacher, director and choreographer, trained at both the School of American Ballet and Atlanta Ballet,
and has danced with the New York City Ballet since 2004. In addition to his works for BalletCollective,
Schumacher has had works commissioned by the 92nd St Y, the New York Choreographic Institute,
the Atlanta Ballet's trainee program, Salon/Sanctuary Concerts and the School of American Ballet.
Cynthia Zarin, Resident Writer, is the author of "An Enlarged Heart: A Personal History" (2013) and "The Ada Poems" (2010).
Her honors and awards include a Guggenheim Fellowship, the Ingram Merrill Award,
the Peter I. B Lavan Younger Poets prize, a National Endowment for the Arts Fellowship for Literature, the Los Angeles Times Book Prize for Poetry,
and residencies at The McDowell Colony and at Yaddo. A long time contributor to The New Yorker,
The New York Times, and other publications, she teaches at Yale and the City University of New York.
Tickets range in price from 0 – 9 and can be arranged by calling JoyceCharge at 212-242-0800 or online at
www.joyce.org
.
Ticket price is subject to change. The Joyce Theater is located at 175 Eighth Avenue at 19th Street.
For more info, please visit Joyce.org. BalletCollective will perform on Wednesday, August 14 at 7:30 pm and
Thursday, August 15 at 8 pm. For further information on the company, visit
www.BalletCollective.com
.