Young Dancemakers Company's 20th Anniversary Season - Free Concerts in Manhattan, Brooklyn, the Bronx and Queens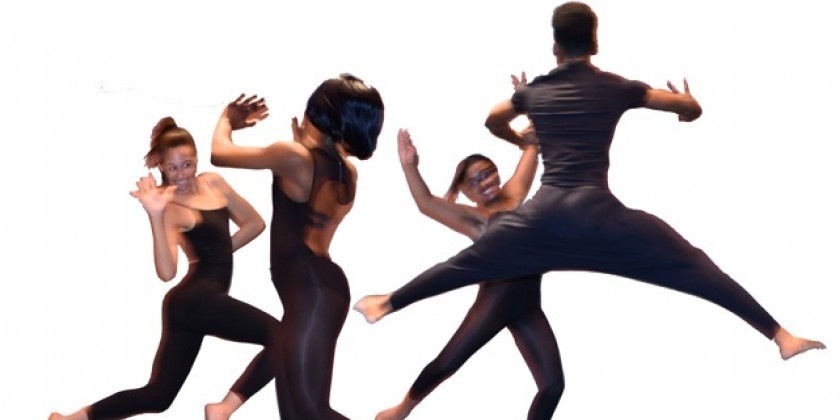 Company:
Young Dancemakers Company
20th ANNIVERSARY SEASON                                                                                                                           
YOUNG DANCEMAKERS COMPANY IN FREE CONCERTS IN
MANHATTAN, BROOKLYN, BRONX and QUEENS
and AN ALUMNI CONCERT CELEBRATION
Teens from NYC Public High Schools will perform a concert of their original choreography plus excerpts from a work by guest choreographer JESSICA GAYNOR


Founding Director: Alice Teirstein
Associate Director: Jessica Gaynor      
Music Director & Percussionist: William Catanzaro
Thursday July 23 through Saturday August 1
Admission to all performances is free, but reservations are recommended
call 718.329.7300  ext. 3358  or  email: aliceteirstein@gmail.com

Young Dancemakers Company will present an ensemble of  talented, ethnically diverse high school dancer/choreographers, who will appear in their original choreography, in 7 free-to-the-public performances in Manhattan, Brooklyn, the Bronx and Queens, July 23 through August 1.  The teen's original dances, which range from solos to group works, are created under the experienced eye of veteran director Alice Teirstein, who founded YDC 20 years ago, and music director William Catanzaro.  All events end with the lively "Dance With Us," in which audience members with dancing feet are invited onto the stage to improvise with the dancers, accompanied by percussionist Catanzaro.

This year YDC announces a special event:

An ALUMNI 20TH ANNIVERSARY CELEBRATION CONCERT
Friday July 17th at 7:30 PM
Fieldston School Auditorium, 3901 Fieldston Rd., Bronx
Free Admission, Call 718.329.7300 ext. 3358 for reservations
A rousing 20-year celebration with original choreography by YDC alumni from 1998 to 2013.

The teens have something to say through dance, and the performances feature a refreshing variety of themes, dance styles, and music choices.   Every year the ensemble also learns a dance by a noted choreographer, and this year they will appear in an excerpt from a dance by choreographer Jessica Gaynor, who has joined the staff of YDC this year as Associate Director.  Past years have featured dances by Mark Morris, Jose Limon, Merce Cunningham, Robert Battle, Paul Taylor and others.  

The public performances are preceded by four weeks of the ensemble working together, collaborating, and creating the original choreography, mentored by director Alice Teirstein, and William Catanzaro, who helps the participants with their choices and use of music. 

Performance Schedule:

Thursday July 23 at 2 PM -  Fieldston School, 3901 Fieldston Rd., Bronx
Friday July 24 at 7:30 PM -  92nd Street Y, 1395 Lexington Avenue (at 92nd Street), NYC
Sunday July 26  -                *Queens Museum, NYC Bldg, Flushing Meadows, Corona Park, Queens
                               3 PM     Performance
     and starting at   2 PM     "Dancing the Art" throughout the Museum inspired by the art works
Tuesday July 28 at 1 PM -   Kumble Theater for the Performing Arts at LIU, Brooklyn
                                            1 University Plaza (Flatbush Ave. between DeKalb & Willoughby St.)
                                             for reservations for the Kumble e-mail info@kumbletheater.org
Wednesday July 29 at 2 PM- Peter Norton Symphony Space, 2537 Broadway (at 95th Street)
Thursday July 30 at 2 PM - United Palace, 4140 Broadway (175th Street), NYC
Sat. August 1 at 7:30 PM -  Gala Finale Concert/Reception, Ailey Citigroup Theater, 405 W 55 St, NYC
                                                     (Advance reservations required for the Finale Concert)

* A special feature of the Queens Museum concert will be the innovative and challenging "Dancing the Art," which finds the Young Dancemakers Company travelling throughout the museum, creating spontaneous dances inspired by the works of art on display.   "Dancing the Art" will start at 2 PM, with the concert following at 3 PM.  

The 2015 Young Dancemakers roster features:

Dancer/Choreographer                 School
Adjua Ayoluwa                                Art and Design, Manhattan
Tyshawn Blount                              The Cinema School, Manhattan
Nia Bradley                                     Talent Unlimited, Manhattan
Solomon Cort                                  Beacon School, Manhattan
Reyna Guerra                                 Repertory Company High School, Manhattan
Jael Harriott                                    Cultural Academy for the Arts and Sciences, Brooklyn
Fahrod Jacelon                               Cultural Academy for the Arts and Sciences, Brooklyn
Madeleine Lee                                Bronx High School of Science, Bronx
Jaidah Mcintosh                              Brooklyn High School of the Arts, Brooklyn
Euphrozinia Martin                          Repertory Company High School, Manhattan
Leah Moses                                    Medgar Evers College Preparatory School, Brooklyn
Jada Pope                                      Brooklyn High School of the Arts, Brooklyn
Idania Quezada                              Theatre Arts Production Company, Bronx
Venus  Scantlebury                         Brooklyn High School of the Arts, Brooklyn
Tiyana Smith                                   Gramercy Arts, Manhattan
Dana Tillyard                                   Harvest Collegiate, Manhattan
Thea Zalabak                                  Beacon School, Manhattan


 www.youngdancemakerscompany.org

Young Dancemakers Company is a free summer program made possible by the support of the Richenthal Foundation, the Arnhold Foundation, the Emily Davie and Joseph S. Komfeld Foundation, the Harkness Foundation for Dance, the Ethical Culture Fieldston School, individual contributors, and the New York State Council on the Arts with the support of Governor Andrew Cuomo and the New York State Legislature.