Youngest soloist at the Dance Theatre of Harlem to make publishing debut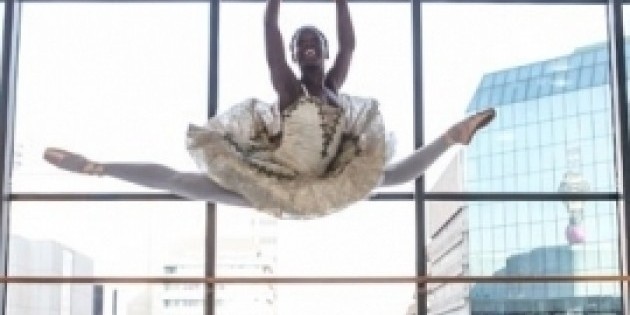 BALLET STAR MICHAELA DEPRINCES INSPIRATIONAL TEEN MEMOIR
RANDOM HOUSE CHILDREN'S BOOKS TO PUBLISH
BALLET STAR MICHAELA DEPRINCE'S INSPIRATIONAL TEEN MEMOIR
Youngest soloist at the Dance Theatre of Harlem to make publishing debut

Photograph: Jordi Matas

New York, NY, July 23, 2013—Random House Children's Books has acquired 18-year-old ballet star Michaela DePrince's debut memoir, it was announced today by Nancy Hinkel, Vice President and Publishing Director of Alfred A. Knopf Books for Young Readers. Executive Editor Erin Clarke will edit the book, which does not yet have a title.
DePrince was born in Sierra Leone and orphaned by a brutal civil war at the age of three. It was there that she found a picture of a ballerina that ultimately changed the course of her life. In her memoir, to be published in fall 2014, Michaela will share her experiences growing up as an orphan in war-torn Sierra Leone and her journey to becoming a professional ballet dancer in New York City. It will include a photo insert highlighting moments from her incredible story.
"When I was four and a half years old, and with my adoptive family, I sat down with my mom and shared with her the story of my experiences in Sierra Leone. I didn't know then that this memoir would be the end result of that sharing," says DePrince. "This writing experience has enabled me to relive my past, appreciate my present, and continue to set goals for my future. I couldn't be happier that through my memoir I will be able to reach out to young people all over the world and encourage them to make their dreams come true."
DePrince will co-write with her adoptive mother, Elaine DePrince. Alfred A. Knopf will publish the teen memoir in the fall of 2014, as well as a Step into Reading chapter book edition for younger readers titled Ballerina Dreams: The Story of Michaela DePrince.
"We are so pleased to have the opportunity to share Michaela's extraordinarily inspiring story, and reach both teens and young readers." says Hinkel.
Clarke negotiated the book deal for Alfred A. Knopf with Adriana Dominguez of Full Circle Literary, representing Michaela and Elaine DePrince.
On July 28th, DePrince will begin dancing with the Dutch National Ballet, considered to be one of the top classical ballet companies in the world.
Michaela DePrince was one of the stars in the ballet documentary, First Position, which was nominated for a 2013 NAACP Image Award. She was also an AT&T guest artist on Dancing with the Stars, and has appeared on Good Morning America, Nightline, the BBC World News, and other news programs in the United States and internationally. In 2012, she received the Trailblazer Award from the American Skin Association. In addition to dancing in guest principal roles in South Africa and the Netherlands, Michaela has been invited by the U.S. Embassy in South Africa to give motivational talks to youth, and by the United Nations to represent children affected by war. In late 2012, Michaela received an invitation to join the Dutch National Ballet, considered to be one of the top classical ballet companies in the world. In 2013, Michaela participated in Newsweek and The Daily Beast's Women in the World Summit along with Meryl Streep, Oprah Winfrey, and Tina Brown.
Random House Children's Books is the world's largest English-language children's trade book publisher. Creating books for toddlers through young adult readers, in all formats from board books to activity books to picture books, novels, ebooks, and apps, the imprints of Random House Children's Books bring together award-winning authors and illustrators, world-famous franchise characters, and multimillion-copy series. The company's website, Kids @ Random (RandomhHousekKids.com) offers an array of activities, games, and resources for children, teens, parents, and educators. Random House Children's Books is a division of Random House LLC, a Penguin Random House Company.