'newsteps' at Chen Dance Center, April 18-20th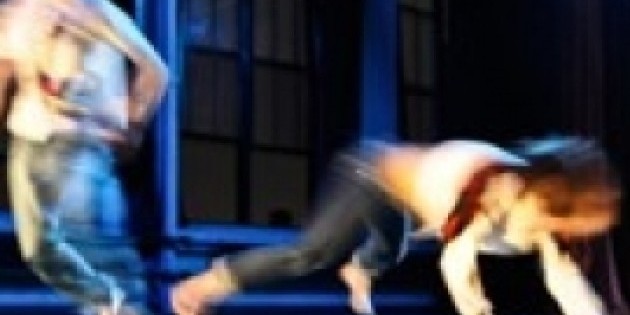 A semi-annual emerging choreographers' series
presents
70 Mulberry Street, 2nd Floor
New York, NY 10013
(corner of Mulberry & Bayard)
Thursday-Saturday, April 18-20, 2013 at 7:30PM
Meet the Artist Reception after Thursday night performance
Post-Performance discussion after Friday night performance
Admission: 2/general, 0/students & seniors
Seating is limited, please make reservations.
Chen Dance Center
presents
newsteps,
its semi-annual emerging choreographer's series.
Since 1994, its theater has supported and presented over 250 artists developing innovative and risk-taking works through space and production grants.
The series has received acclaim in
The New York Times
,
Dance Magazine
,
The Village Voice
,
Downtown Express
and
The Villager
.
Six choreographers were selected for the April 18-20 concerts:
Cristin Cawley, Wanda Gala, Juan Michael Porter II, Katie Dean, Mei Yamanaka
and
Kristen Klein.
The artists receive a space grant, honorarium, and are produced in three public performances. They were selected through an open audition by a panel of dance leaders including H.T. Chen, Sandra Burton, Elizabeth Keen, and Lance Westergard.
Katie Dean
's There is no Right Now
is a movement exploration on specificity, on intention and on transformation. Improvisations are recorded and then learned and manipulated for the purpose of recalling sense memories focusing on internalization and externalization of a sense or a thought.

...before the Fall by Cristin Cawley is a psychological tale of the effects of temptation and guilt, which begins with Pride, the deadliest of all the deadly sins.
A fun trio by Japanese choreographer Mei Yamanaka explores playful movement through contact work.
Juan Michael Porter II
's Amour Gestation illustrates the tension between pain and beauty that exists within this concept of love, and was inspired by the conflict that continues to ignite the Middle East.
Kristen Klein
's Ringer is an exploration in duality, opposition, and manipulation inspired by daily staring contests with a looking glass.

"Look in a mirror and one thing's sure: what we see is not who we are".
Wanda Gala's Constellation Dances: cd3 1303 nyc is a series of simultaneous choreographies stemming from the interpretations of site specific celestial data. This work explores qualitative, quantitative and site specific star data to generate the tempo, dynamics and the content of the dance.
TRAVEL
Subway: Take the 6, N, R, Q, J, Z to Canal Street, then walk East along Canal towards Chinatown.

Turn right on to Mulberry Street then one block south to Bayard. The theater is on the northeast corner of Mulberry and Bayard.
ABOUT CHEN DANCE CENTER
With its renovated artist spaces and cultural information hub, Chen Dance Center (CDC) provides a refreshed and intimate black box performance space. CDC was created in 19
8
8 with the mission to promote understanding through the arts, provide professional opportunities for artists, increase participation in the arts and develop future audiences. As a co-presenter of independent artists and presenter of the dance series – newsteps - CDC supports the development of dance artists by providing a professional theater space in which artists of high caliber receive visibility to the dance community and press.

CDC serves as a home base for local and visiting artists to develop and showcase their work and proudly celebrates the distinction of being the first professional performance space in New York City's Chinatown.

CDC also hosts H.T. Chen & Dancers' annual educational series for children, provides affordable rehearsal space for modern dance artists, and serves as a venue for community events.
CHEN DANCE CENTER is comprised of three components: a performing arts SCHOO
L,
a black-box THEATER for modern dance, and its resident dance company, H.T. CHEN & DANCERS.

CHEN DANCE CENTER is supported by: THE FORD FOUNDATION,
METLIFE FOUNDATION, LOWER MANHATTAN DEVELOPMENT CORPORATION, NEW YORK STATE COUNCIL ON THE ARTS, NEW YORK CITY DEPT. OF CULTURAL AFFAIRS, NEW YORK COMMUNITY TRUST, PFIZER FOUNDATION,
CONSOLIDATED EDISON COMPANY OF NEW YORK, ETTIE CHIN HONG FUND .